How to Repair a Corrupted PDF File?
PDF is the standard file format for all processes, whether for distributing a résumé, software documentation, or case studies. Even when we download a bank statement, it is in PDF format. This demonstrates the significance of PDF files.
Have you ever considered what you'll do if your PDF file becomes corrupt for a variety of reasons? PDF files, like any other file type, are vulnerable to corruption. As a result, it's critical to take the measures necessary to restore your PDF files. However, if you can't open the file, you won't be able to repair it with manual approaches.
So, in this article, we'll talk about the PDF Repair tool, i.e., CocoDoc, which makes it easy to fix Adobe PDF files.
Why Does a PDF File Become Corrupted?
PDF files may occasionally exhibit error warnings and refuse to open in Adobe Reader or Acrobat. Such problems arise for a variety of reasons, including the following:
Because of the unreliable Internet connection, incomplete and failed file downloads can corrupt PDF files. Improper downloads cause havoc on the file structure and cause damage.
Failure of a hard drive or other storage devices
PDF file corruption and inaccessibility can be caused by hard drive failures and USB storage media troubles. An electrical short circuit, extreme hardware overheating, water exposure, and other factors can cause hard drive or storage device failures.
Problems with file transfer
When transferring a file from one PC to another via USB drive or cable, there is a risk of PDF file corruption owing to factors such as abrupt ejection of storage media from the system without first executing the eject command or sudden removal of the transfer medium before the transfer is finished. As a result, the recipient may receive a PDF document that is incomplete or worthless.
Power failures and faulty system shutdowns
System shutdowns and power failures can cause file transfers and downloads to fail, as well as corrupt PDF files.
What exactly is CocoDoc?
It's a web app that doesn't need to be downloaded or installed, and it works in any desktop browser. As a result, you can use it on a Windows PC, a Chromebook, or a Mac. CocoDoc requires you to upload your PDF files to a remote web server. The service uses bank-grade 256-bit SSL encryption to keep your documents safe during transit. Upload files can also be password-protected in CocoDoc, ensuring that they remain under your supervision.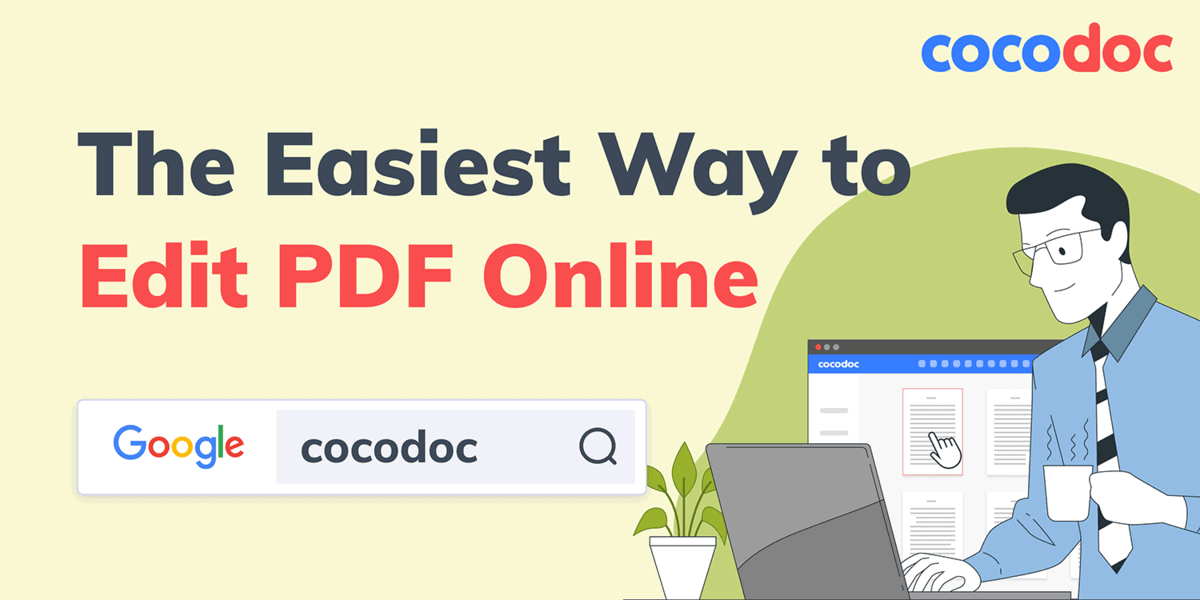 CocoDoc, on the other hand, offers a comprehensive set of advanced PDF editing tools you'd expect from an online PDF editor. You can edit, scan, annotate or add images, change the text, and many more through the CocoDoc tool. The use of text boxes, checkmarks, dates, track changes, and copy and paste is all possible. There's also an online spell checker to make sure your PDF files are pleasing to the eye before sharing them with custom URLs.
CocoDoc also allows you to edit PDF files and provides 50MB of online storage. You can even change the format of a PDF file. Maintenance is done online with CocoDoc. Converting and compiling PDF documents is also a key development.
How to use CocoDoc Repair Tool?
When sending PDF documents or moving them between frameworks or PCs, there's a good chance they'll become corrupted. It's also possible that your PDF will break while it's being created. Furthermore, CocoDoc will switch to PDF first and then run the repair. The file you receive will always be a PDF format.
Do you fear that you'll need to install software to fix your pdf files? You won't have to worry about installing CocoDoc because you can do it all online. The following are the easy steps you must follow to repair my PDF file online.
Step 1: Go to CocoDoc official website and select Tools > Repair PDF from the drop-down menu. Then drag and drop your corrupted file into the window, or use the Choose File option to browse for it on your computer. You can also look for files using your Google Drive, Dropbox, or OneDrive accounts or just convert a file using its website URL.
Step 2: The software will analyze and upload your data.
Step 3: Select Repair and wait for the process to finish.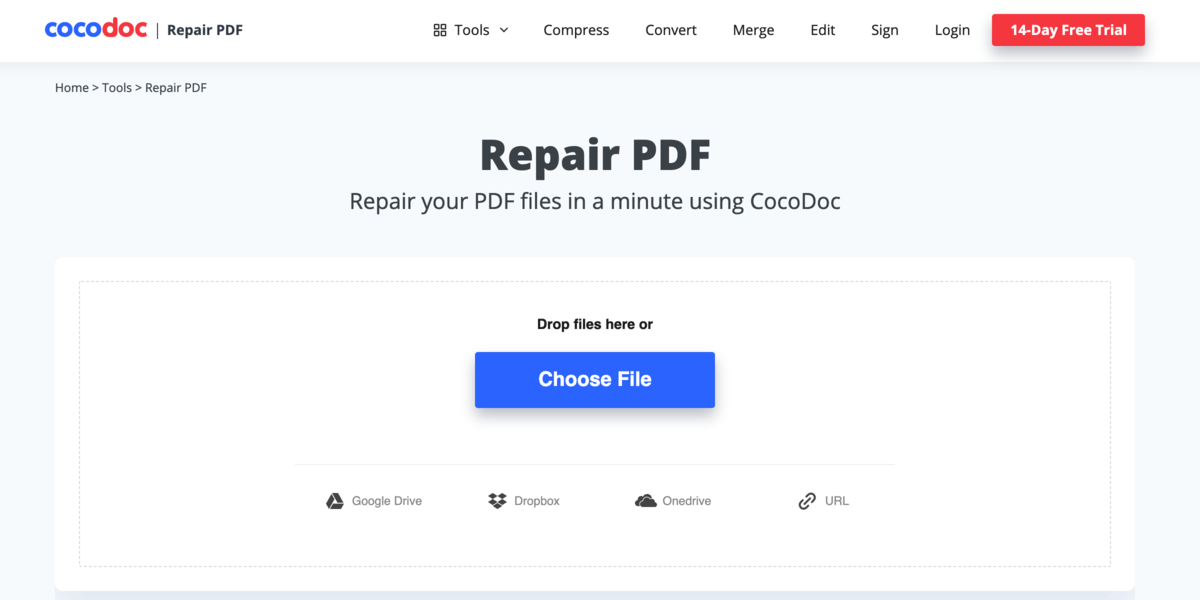 It's secure to repair your PDF files as servers are protected. Furthermore, CocoDoc does not have any rights to your reports and does not physically inspect them. You and your files are safe with CocoDoc.
What defines CocoDoc as the best PDF editor?
In order for a service to stand out among its competitors, it must provide convenience to its users. This free online pdf editor provides an easy-to-use interface that makes the entire process simple and accessible to people of all backgrounds. We'll show you why it's the best PDF editor in this article.
Simple to Use
The service is simple to use and allows users to modify PDF files online in three simple steps. The entire procedure saves time and is incredibly straightforward.
PDF conversion is completely free
Online PDF editing is usually a costly endeavor. Most PDF readers' premium services only include the editing feature in their premium plans. However, this is no longer the case. Free PDF editing, conversion, and compression are all possible with CocoDoc.
No software is required
It's an online pdf editor that emphasizes that there's no need to install any software on the device. Furthermore, it implies that PDF files may be easily edited, or the free pdf editor online can be accessed from any device, including Android, iOS, Windows, and macOS.
Confidential and safe
The online PDF editor goes to considerable measures to protect the confidentiality and privacy of the uploaded PDF file. Even CocoDoc's workers are unable to view the documents because they are so heavily encrypted. It also employs a unique set of safeguards to protect the platform and servers from external threats.
Cloud Storage Device Integration
You can use Google Drive, Dropbox, and OneDrive, among other services, to upload and download PDF files from any computer using its offical website. This is a useful step since it eliminates the need for the user to use a specific device to edit a single file. By clicking on the URL to paste the link that contains the address of a PDF file, one can instantly upload and download the file.
Feature of OCR Technology
CocoDoc's OCR technology enables users to scan PDF files with precision and reliability. It's a tool that extracts data from any written or printed text automatically. The text can then be converted into legible and searchable text.
Conclusion
We all know that all documents, including PDFs, are susceptible to corruption. Corruption makes data information inaccessible and makes it impossible to complete a task. A PDF file document can contain text, photos, graphics, and a lot more. It is simple to transfer information from one area to another using PDF files.
CocoDoc for PDF Repair is the most incredible method for fixing PDF file corruption if something goes wrong with it. You can rapidly fix the file or restore the data with the tool.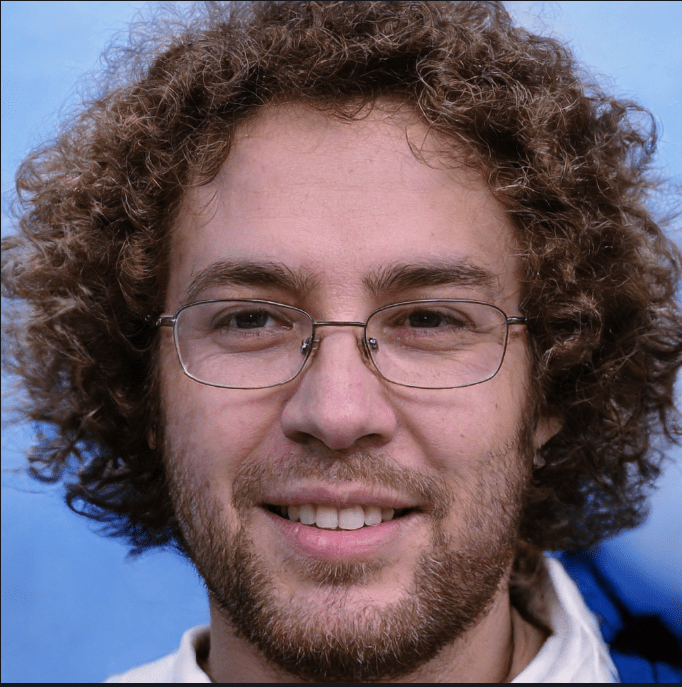 Hello! My name is Lucas, and I am the creator of ursuperb.com. I've been writing about technology for almost 10 years now, and I love talking about tech news, reviews, and tutorials. I'm currently living in San Francisco, CA, and I've been blogging professionally since 2012. I love what I do, and I really enjoy interacting with people online. I believe in creating positive change for humanity, and I try to inspire others to do the same. You can read more about me here.
My favorite thing about Ursuperb is that I'm able to provide useful information to anyone interested in learning more about technology. No matter what kind of tech you use (computer, smartphone, tablet), you will definitely find something interesting to read on Ursuperb. So, let's take a look at some of the topics I cover on Ursuperb:
1) How To Build An Online Business With WordPress
2) How To Make Money On YouTube Using AdSense
3) What Is Google Analytics? And Why Should You Use It?
4) How To Make Your Own Website Design Software For Free