Eating an exotic dish?
"Let me send a snap to my best friend."
Going out on an adventure?
"I have got to post this on Snapchat for everyone to see!"
Do these sentences seem familiar to you?
Yes?
Well, they will if you are an avid user of Snapchat like I am.
People like me and you, use Snapchat to share what we are doing with our friends because it is fun! Snapchat is intimate and is specifically known for its unique feature, which is "self-destruction" of the data uploaded. Because of this feature, I used to post snaps without any hesitance as it ensured me that my data won't remain online permanently.
But lately because of the privacy issues online and platforms like Facebook granting developers access to user data, I have become careful about what I share on Snapchat as well. In this post, I am going to tell you about how you can erase Snapchat history from your phone.
Basically, we exchange data on Snapchat in the 3 ways, which are:-
How to delete a text message?
Remember, you cannot delete messages on somebody else's phone using this method. You can only delete messages on your phone as these messages are directly downloaded on that person's phone who you send a particular message to, and not on the Snapchat server.
Let's get started. This procedure is very easy and doesn't take much time.
Open Snapchat
Open the particular conversation from which you want to delete the text.
Long press on the text that you want to erase
A pop-up will be displayed on the screen which will ask you if you would like to delete it.
Press delete. Poof! It's gone.
Deleting conversations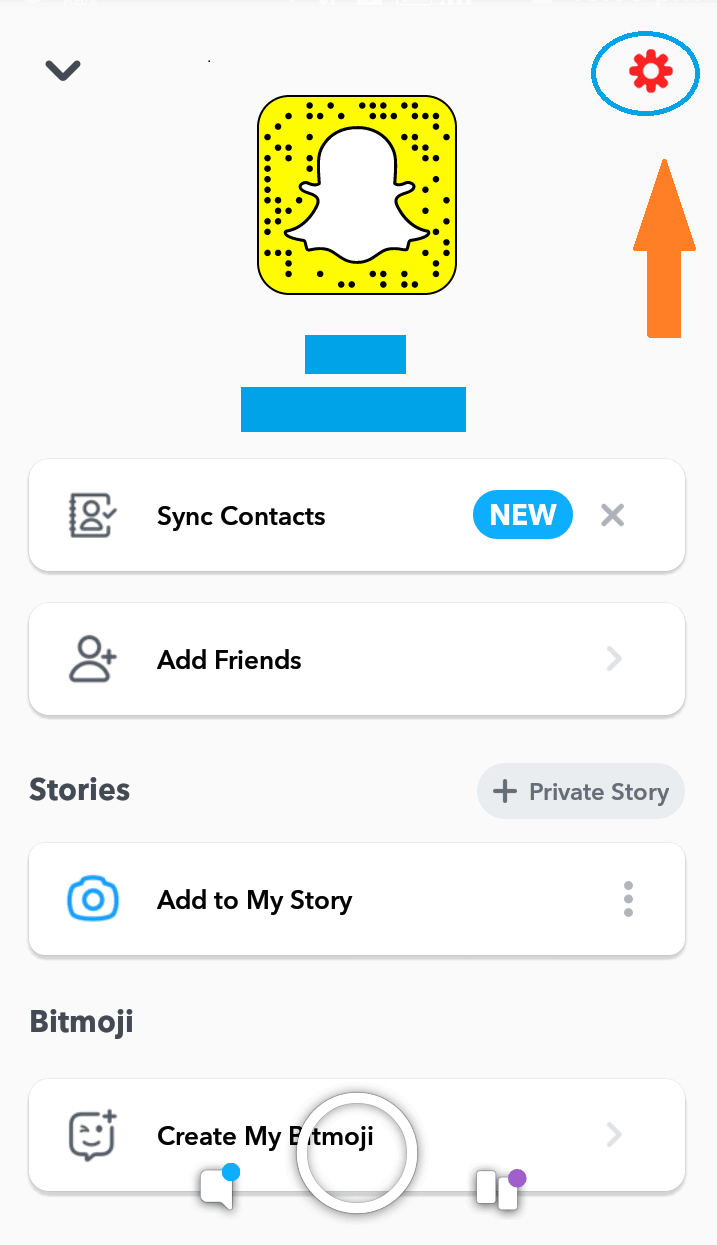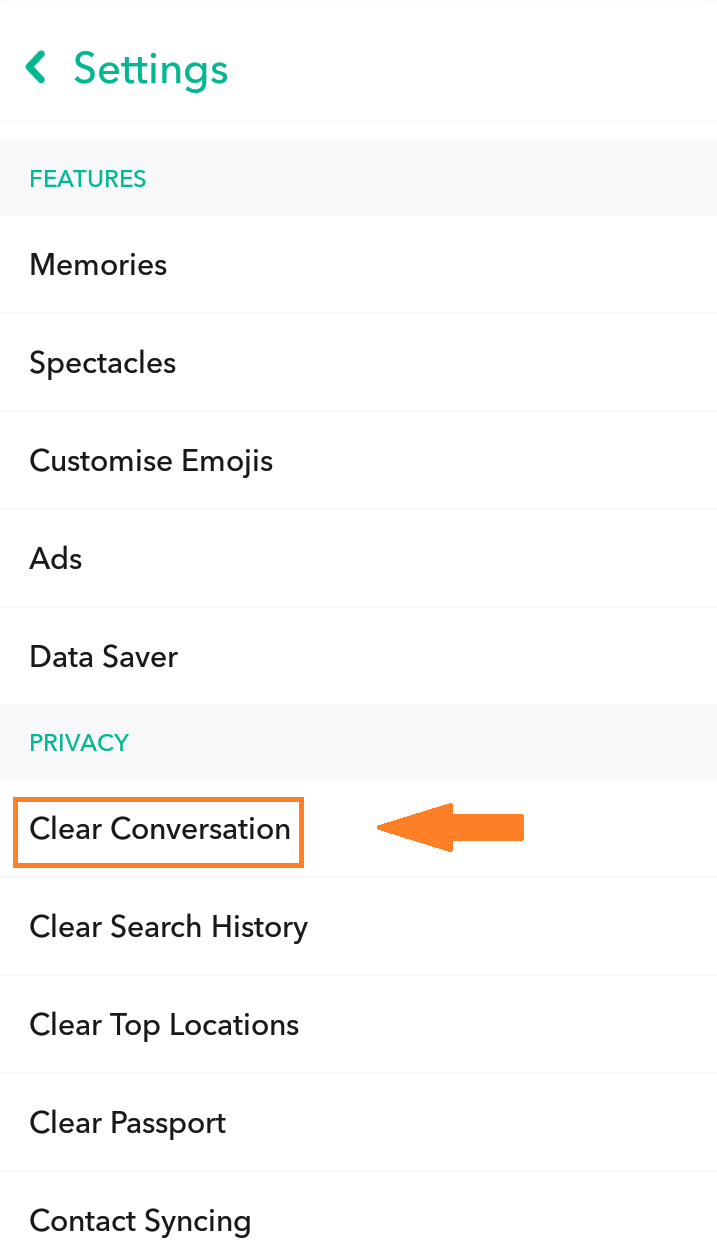 Want to get rid of an entire conversation with someone?
Open Snapchat
Tap the "Ghost icon" on the top of the screen. On doing this you will see your name and a bigger version of the Snapchat icon.
Tap the gear icon on the top right corner of the app. This is the "Settings" icon.
Navigate to "Privacy"
Tap on "Clear conversations"
This will open up all the conversations on Snapchat with a cross sign (X) next to each of them.
Now, all you have to do is, tap on the cross sign corresponding to the conversation that you wish to delete.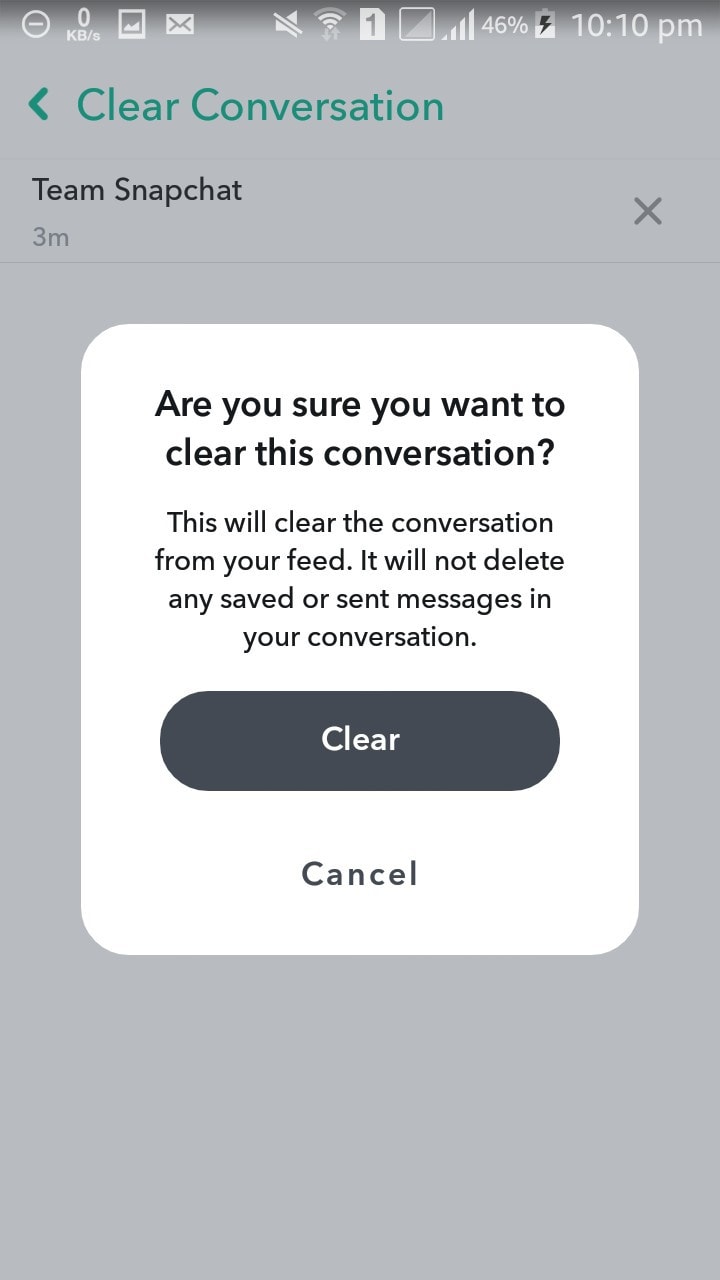 After you do that, a pop-up will be displayed asking you of your surety to delete the conversation.
Tap the "Clear" option to delete it.
How to delete multiple conversations?
This method is similar to the method mentioned above. You have to follow the first five steps. Then you have to tap on the "Clear All" option on the top right corner of the app.
You can also delete "Search history", "Top locations" and "Passport" by using the above first four step.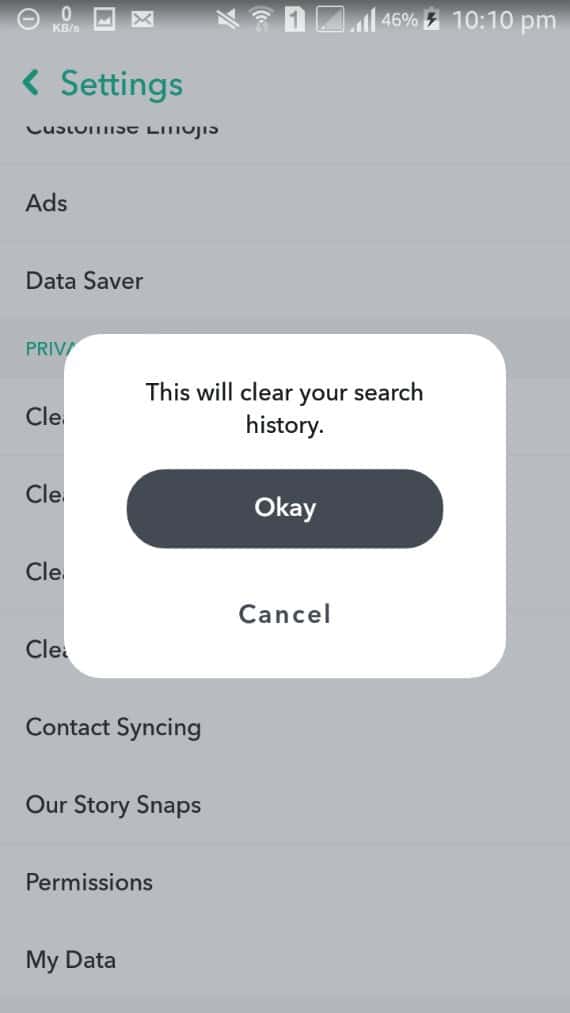 How to delete a Snapchat Story?
Many times I get excited and send stories to everyone and realize later that I had sent the wrong photo/video. If you are anyone like me, read to find out the way to delete a snap story
Tap on the Bitmoji icon on the upper part of your app, this will take you to the stories tab.
You will see an icon consisting of three dots on the right side of the story.
Tap on that icon.
Select "Delete story". And it will be gone.
Tip: Turn the "Don't save my story posts" option on.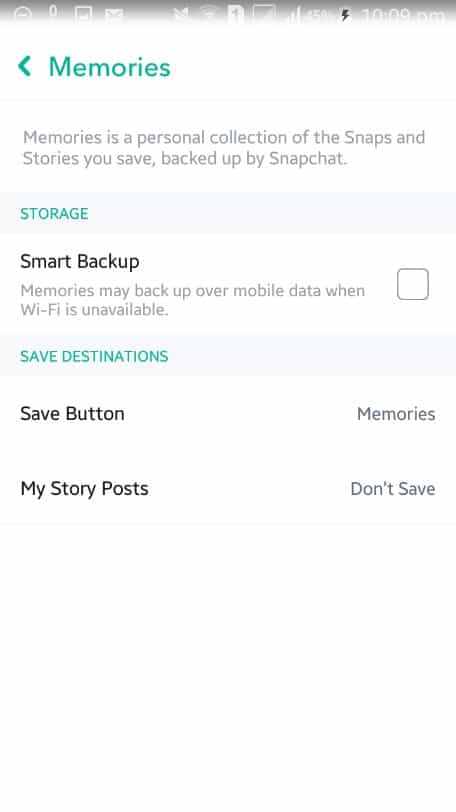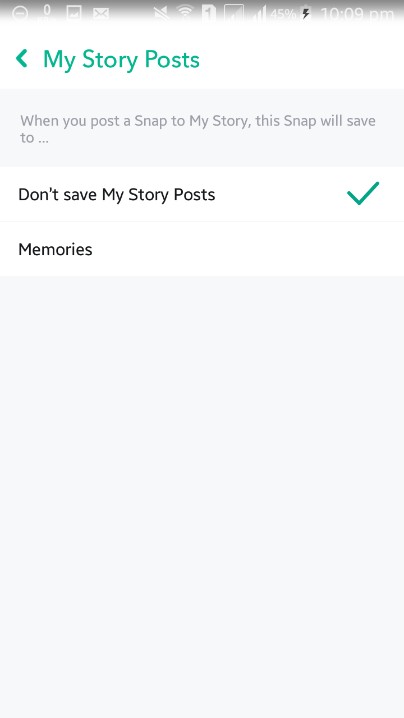 What if you have saved a message on Snapchat? How to delete that?
Even though Snapchat is all about "Data being online temporarily", it has made many changes over the past few years. You can save certain messages. Say, for example, someone texts you the time and location of a meeting, which is important, then you can save the message. When you no longer need the message, you can delete it. I am going to tell you how.
You know that when you save a message on Snapchat, its textbox turns grey, right? To delete it, you have to follow the same procedure of holding the text message for some time. It will then turn from grey to its original colour. When you log out/ exit from the app, and log in again, the message will be deleted.
CACHE
Last but not the least, have you heard of cache? It is nothing but temporary storage of data. For e.g. the stories that you have saved or data that helps to reload memories quicker is cache. It takes up a lot of space. You can clear the cache by navigating to "Account actions" via the "Gear icon" and click on "Clear Cache" and confirm it.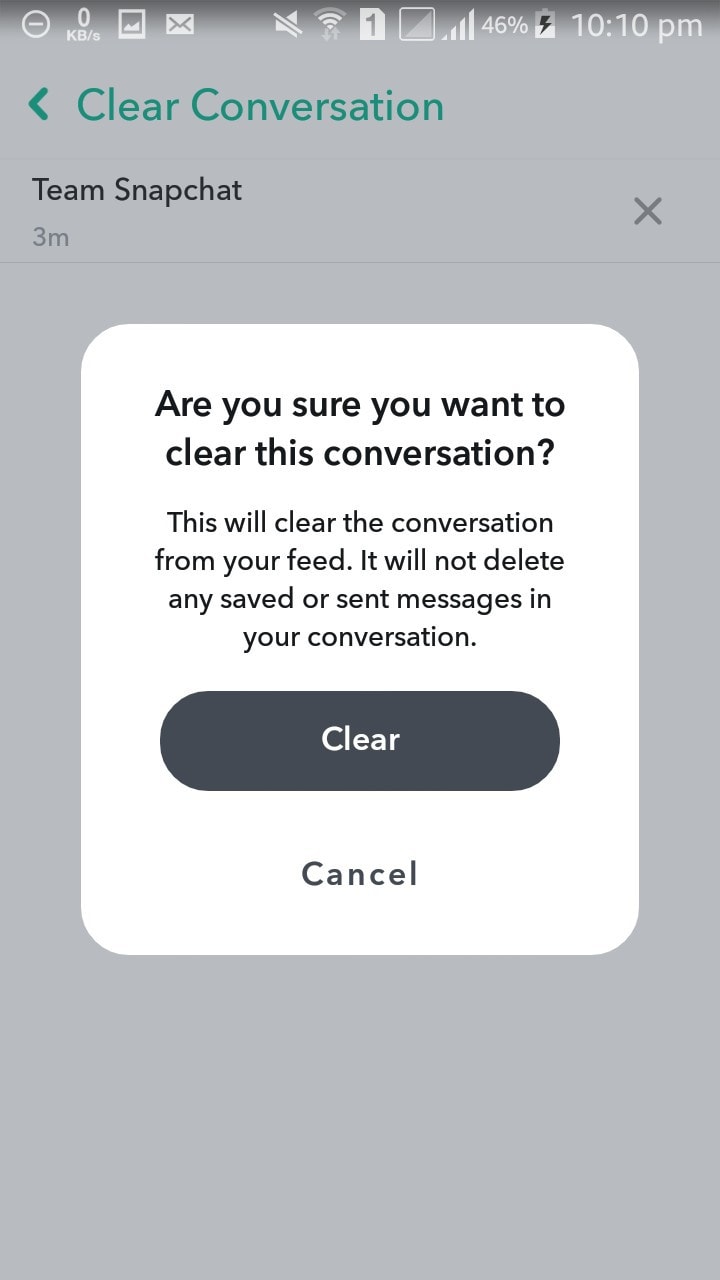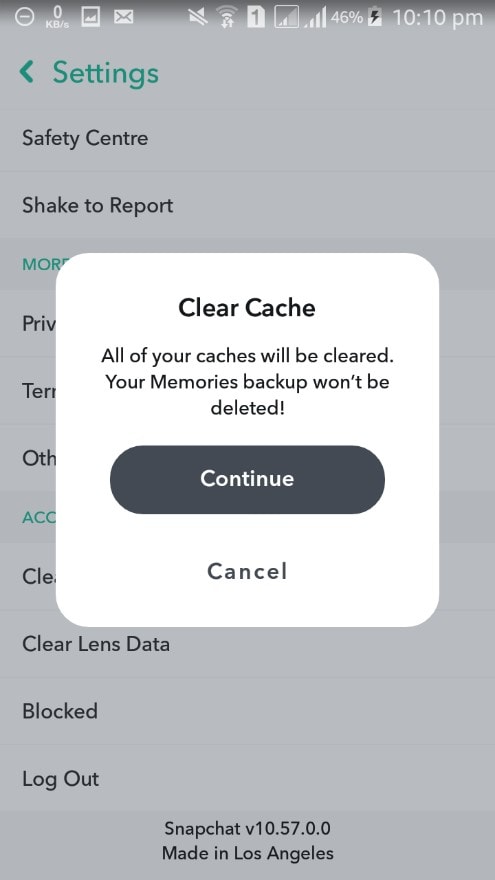 You can clear lens data using the above steps.
Even after clearing the history by the above basic means, you are worried about the messages getting recovered/found by someone and want all your snaps to vanish, then you can use the following apps to do so. The apps are as follows:-
Snapchat has limited options to delete everything in bulk but still, the above-said options will be of great help. Go try them now. And yes, think well before you send a snap! Be safe online.