Growth Opportunities in the field of IoT
The Internet of Things, or IoT, is one of the fastest expanding sectors of the internet.
Be it tracking your vitals while running, using Fitbit or Scanning QR codes with your phone to make bank account payments. Name anything, and IoT has a solution for it.
The Internet of Things has the potential to revolutionize every industry's operations.
It can boost staff productivity, provide better customer service, and monitor the supply chain, assets, and operations.
IoT networks link people, processes, and apps, allowing companies to respond rapidly to changing circumstances.
What is Custom IoT Development?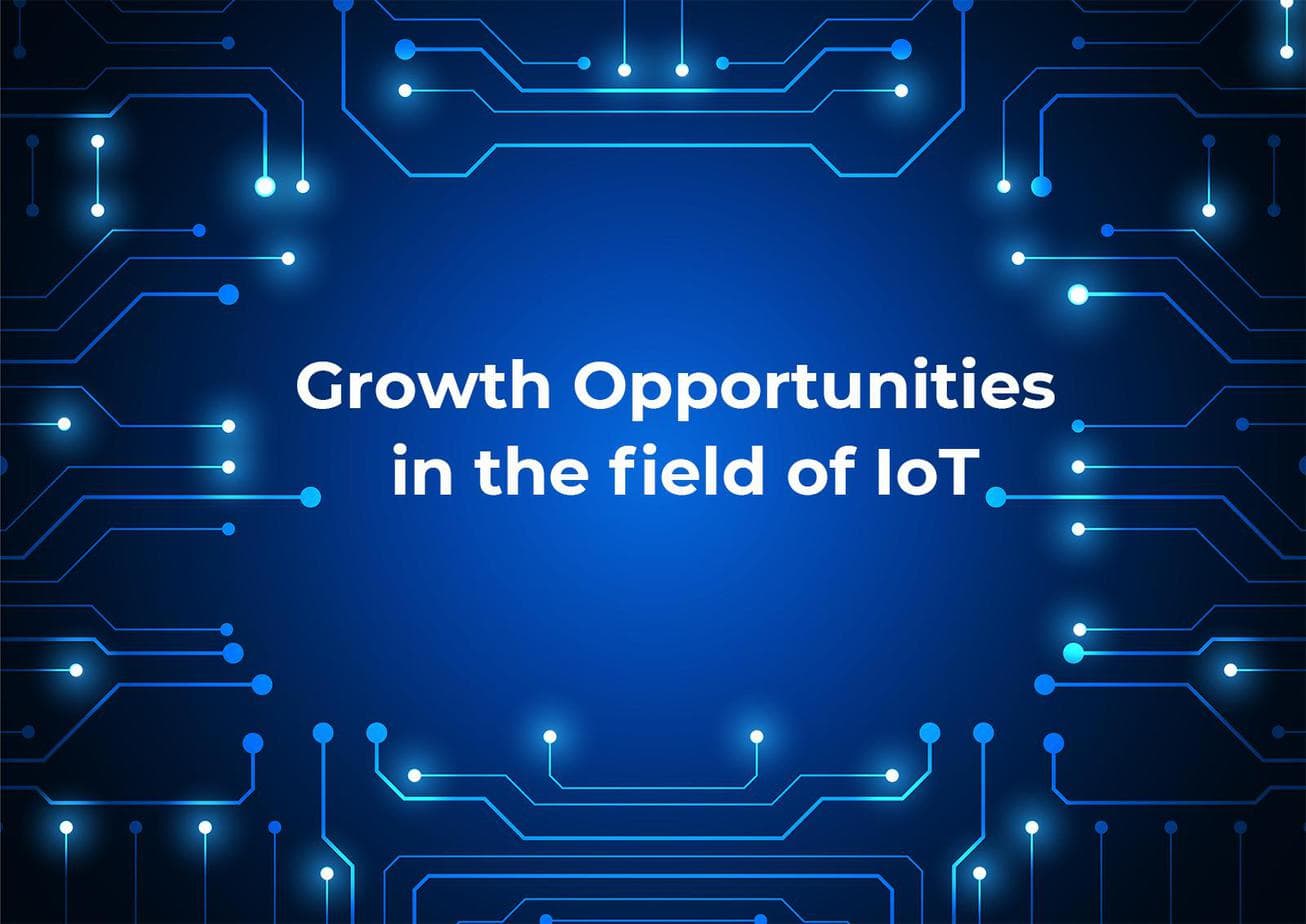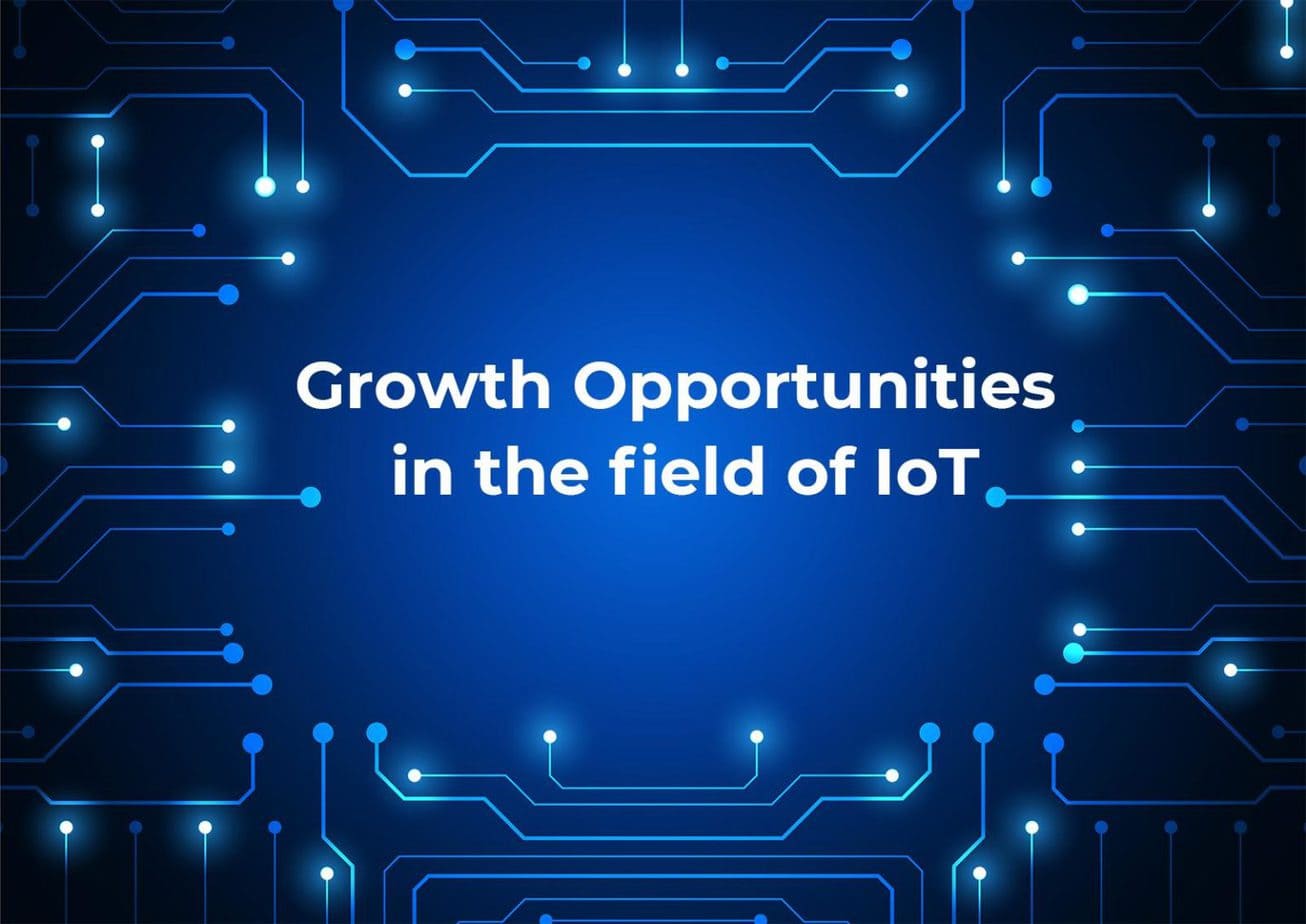 IoT development is creating IoT apps and devices that can be operated remotely and used to monitor the state or environment of the connected product using sensors and external data sources.
In addition, custom IoT Development is done to suit a company's unique needs.
Uses of IoT Application Development
Create native, web, hybrid, or PWA applications for your preferred operating system. Receive our experience in a variety of languages, SDKs, and well-known IoT frameworks and platforms.
The app allows you to control IoT hardware devices remotely. Use the app to enable new feature releases on existing devices.
Integrate AI-ML capabilities into IoT applications to offer predictive insights and completely personalize the user experience.
IoT development in the Indian industry
Agriculture
As you are aware, India's agricultural industry is in disarray. This is entirely feasible with data and sensors.
In places such as Andhra Pradesh, smart farming is a reality, with farmers being educated in using technology for farming.
Farmers can manage field conditions remotely and apply precision irrigation for optimal harvesting using cellphones, applications, sensors, and controls.
The growth of IoT in the Indian agricultural sector has the potential to cause a massive change.
Smart IoT – based farming is a system designed to monitor agricultural land using sensors (soil moisture, humidity, light, temperature, and so on) and automate irrigation operations. Farmers may monitor agricultural conditions from any location.
For example, it will notify the farmer when the soil moisture level falls below a certain threshold; the farmer may then utilize sensors to start irrigation.
Smart farming powered by IoT is much more efficient than conventional techniques.
Fresh food management
Qzense is an IoT initiative for the management of fresh food.
It uses IoT to create solutions for quick and accurate grades of freshly available food by collecting data on shelf life, spoilage and ripeness, assisting farmers in achieving greater profits from that very product.
However, the application of this technology has its own set of difficulties in India, particularly for farmers with tiny landholdings who live in rural regions without adequate internet connection and living conditions.
In the absence of these things, advanced monitoring systems are rendered worthless. Moreover, IoT technology can be expensive to. Moreover, its complexity may deter farmers from lower-income families.
Consumption of Energy
Amongst the many significant issues that we face is energy usage.
We are not paying any heed to energy usage nowadays as a result of our increasing population.
Our sluggishness and ignorant attitude towards the environment is a matter of concern. In such situations, technology must provide a perfect answer, which it happily provides. It is simpler to limit power and fuel usage using IoT.
Tech-friendly homes and intelligent lighting intend to switch off automatically when no one is in the room and provide real-time energy usage data.
This prevents us from taking need of energy as an assurance. Thus, enabling us to make educated choices about power and fuel use.
Healthcare
Healthcare is one of the essential fundamental necessities.
However, it is disheartening to notice so many counterfeit medications on the market. What is the saddest part?
An ignorant attitude is given by people towards such medications, who consume them without realizing it.
This happens to be a significant issue that IoT can address. As a solace, several businesses are trying to provide genuine medications using IoT infrastructures and QR codes to verify the authenticity of pharmaceutical transactions.
Fake medications may be eliminated forever if they reach a more significant number of individuals.
Transportation
Connected vehicles are rapidly becoming available.
High-end versions are now internet-connected and include a smartphone app for a variety of uses.
More innovation in this area, however, may be more advantageous to owners in terms of fuel consumption, emissions per trip, alerts on a vehicle or spare component failing, driver behaviour, speed limitation, geographic locations, door and trunk lock/unlock, social media sharing, and more.
Indeed, features such as carpooling facilities may significantly affect the environment, and we are sure that this will soon become a reality.
Realizing the Impact of IOT in International Cooperation
We have looked at some of the most significant areas where IoT technologies may help developing and emerging nations.
Although IoT is still in its early phases of adoption in many industries, it is gaining traction.
Growth is a start, but it is insufficient for the effective spread of IoT in international collaboration.
To maximize the beneficial effect of IoT, care must be taken in how IoT infrastructure is deployed, and projects are executed.
Supporting local innovations
IoT services and solutions should be tailored to the demographic group for whom they are intended.
However, there are many reasons why service with no demand may be created. For example, it may have been designed with inadequate regard for the often low levels of technological literacy and internet access.
Alternatively, it may be based on a misinterpretation of target groups' wants and aspirations, resulting in the adoption of business models that are inappropriate for the environment.
Promoting local innovation is one critical approach for preventing this. Innovators who are connected to and have an affinity with the target groups are better positioned to comprehend their requirements and the limitations imposed by local infrastructure, the environment, and so on.
Enabling Public-Private Partnerships
PPPs are an essential tool for integrating IoT technology into public services in underdeveloped and emerging nations.
These collaborations, if properly managed, provide effective and efficient IoT solutions, guarantee talent transfer, and result in national champions capable of running their businesses professionally.
As the primary providers of public services, governments will be among the early adopters of IoT applications in the future years.
However, government agencies often lack the technical knowledge to carry out such initiatives, necessitating collaboration between public and private sector partners.
In recent years, intense digitization has enabled many technical possibilities that have been progressively altering the major economic sectors and society.
Digitalization in many economic sectors opened up new opportunities for development and more effective use of limited resources, systems, or processes.
The primary engine of effective digitalization in different industries is information technology, namely IoT-enabled intelligent technologies.
Since cities have become overcrowded, causing significant infrastructural problems, the smart city idea has become the most advanced IoT application field.
The primary advantage of IoT technologies in the smart city idea is that they may help overcome significant infrastructure gaps in densely populated areas.
The efficiency enhancement of different convectional services in cities is also anticipated to increase living quality in cities.
The early detection of different and frequent everyday problems in cities, such as transportation difficulties, energy and water lack supplies, security concerns, and so on, maybe effectively addressed using IoT.
---
Rachita Nayar is a professional writer. She has a penchant for writing and is involved in many projects throughout the world. Currently, she works with a blockchain development company in the USA that allowed her to explore the domain and hone her skills further by learning about blockchain and spreading the knowledge.
Hello friends. I am John from USA and very passionate about technology. I love reading Motivational Books, playing Piano and doing Blogging.