Best Tasker Alternative Application to Automate Android Tasks
Short Notes:
Tasker is an automation application which is used for creating task. It can do virtually anything, from changing system settings to sending text messages and taking pictures. In simple words, consider you condi condi is a tasker alternative application which is used like other application. It comes with restriction and ads also when you use free version of it. This application is not updated since 2014. It is very simple to create tasks and then after selection of task you can create list of triggers. In free version you will be shown ads this article will explore some of the best tasker alternatives to automate your android phone for free!. …
When it comes to the top automation apps for Android, Tasker is pretty much in a league of its own. It can do practically anything, from changing system settings and launching apps to sending text messages and taking pictures.
But if you're looking for an app that can do many of the things that Tasker can do on your Android device, but with better design and ease of use, take a look at AutoWear .
Let us first talk about what is tasker?
In simple words it can be quoted that tasker is called as essence of android. Android is all about customising user experience and automating your task which is performed on your phone.
Basically tasker is also an automation application which is used for creating task.
In tasker what exactly you do is, you create a list of tasks which you want to be executed according your requirements and depending upon variety of contexts.
Not only you have to specify tasks or actions but you also need to mention when to perform task. In simple words, consider you want to perform three tasks which are A, B and C. Along with tasks you will specify ,tasks A, B and C to be executed when X and/or Y will happen.
Actions which you will specify using tasker can be anything.
It can be a very simple task or it can be something complex. Let's talk about few examples such turning on/off Bluetooth or something complicated such as sending media and also controlling commands through third party plugins available.
Now are you wondering how it works?
Then let me tell you about tasker.
The very first thing which is important is to give a name to your task.
Name can be anything which you like to add.
Then once you are clear with finalising your task you need to tell what action you want each task to perform. Now configure all actions and to execute all tasks by playing it or adding it to the profile.
Every task will be opened at a particular instant of time.
Let's find out what are the best examples of tasker alternative applications available online to you.
MacroDroid
This application without any doubt is best application available as it comes with more modern designs than other application. Along with all that it provides you with an equally feature-rich experience to let you take it into consideration. It also comes in both free and paid version.
It comes with restriction and ads also when you use free version of it.
But if you really want to use full functionality of this application then you need to upgrade to its paid version by spending amount of $3.49. After spending money you will be upgraded to a pro version of this application. It is free of restrictions.
Now comes the part of how to use it which can be done by clicking "Add macro" button displayed on homepage and then later on selecting trigger for the actions which you want to perform.
It is actually amazing app considering the fact that it is regularly updated.
Condi
Condi is a tasker alternative application which is used like other application.
Like most of the application it also uses straightforward approach for automating tasks on your device.
It is really easy to install application and once you are done with installing you are redirected to homepage where in you can easily tasks using '+' button available to you. It is available at top.
When you set tasks you are provided with some features or actions which you can select to be performed after instantiation of trigger. It is not mandatory to add only one trigger with one task.
You can easily add task with multiple triggers but it is mandatory to create triggers after creation of tasks only.
Automate
If talking about high rated automation application then this is definitely one of it.
Good thing about it is that it is really easy to install and set up even for beginners.
It takes into use flowcharts to display the hierarchy of the blocks that can make up a task which is only ideal for those who are familiar with diagrams.
Well you can download several task scripts available in community and you can download these scripts to make them your own.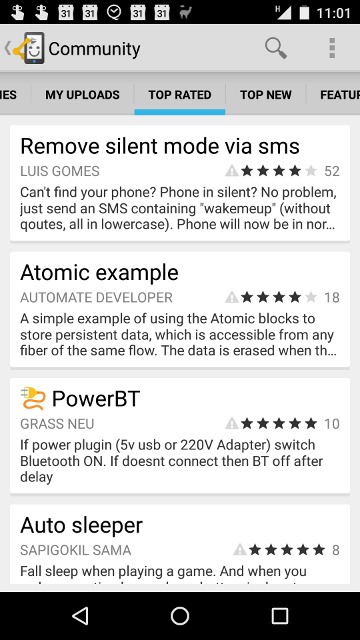 Llama
It is also used for the purpose of setting up tasks but it comes with extra functionality.
Extra and unique functionality included in it includes setting up of tasks in accordance with your location.
In this tasker alternative, task will be performed on the basis of current location. If you did not understand it then let me tell you one example.
A lot many times we keep our phone on silent while working but we often forget to keep it on normal again. So this application will put it back in normal mode once you will reach home.
There is only one problem which is that it is not updated since 2014.
AutomateIt
AutomateIt is one of the best tasker alternatives available online.
It is not best option if considering with respect to the layout of application as it is little unconventional.
But it is really powerful if you will use it.
It is simple to use.
In AutomateIt it is very simple and straightforward to create tasks and then after selection of task you can create list of triggers. One interesting thing is you can create your own task or you can select from the task set which is created by the community to be applied immediately to your device without any difficulty.
It is really simple to do.
It is also provided with free and paid version both but free version come with some disadvantages also.
Free version of this application is having some restrictions.
In free version you will be shown advertisements. If you are interested in getting rid of these ads then you can upgrade by spending amount of $2.99. It will not only eliminate ads but it will also remove all the instructions and provide you with an application free from all restrictions.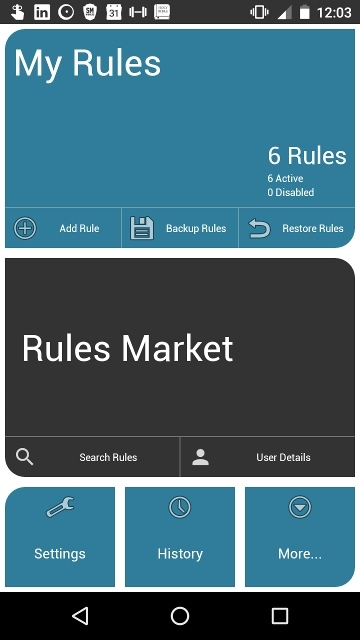 Above mentioned applications were some of the best tasker alternatives I know about.
But with so many disadvantages of it there are also some limitations to it. Only limitation of tasker is time.
It takes time to actually understand how tasker is doing what it is doing.
It can be really confusing sometimes.
If you want to remove this limitation then take your time and understand it.
Understating will take your time initially but once you know it then it is more like cake walk.
You may have heard of the popular Android app called Tasker. The app allows users to automate and simplify everyday tasks on their phones. While this is a useful way to make life easier, it is not free; the app will set you back $2.99. If you feel this is too much to invest in automating your device, or are looking for a free alternative, you're in luck! This article will explore some of the best Tasker alternatives to help you automate your Android phone for free!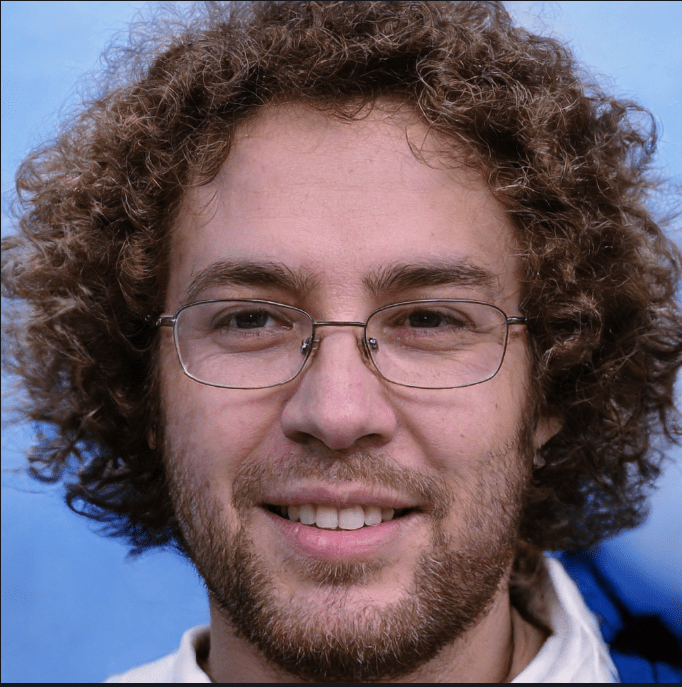 Hello! My name is Lucas, and I am the creator of ursuperb.com. I've been writing about technology for almost 10 years now, and I love talking about tech news, reviews, and tutorials. I'm currently living in San Francisco, CA, and I've been blogging professionally since 2012. I love what I do, and I really enjoy interacting with people online. I believe in creating positive change for humanity, and I try to inspire others to do the same. You can read more about me here.
My favorite thing about Ursuperb is that I'm able to provide useful information to anyone interested in learning more about technology. No matter what kind of tech you use (computer, smartphone, tablet), you will definitely find something interesting to read on Ursuperb. So, let's take a look at some of the topics I cover on Ursuperb:
1) How To Build An Online Business With WordPress
2) How To Make Money On YouTube Using AdSense
3) What Is Google Analytics? And Why Should You Use It?
4) How To Make Your Own Website Design Software For Free