Best Wayback Machine Alternatives in 2020
Short Notes:
Wayback machines are the digital archive of the content present on the internet. It is the best way to find any data from any website from the past. You can check their services and itools is another best internet archive wayback machine. It provides information about a website beyond its coding structure. Screenshots. Com has one of the largest databases net page freezer is the best choice if you want to analyze your website. It gives the user a real-time experience of the website even if it is running in history the best part of using timetravel is that you can enter the details of time yourself. A web program called 'the memento' was introduced which is a combined experiment it identifies a website's geographical location by identifying the ip address of the website which helps you in taking a screenshot. . …
Wayback machines are nothing but the digital archive of the content present on the internet.
It basically consists of snapshots of the web pages across time.
It was founded by Bruce Gilliat and Brewster Kahle in 1996 who were also then founders of a company called Alexa Internet which is now an Amazon company.
The Wayback Machine is a non-profit online application using which we can see what a particular website looked like during some time in the past. It is the best way to find any data from any website from the past.
Also if you are someone who is planning to start their own website and you want to have a look at the websites in history with the same niche like its screenshots, development strategy, design, and layout, etc, you have come to the right place.
In this article, you will find all the information regarding how to use it.
Now if you ask me what if archive.org doesn't work?
Worry not, we have got a bunch of internet Wayback machine alternatives for you.
You can check their services and pick anyone that suits your requirements.
Let's take a look at them.
Shall we?
1. Archive.is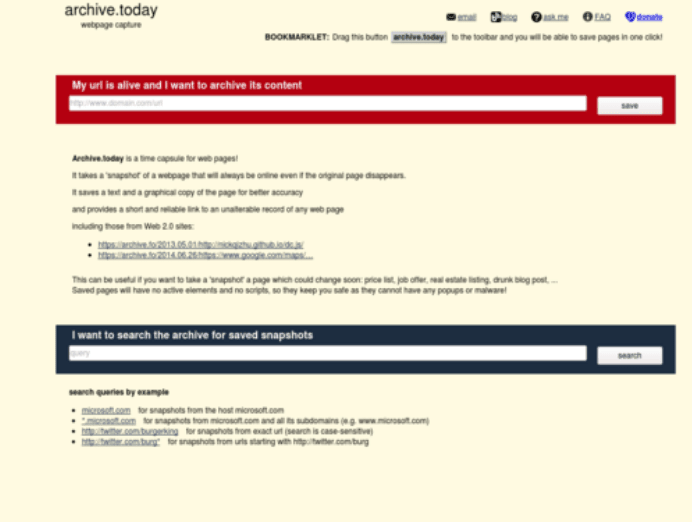 Image source: wikiwand.com
Archive.is is immensely popular and is one of the best Wayback Machine Alternatives.
It has a great method of archiving although it does not have a very impressive user-friendly interface.
The specialty of Archive.is is that it not only stores the screenshot of the web page but also the HTML code of the web page whereas, other internet archiving websites save only the screenshots of the web page.
Website link: http://www.archive.is/
2. Domain Tools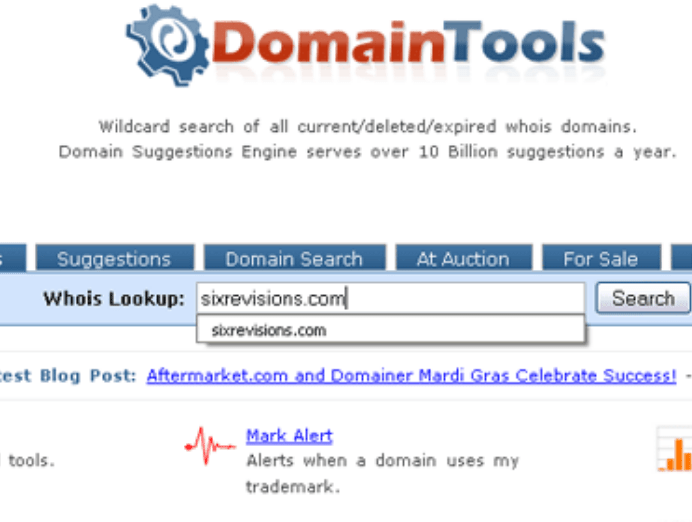 Image source: webFX
Domain Tools is one of the finest web archiving websites. It is very advanced and useful.
Domain Tools has an online service called WHOIS which helps the users in finding all the information they need on a website.
WHOIS is again integrated with another major website called Screenshots.
Domain tools are very user-friendly when you want to fetch information or history of a website as it has the easiest interface.
If you use Domain Tools, it allows you to see the screenshot of the history of the particular webpage or website for free and learn how it has changed over the years in terms of layout, design, interface along with WHOIS records which provide the details of the website owner, website owner's contact, date and time when the domain was registered, IP address, IP history, etc.
Website link: http://research.domaintools.com/research/screenshot-history/
3. ITools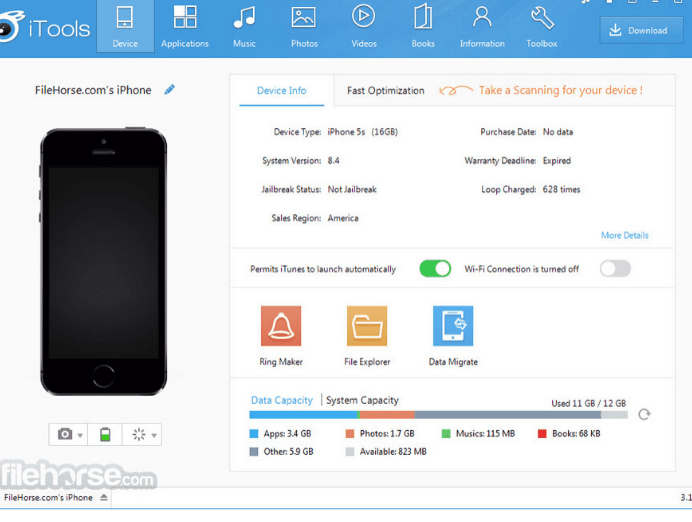 Image source: firehouse.com
ITools is another best internet archive Wayback machine as it provides information about a website beyond its coding structure and screenshots of the website.
Besides being a web archive, ITools is also a web analyzer that offers you details of the website like statistics of the website, website traffic, its Alexa database, website popularity, contact information and much more.
Providing all these events is possible due to 'Alexa's tools. ITools also plays the role of an Internet Tool Box where you will find all the popular and necessary tools that offer an analysis of the website.
When you go to the website, you might find the layout of the website a little confusing but once you start using ITools you will not find any difficulty anymore.
Website link: http://itools.com/internet/web-site-information
4. Screenshots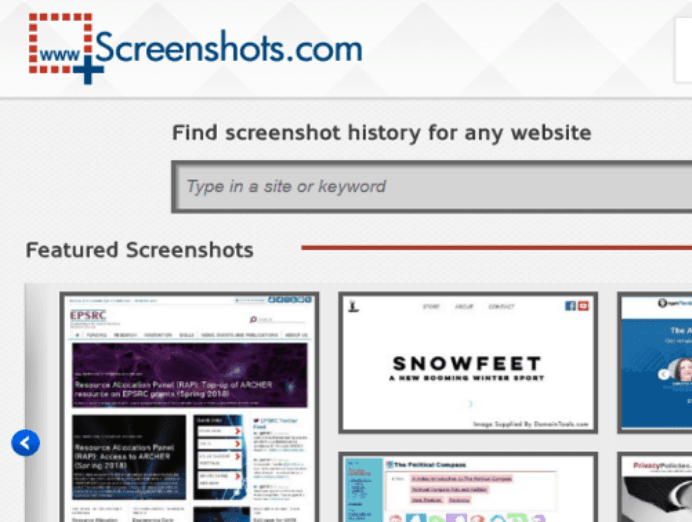 Image source: technofizi.net
The screenshots have one of the largest databases. It consists of about 250 million historic and present images of websites.
It might not be as large as Wayback machine but it is definitely larger than all the other archives that we have mentioned in the list. Using screenshots is very simple.
You only have to the search field and enter the URL address of the web page and in no time the details and screenshots of the website are in front of you.
Screenshots.comhas a very easy to use and one of the best interfaces.
Not only that, it even lets you zoom the screenshots.
The only drawback of Screenshots. com is that you can not access its destination link and other types of code of links.
Website link: http://www.screenshots.com/
5. Competitor Screenshots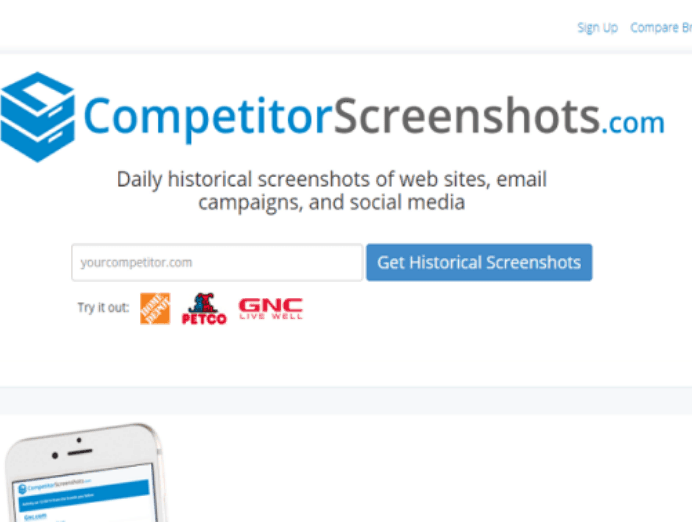 Image source: technofizi.net
Competitor Screenshots is similar to screenshots.
It also archives screenshots of the website and does not display the HTML code structure.
Competitor Screenshots allows you to see the competitor making strategies like email campaigns, screenshots of the website and their social media activities.
But, to get the details of the competitor website you will be asked to sign up for it which is no problem because the sign up is free. In case you want to know more details, you will have to upgrade to the premium plan.
Website link: http://www.competitorscreenshots.com/
6. Page Freezer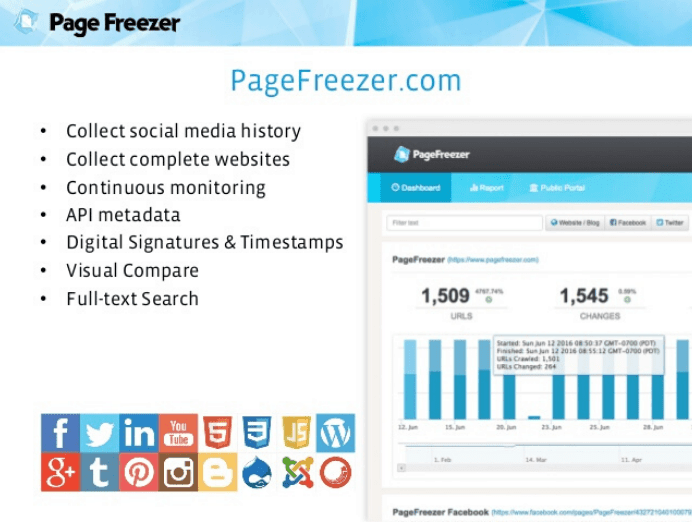 Image source: slideshare.net
Page Freezer is the best choice if you want to analyze your website.
It has many advantages like advanced features, security etc. Unlike most of the other websites, Page freezer gives the user a real-time experience of the website even if it is running in history rather than giving only a website's past info.
In addition to that, Page Freezer provides the websites with social media archiving about what time/date and where the website got social media mention.
Page Freezer is also helpful in managing online content. You can also archive any kind of message by Page Freezer. It not only validates the integrity but also the authenticity of your records.
Website link: http://www.pagefreezer.com/
7. YubNub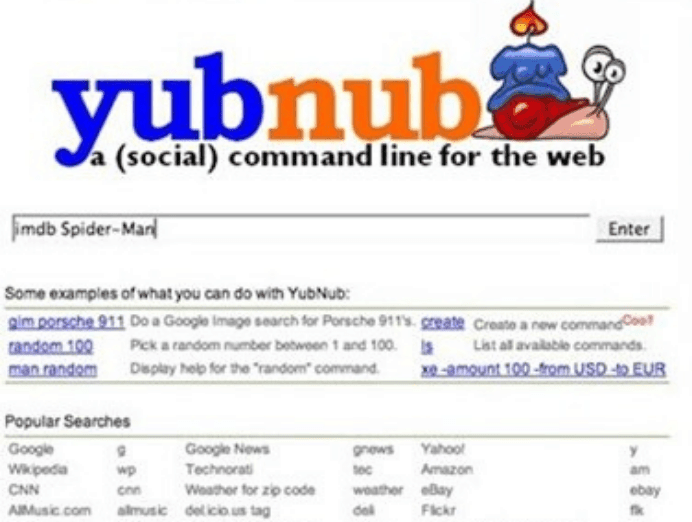 Image source: alternativeto.net
YubNub is known to be very user-friendly and handy to access any website's info.
It may not have a wide variety of features like Page Freezer but it is definitely very useful for basic uses.
It automatically gives you an idea about how a particular website should be used when you need to access any information. It is very easy to find the needed information.
All you have to do is enter the URL address of the website when you go to the home page and click enter.
Website link: http://yubnub.org/
8. WHO.IS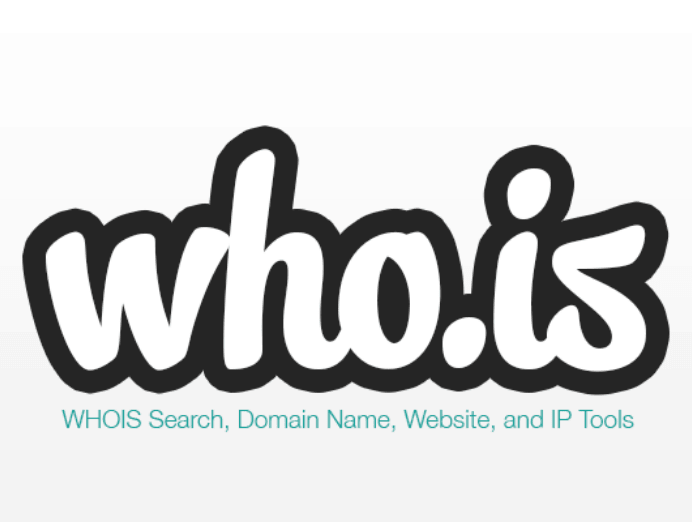 Image source: techfactsoo7.in
WHO.IS is another popular website that allows you to fetch details like IP address, launch date, history, DNS records, IP owner information.
The best part of WHO.IS is that it has a very user-friendly and easy to use interface plus it is completely free. The only drawback of WHO.IS is that it does not provide screenshots history of the required information of the websites but gives basic details and useful information that is very handy.
Website link: http://who.is/
9. TimeTravel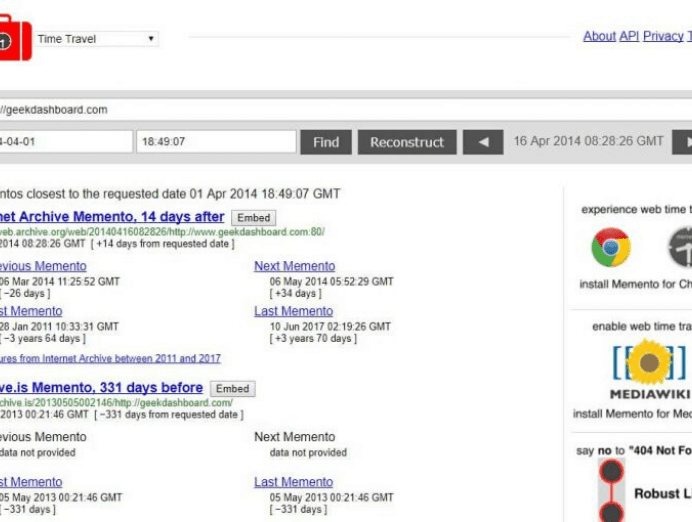 Image source: geekdashboard.com
TimeTravel has to be one of the top websites for the internet archive Wayback Machine. The name itself explains the website as it can travel back to time and provide you with the information you need and take a look at how or what the website looked like at a particular time.
The best part of using TimeTravel is that you can enter the details of time yourself.
To make web archive's content more ready, quick and discoverable, a web program called 'The Memento' was introduced which is a combined experiment of old dominion university and Los Almos national laboratory.
Website link: http://timetravel.mementoweb.org/
10. WebCite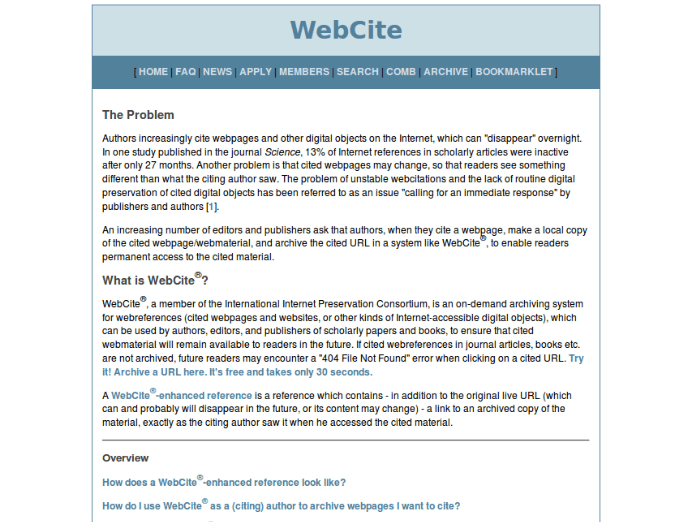 Image source: archiveteam.ors
WebCite may not have a good and easy to use interface but if you are someone who loves writing, then this website is for you. Basically, if you are a writer, author, webmasters, and publisher and you want your content to be citable, WebCite lets you do that besides also letting you discover HTML code, documents, images, etc.
Website address: http://www.webcitation.org/archive
11. Perma.cc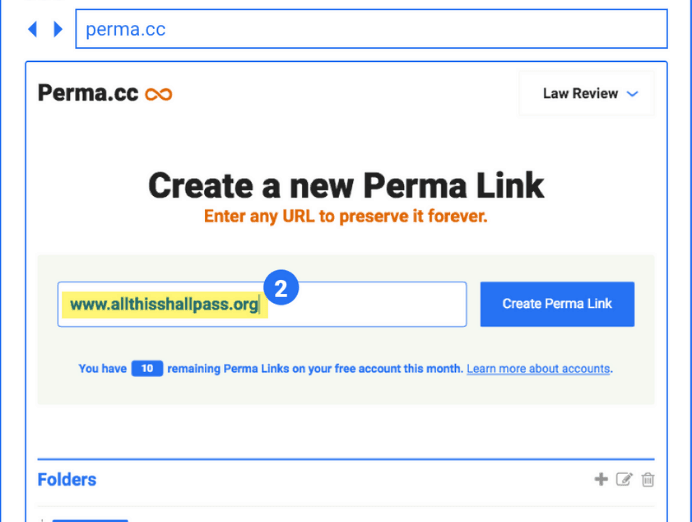 Image source: perma.cc
Perma.cc makes it to the list of one of the best internet web archiving Wayback machines since it lets to create a permanent record of the as many numbers of websites you wish.
The features of Perma.cc include deleting links within 24 hours after its creation, viewing archived records, lets you create a Parma, URLs can be inserted easily that is via articles and/or blogs, easy assignment of users to any organization, getting you easy access to permalinks through tiered subscription, offers you to upload an image or PDF if the preservation fails and many more.
Website link: https://perma.cc
12. Stillio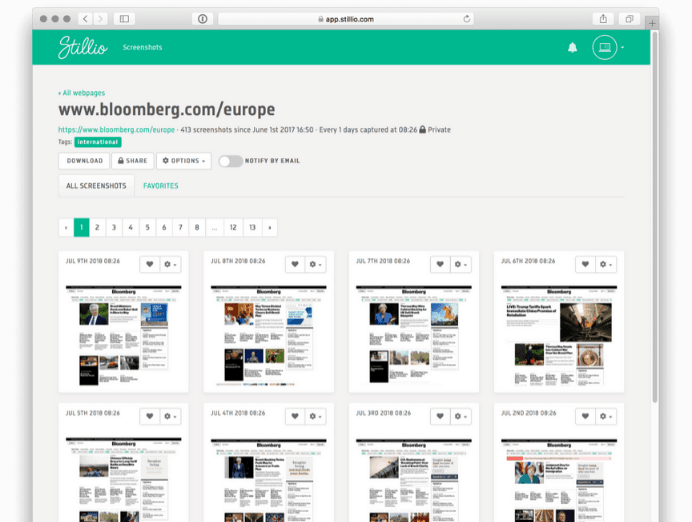 Image source: capterra.com
Stillio is yet another great tool that automatically takes snapshots of the websites, archives them and shares them with other users.
The best part of using Stillio is that you can manage the history of your website which saves a lot of your time. In addition to that, you can also set the frequency of screenshots as per your wants. It allows you to enter multiple URLs at once.
After capturing a screenshot you can save it into the dropbox. It does not only support URL sharing but also lets you filter them by domain.
If you are someone who is particular about the organization, this tool lets you use custom titles so you can keep things organized.
It identifies a website's geographical location by identifying the IP address of the website which helps you in taking a screenshot.
In case you want to get rid of unwanted elements such as cookie popups, banners, advertisements, overlays, etc, this tool helps you in doing that.
Website link: https://www.stillio.com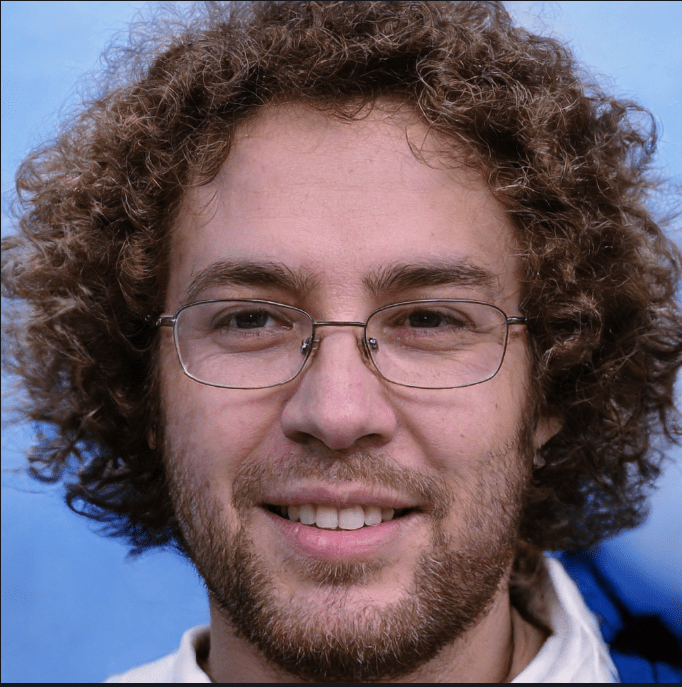 Hello! My name is Lucas, and I am the creator of ursuperb.com. I've been writing about technology for almost 10 years now, and I love talking about tech news, reviews, and tutorials. I'm currently living in San Francisco, CA, and I've been blogging professionally since 2012. I love what I do, and I really enjoy interacting with people online. I believe in creating positive change for humanity, and I try to inspire others to do the same. You can read more about me here.
My favorite thing about Ursuperb is that I'm able to provide useful information to anyone interested in learning more about technology. No matter what kind of tech you use (computer, smartphone, tablet), you will definitely find something interesting to read on Ursuperb. So, let's take a look at some of the topics I cover on Ursuperb:
1) How To Build An Online Business With WordPress
2) How To Make Money On YouTube Using AdSense
3) What Is Google Analytics? And Why Should You Use It?
4) How To Make Your Own Website Design Software For Free