Best DNS Benchmarking Tools For Windows
Short Notes:
The main purpose of dns is to assign ip addresses to our computers when we are connected to the internet or a private network. Ip addresses download dns jumper is a fast dns server benchmarking tool. It has 27 pre-configured dns services from which you can select you can start searching for dns servers if you don't have any dns server address. Download netsetman it is a multi. …
What is a DNS?
– Domain Name Server is a naming system for our computers which are connected to a private network or internet.
It uses IP addresses to identify each computer and system individually.
The main purpose of DNS is to assign IP addresses to our computer systems when we are connected to the internet or a private network.
These IP addresses are used by websites to differentiate between many other users who are connected to the same website.
IP addresses are really important for our computers to work online.
Hence you should have a fast and secure IP address when you are online.
Sometimes your ISP (Internet Service Provider) diverts your internet traffic through their servers, which slows your internet but increases the consumption and a large amount of your data gets wasted.
And this also decreases the security for your internet. Your privacy can also be affected.
That's why people usually do a DNS benchmarking to ensure the speed and security of there DNS system but how do they do it?
Well, we are here to answer this question for you.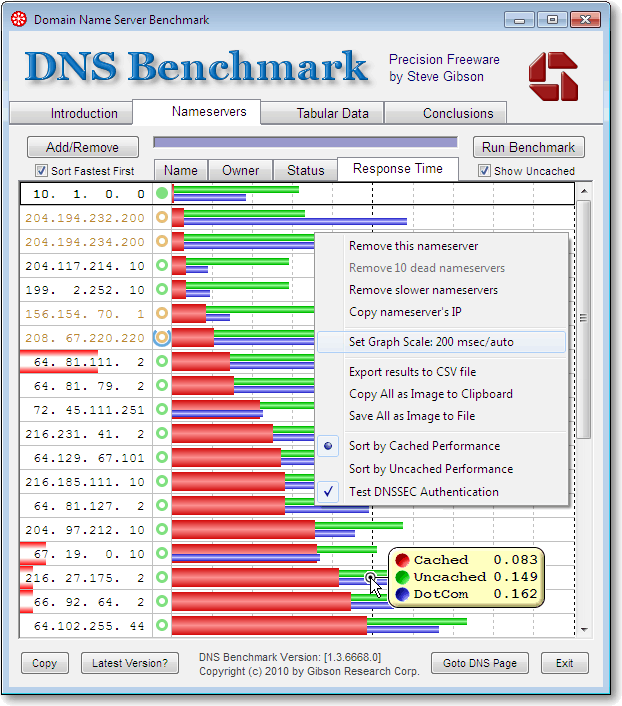 There are many DNS Benchmarking tools to make it easier for you guys. We have compiled a list of the Best DNS Benchmarking Tools For Windows.
So keep on reading to find the best DNS Benchmarking tool for your Computer.
---
ChrisPC DNS Switch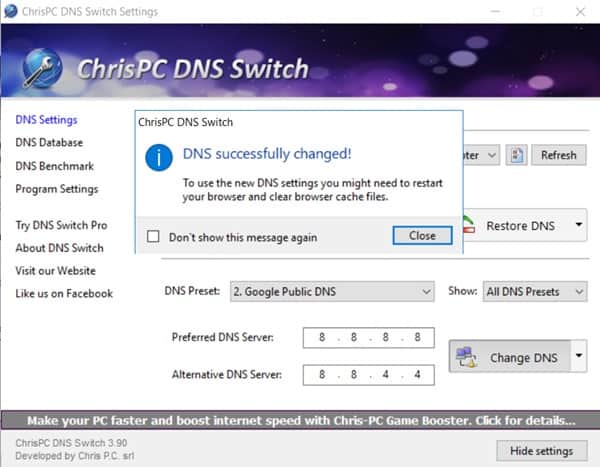 ChrisPC DNS Switch is one of the oldest and popular DNS benchmarking tool.
And as the old saying goes, "Old is Gold" and this tool is Gold. You can add custom DNS servers to this tool. It is a fast and lightweight software.
DNS restore and Flush options are also available in this software.
This software is free for personal use but you have to pay to use it commercially but don't worry they do give 14 days trial to let you have the feel for the software.
Now how to use it:
Launch the software obviously.
Now click on the drop-down given with DNS preset, Select Your DNS server and then click on Change DNS.
Now finally, click on the DNS benchmark option to find out the fastest DNS server.
Now you will have the fastest DNS server now just manually set it as default on your OS or Router manually.
---
DNS Jumper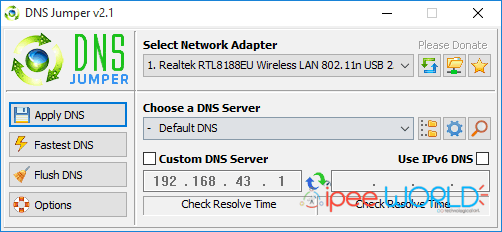 DNS Jumper is a free software used for switching from Google to Open Public DNS and other services.
It gives you the power to change the Network card, create or delete domain name as well as customize it manually. In addition, it also offers you to test DNS IP's reaction time. You can also edit a file and define the language.
Overall, DNS Jumper is a handy and excellent software that you must have on your System.
Features
This Software is portable and movable. This is a fast DNS server benchmarking software. It has 27 pre-configured DNS services from which you can select any one of them. It also provides us the extra protected DNS servers option which will greatly enhance your security. Its newest version also comes with an option named Turbo unravel which practices the fastest DNS server simply after the start-up.
Now then how to use it:
Let's first open the DNS Jumper Tool.
Now click on the drop-down given beneath Make a choice DNS Server.
Now click on the DNS server you want to choose.
Now finally click on Fastest DNS to find the fastest high-speed servers and then set them as your default.
---
DRC Benchmarking Tool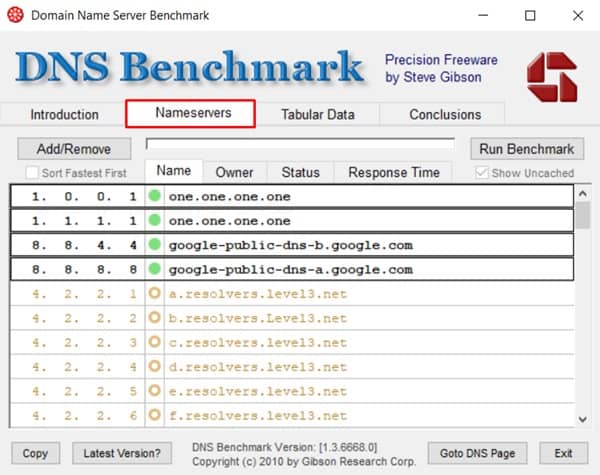 It is a great DNS Benchmarking Tool. It shows us a detailed list of the fastest DNS available. It is free software so you don't have to worry about financial issues. It shows us response time, reliability, the standard deviation of the DNS server.
Now here's how to use this tool:
Obviously Launch the DRC Benchmarking Tool, and click on NameServer Tab.
Now click on the Run Benchmark button. Now the scanning will start.
After the scan is finished. Go to the tabular data and find the best DNS server based on there details minimum, maximum, average speed and it's reliability.
Now set that DNS server as default on your system or router manually.
---
Namebench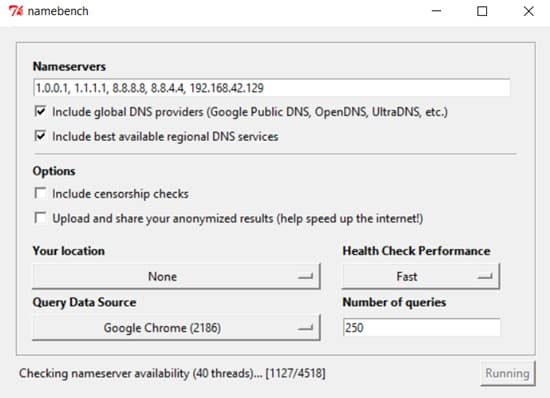 It is an old and lightweight DNS benchmarking tool. It is available for Windows (all versions) and Mac-OS. It is capable of having manual DNS servers and searches for the fastest servers too. It can provide the best DNS server according to your location. It is a little slow but it is a great benchmarking tool. It can also detect when your ISP (Internet Service Providers) redirect your DNS traffic via their own servers.
Let's See how to use this great tool:
Launch the application first.
Fill the Name-server address manually if you have one and click on Start Benchmark.
Now you can start searching for DNS servers if you don't have any DNS server address.
---
NetSetMan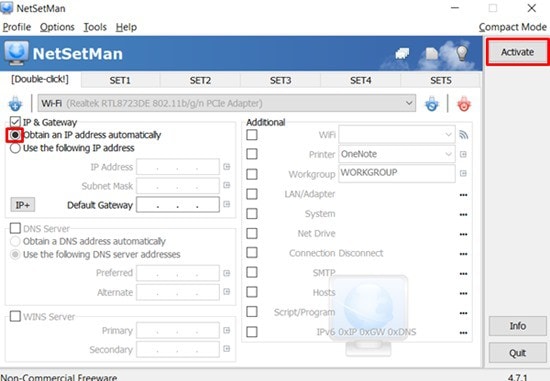 It is a multifunctional program that has many uses, It allows you to choose DNS servers from pre-configured DNS. It can also be used for capturing, modifying and applying different types of network setup. And other than previously mentioned features it also has Work-group, default printer, NIC status (Network Interface Card Status), DNS suffix, etc.
Now Let's See how to use this multifunctional program:
Well as usual Launch the NetSetMan Software first.
If you have the DNS server address then click on Use the following address and fill the address.
Now click on obtain an IP address automatically to find the fastest server automatically.
Now finally to apply the settings click on Activate.
---
Conclusion
Your IP address is really important;
hence, we recommend you not give it out to anyone carelessly.
DNS is really important; every IP is allocated by DNS; hence be sure to use the most secured DNS or else your IP address can be in danger of being stolen.
We hope that you could find the best Benchmarking Tool and then Find the best DNS server for your system.
Hello friends. I am John from USA and very passionate about technology. I love reading Motivational Books, playing Piano and doing Blogging.