How to Fix "Windows 10 Cannot Cast to Smart TV" ?
Short Notes:
Casting is feature of smart televisions which enable displaying content of your pc and mobile on your tv without actually connecting your pc to tv with a wire. It is replacement of previous your system will start searching for drivers online. By this method display drivers will update automatically. After download will be successful then don't forget to restart your computer. Turn on smart it is developed by google for enabling technology of casting your mobile phones or pc to smart tv. It can be connected using various medium which involves wi-fi, hdmi, 3. 5. …
Casting is feature of Smart Televisions these days which enable displaying content of your PC and Mobile on your TV without actually connecting your PC to TV with a wire.
Basically this is wireless method of viewing content from one device to another device.
It is replacement of previous method in which we used to use HDMI cables for projecting content from one device to another device.

I feel it's a really great feature which we can use today.
With the rise in technology, advancement in technology is also increasing.
It might happen initially when you purchase a new TV, you will find difficulty in casting content from your PC to your Smart TV.
It can happen because of various reasons which I will mention below along with their solution methods which you can perform to solve your issue.
Cross check windows firewall settings
The First step in casting is to connect your pc with your Wireless Modem.
Now next step here is to press Window + S keyboard shortcut and then type Windows Defender Firewall for searching windows firewall option in your computer.
Once you will find Windows Firewall option then click on it and it will open, Here you need to Confirm the Connection and click on 'Allow an app or feature through Windows Defender Firewall'
In this step you will be able to see a list of apps and features which can be turned on or off to be shared through the Firewall.
Then if you want to perform any changes to firewall settings then do it and apply all the changes.
Final step is to click on OK for changes to take place.
Check if display driver is up to date
The very first step here is to start device manager, for this you have to press Windows + X and then finally click on Device Manager. It can also found through the device manager by going to the Control Panel.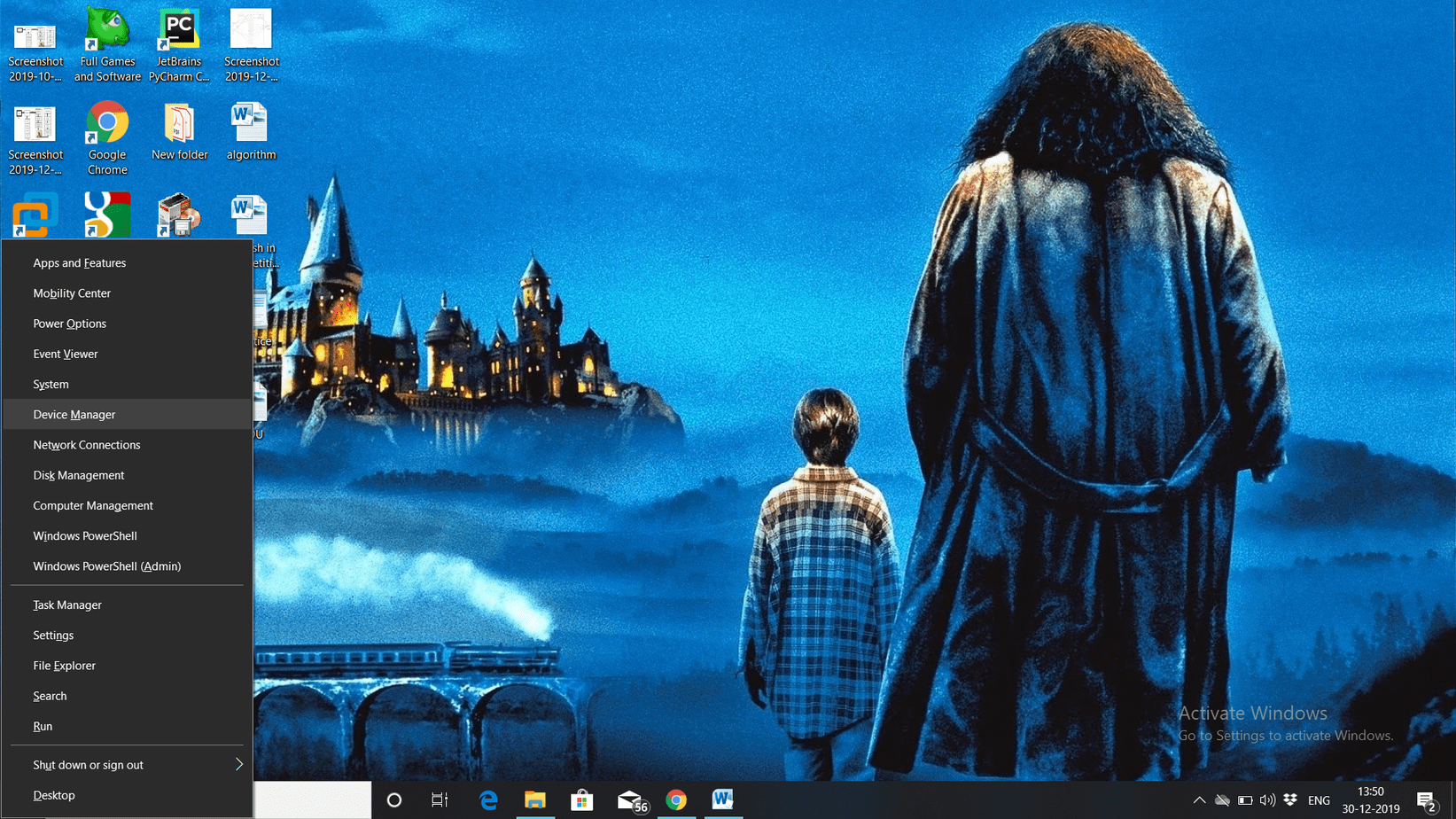 Then you will be displayed with several options. Here you have to click on Display Adapters and now select which is your device driver. Then you will be proceeding to properties of your display drivers which will look like below.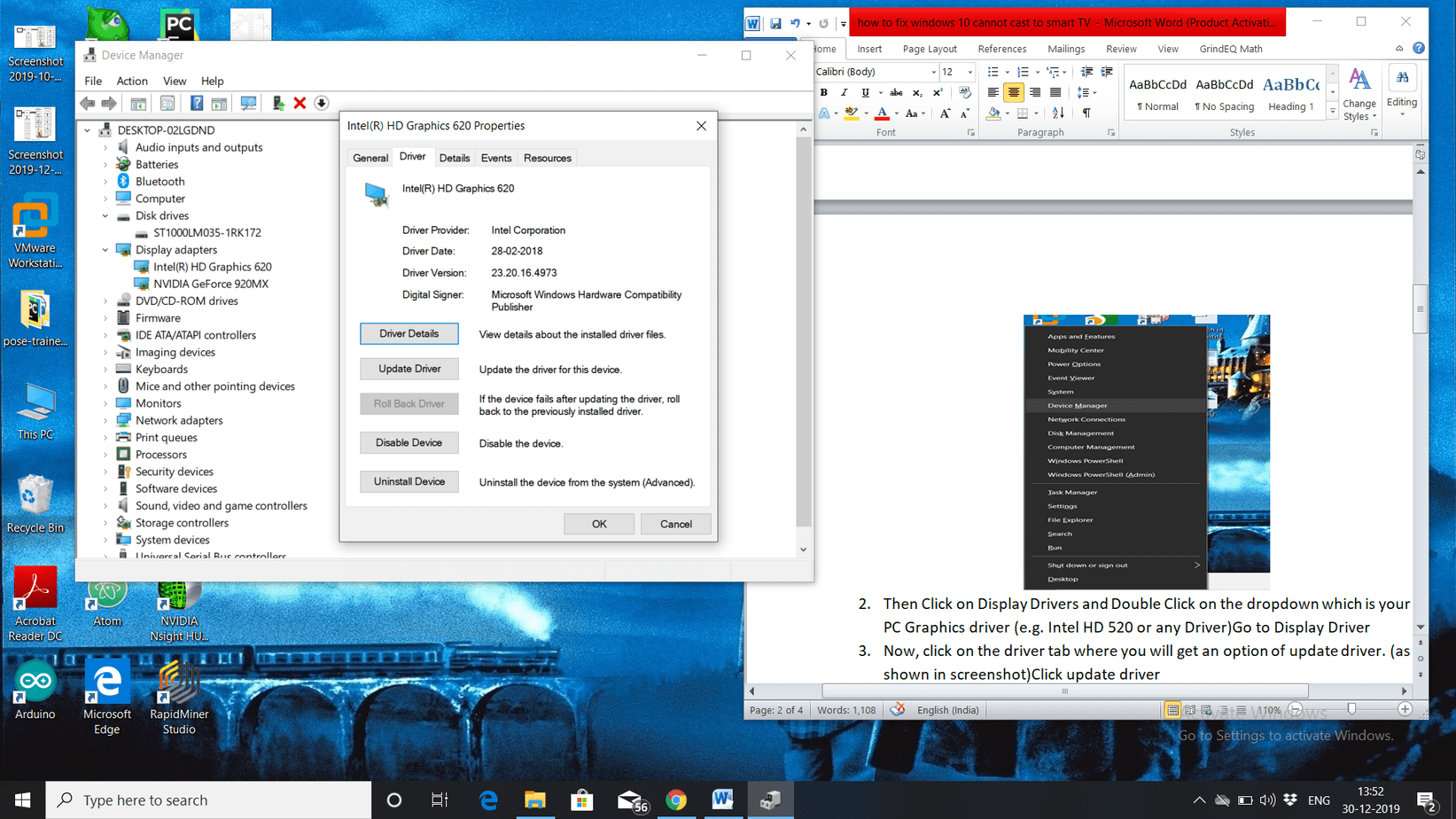 Now to update driver next step is to click on the driver tab where you will get an option of update driver. Just click on update driver this will be you final step.
One step is to select Search Automatically for updated driver Software and your system will start searching for drivers online. For searching of driver online it is necessary that your driver should be connected to internet.
By this method display drivers will update automatically and you won't have to do much work. After download will be successful then don't forget to restart your computer.
Turn on smart TV Any view feature
When you buy new TV sometimes feature of Any view is not turned on.
In this situation you need to turn it ON manually.
I believe this is the first thing which you should check if your TV is not working properly.
Now if you are new to smart TV then below are steps which you can follow to enable it.
If these steps don't work for you then you can look into manual given with Smart TV.
Firstly from your remote press option of Input or Source.
Now you will be presented with options of different inputs. These inputs can be HDMI, TV etc. Here you have to select option of Any view Cast to enable casting of PC to Smart TV. If it was not selected before then don't worry this was the reason of issue. Now everything will work completely fine for you.
Reset to factory default settings
Another solution which you can try if problem still isn't solved. This solution clearly portray that whenever you get stuck in problem you should always think about starting from scratch or give it a fresh start.
Sometimes when you explore with any Technical device there are chances that you end up doing changes which cause poor functioning of device.
For situations like these, all devices have something called factory default settings in your device which are the minimal settings required for proper functioning of device.
In this solution you can reset all settings of smart TV back to its default factory settings.
Now try again to cast display from PC to Smart TV. If there was any change which was preventing it from functioning properly then your TV will work completely fine after resetting.
Use Chromecast
Well if you can spend more money then you can switch to this method.
In this method the alternative to the issue is Chromecast. Now what is Chromecast?
It is developed by google for enabling technology of casting your mobile phones or PC to smart TV and along with that there are other applications also available.
It resembles like a small dongle that supports technology of Google cast which enable casting of content from both google chrome or content from the screen of any device.
Latest version of Chromecast is provided with 4K resolution and it is accepted worldwide with sale of around 30 million units.
Talking more about its technicality then it can be connected using various medium which involves Wi-Fi, HDMI, 3.5 mm audio jack and Ethernet.
It used Micro-USB cable for powering.
For more information about how it is used you can watch tutorials and reviews on YouTube. It looks like the picture given below.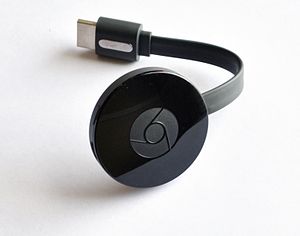 Check router
If you have tried all the troubleshooting method and your issue is still not fixed.
It might happen that there is some problem in your router. In this case you can check connecting with using another router.
If now you are able to properly cast display from windows to smart TV then for sure there was a problem with router which was preventing casting from PC to TV. In this situation change your router and replace it with new one.
These were solutions which you can use without any hesitations and I really hope these solutions will help solving your problems.
Whenever there's involvement of technical devices and technology then in that case it is not necessary that problem is there with software. It involves both hardware and software.
I feel in such cases it is preferable to contact right person for it.
There can be possibility of issue in your smart TV.
I genuinely feel in such cases you should contact to your manufacturer support team. They will surely be able to come up with a solution for it.
Home service is also provided by some manufacturers and you won't even have to go anywhere.
You are just one call away from your Smart TV getting fixed.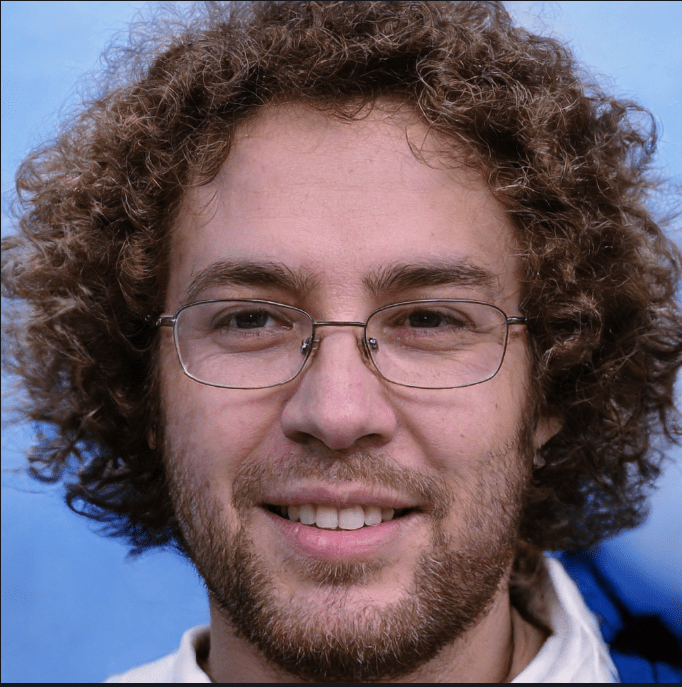 Hello! My name is Lucas, and I am the creator of ursuperb.com. I've been writing about technology for almost 10 years now, and I love talking about tech news, reviews, and tutorials. I'm currently living in San Francisco, CA, and I've been blogging professionally since 2012. I love what I do, and I really enjoy interacting with people online. I believe in creating positive change for humanity, and I try to inspire others to do the same. You can read more about me here.
My favorite thing about Ursuperb is that I'm able to provide useful information to anyone interested in learning more about technology. No matter what kind of tech you use (computer, smartphone, tablet), you will definitely find something interesting to read on Ursuperb. So, let's take a look at some of the topics I cover on Ursuperb:
1) How To Build An Online Business With WordPress
2) How To Make Money On YouTube Using AdSense
3) What Is Google Analytics? And Why Should You Use It?
4) How To Make Your Own Website Design Software For Free