Best Firewall Apps for the Android
Short Notes:
A firewall is a network security system that monitors and controls the incoming and outgoing network traffic based on predetermined security you can individually allow and deny access to applications and addresses to access your wi-fi and/or mobile connection. Blocking access to the lostnet noroot firewall pro using lostnet noroot firewall you can block internet access for any app. You can also internetguard data saver firewall pro provides us many features. Features include mobile data reset, wi-fi data reset and grant/. …
Mobiles have spread completely into our personal and professional lives.
We are getting too much dependent on them. This will not be a danger unless we implement necessary measures for the safety of our privacy. Safety remains the need of the hour because we use most of the times public Wi-Fi or hotspots.
We take necessary measures like Anti-virus software, Encryption, multi-factor authentication and many others for our laptops. But we hear none about the security of Mobile devices.
To secure your personal data on phones, always avoid sharing sensitive data. Lock all the Apps with a password. Use unique passwords to lock different Apps.
Use a VPN.
And one of these security measures is using a Firewall.
What is a Firewall?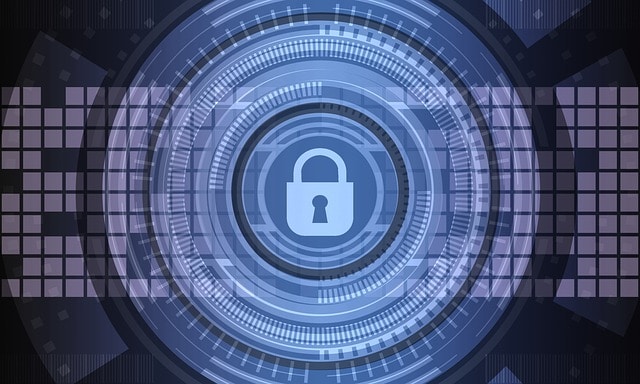 "A Firewall is used to protect (a network or system) from unauthorized access. It is a network security system that monitors and controls the incoming and outgoing network traffic based on predetermined security rules."
Sometimes we have so many apps on our Android and are strapped for time. If you are free, you could access 'Settings' and just go to Data Usage to select 'Restrict App Background Data.'
However, if you run the app, it will use internet data.
Moreover, there's the problem of not being able to select apps individually or view network traffic and data usage statistics.
This is where Firewalls for Android come in. Android firewalls are significant for gaining more control over your phone's communications with the Internet – blocking app Internet access, blocking IP addresses, controlling bandwidth, and so on.
1. NoRoot Firewall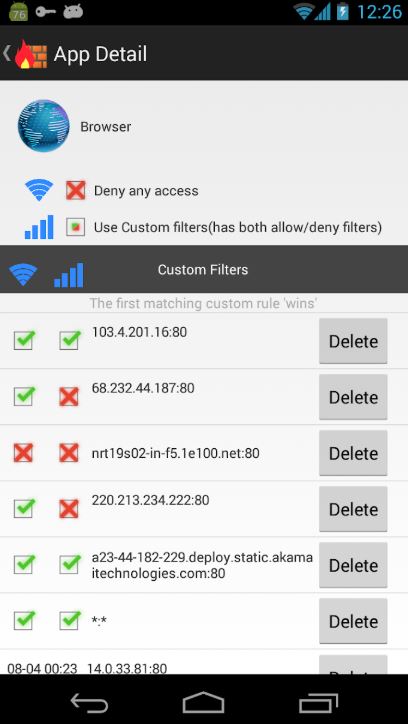 NoRoot Firewall requires NO ROOT. It secures your personal information from being sent to the Internet. When an app is trying to use the internet then NoRoot firewall sends you a notification asking for permission, you can allow the app to access by pressing allow. You can create Filter rules based on IP address and Hostname. The app requires minimal permissions, it does not ask for your mobile number or location. This app may lead to quick battery discharge. It has almost 0 ads. Therefore one of the best available apps for firewall and security is NoRoot firewall.
PlayStore Download link: https://play.google.com/store/apps/details?id=app.greyshirts.firewall&hl=en_IN
2. NetGuard Firewall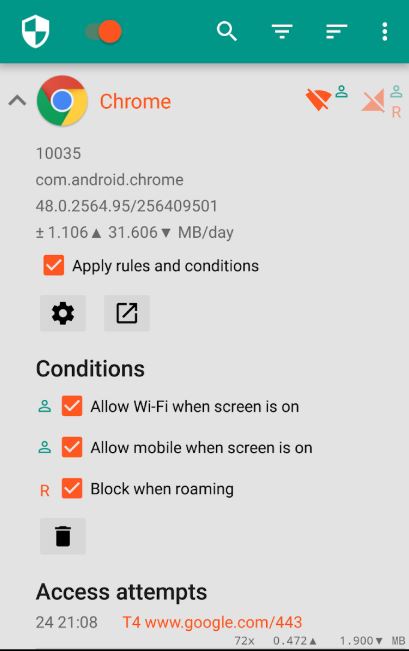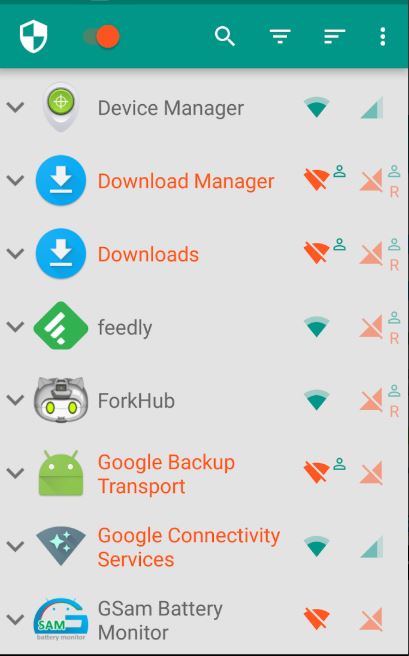 This App also like NoRoot firewall does not require Root. You can individually allow and deny access to Applications and addresses to access your Wi-Fi and/or mobile connection.
Blocking access to the internet can optimize your data usage, Increase battery life and protect your privacy. It is 100% open source software. There is no tracking, analytics, and advertisements. User Interface is very simple. There are more than One million users for the app.
PlayStore Download link: https://play.google.com/store/apps/details?id=eu.faircode.netguard
3. Mobiwol: NoRoot Firewall
With Mobiwol No Root Firewall you can have complete control of your Mobile Apps. You can easily allow/block App connectivity. If your apps are running in the background and consuming a lot of battery then you can monitor those apps and deny permission to unnecessary ones. You will be alerted whenever an app tries to access the internet.
Like the other apps, this also does not require ROOT access. It gets automatically launched on device startup.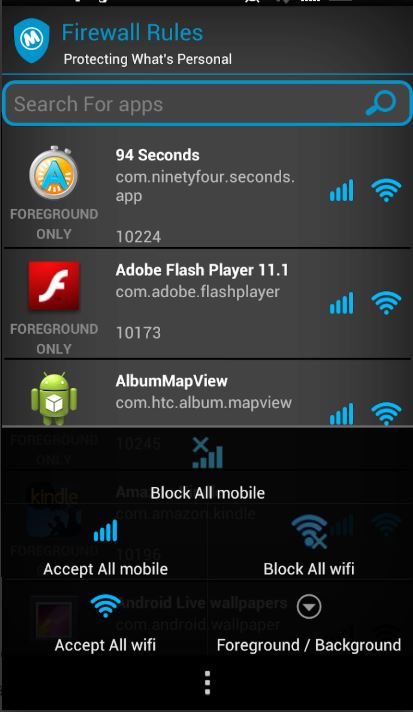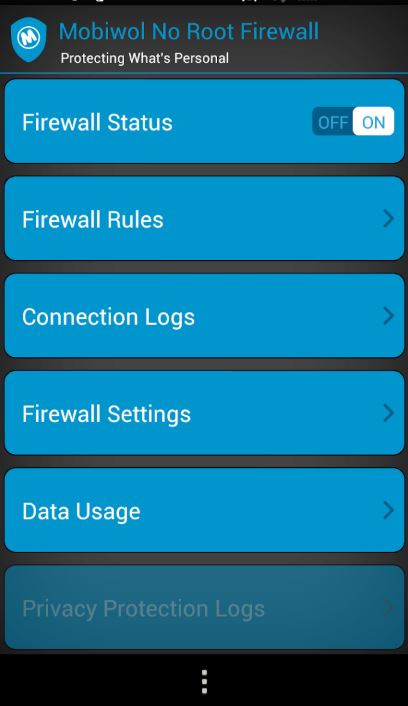 But as a responsible user read terms and conditions for all the apps you are downloading, they may be lengthy but there are chances of loopholes in those conditions and don't end up signing.
PlayStore Download link: https://play.google.com/store/apps/details?id=com.netspark.firewall
4. AFWall+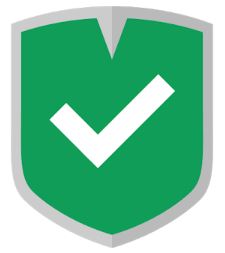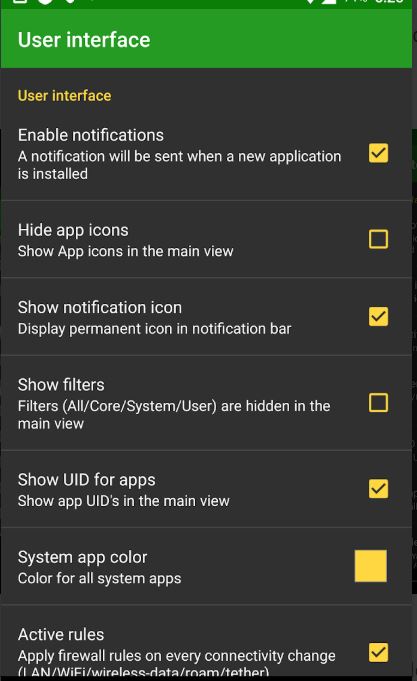 AFWall+ (Android Firewall +) is a front-end application for the powerful iptables Linux firewall. It allows you to restrict which applications are permitted to access your data networks (2G/3G and/or Wi-Fi and while in roaming).
Also, you can control traffic within LAN or while connected through VPN. You can search, Filter Applications. You can have Profile Management with UI (multiple Profiles), Tasker/Locale support, and Select All/None/Invert/Clear applications on each column. It blocks ads and other unnecessary traffic. Ipv6 Addresses are enabled by default.
PlayStore Download link: https://play.google.com/store/apps/details?id=dev.ukanth.ufirewall
5. NetPatch Firewall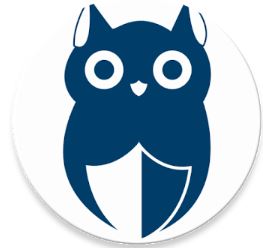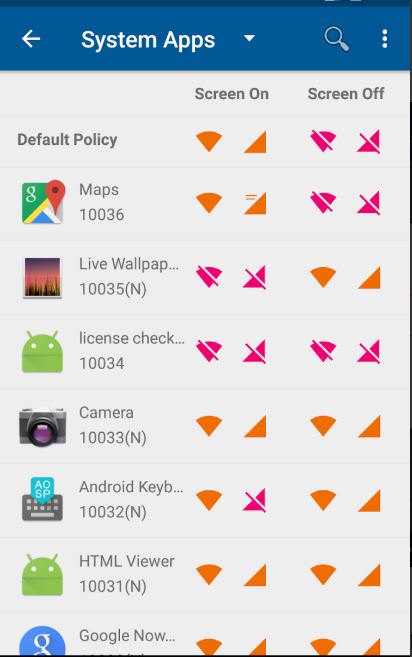 It provides "Block network access per apps", the screen on/off, Wi-Fi/mobile (3G & 4G), and block Roaming. It supports Shadowsocks and Shadowsocks secure proxy, support TCP & UDP. You can customize your DNS, change your DNS servers, it supports DNS query through shadowsocks(R) proxy.
It notifies you when new apps are installed. You can have a free 7-day Trial for Premium. There are No Ads. NetPatch Firewall does not have any built-in rules, you need to create your own rules or subscribe from the network.
PlayStore Download link: https://play.google.com/store/apps/details?id=co.netpatch.firewall
6. LostNet NoRoot Firewall Pro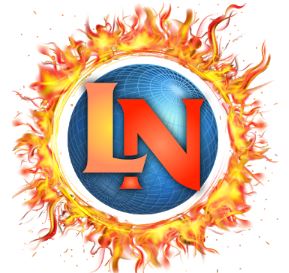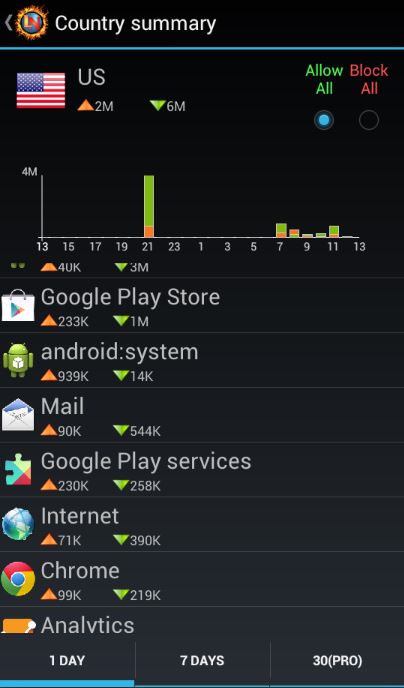 Using LostNet NoRoot Firewall you can block Internet access for any app. You can also block access to any country/region for all your apps. When Apps run in the background they consume a lot of power and internet data, using LostNet NoRoot firewall you can monitor and block background activities of apps.
The sniffer tool of LostNet NoRoot Firewall allows you to learn details about the data your apps are sending. You can monitor the amount of data consumed by apps and track the countries your apps are connecting to. In this way, LostNet Firewall helps to detect suspicious apps and spyware.
PlayStore Download link: https://play.google.com/store/apps/details?id=com.lostnet.fw.free
7. Kronos Firewall
Kronos is a simple firewall app for Android. If you are comfortable with all the confusing settings and advanced features then this app is what you want. The app has a very simple layout and with just a single tap you can either allow or block an app from connecting to the internet. If need be, you can also block all the apps from connecting to the internet.
But this app cannot manage mobile data and Wi-Fi separately. You cannot allow an app to stop using mobile data and only use Wi-Fi. While you are using the app, it logs all the traffic. You can access the traffic logs from the Settings menu.
PlayStore Download link: https://play.google.com/store/apps/details?id=eu.stargw.fok
8. Ultra Firewall:
The Firewall App, Ultra Firewall requires root access to work. When you give it permission it auto starts on booting and blocks apps that connect to the internet via Wi-Fi or mobile data. It has very simple and user-friendly UI but it does not work with 4G LTE networks. When you are playing games offline then the app blocks ads to those games but it does display ads. You can sort all the blocked apps using filters for name and UID.
PlayStore Download link: https://play.google.com/store/apps/details?id=pl.itto.firewall&hl=en&rdid=pl.itto.firewall
9. InternetGuard Data Saver Firewall Pro
By blocking access to the internet you can reduce your data usage, save your battery, increase your privacy, block Adult Websites, etc. InternetGuard Data Saver Firewall Pro provides us many features a few of them are below:
• Simple to use
• Android firewall protection with **NO** ROOT REQUIRED!!
• IPv4/IPv6 TCP/UDP supported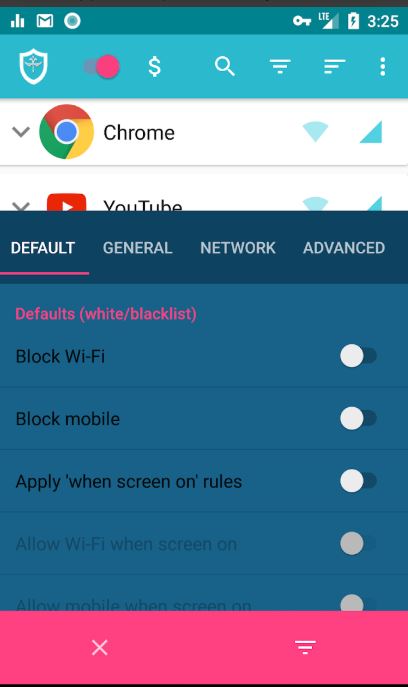 • Multiple device users supported
• Automatic launch of device startup
There is no other no-root firewall offering all these features. This app is based on the VPN interface, which is the only way to implement the firewall on no-root devices. It works as a proxy between the common apps and the servers.
PlayStore Download link: https://play.google.com/store/apps/details?id=eu.sheikhsoft.internetguardpro
10. Droid Firewall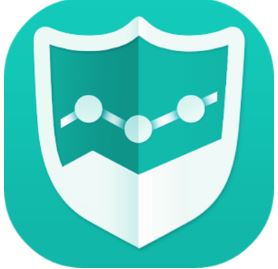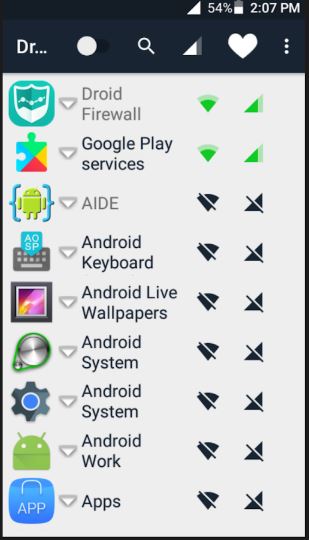 Droid Firewall is perhaps the oldest and most popular Android firewall app available on the Google Play Store.
Even if you will have to deal with the ads, it is still one of the best firewalls for Android in the market.
Features:
• Mobile data reset;
• Wi-Fi data reset;
• Grant/Deny both system & installed Apps;
• Minimal permission
PlayStore Download Link: https://play.google.com/store/apps/details?id=com.cintel.droidfirewall&hl=en
These are the best available Firewall Apps on the internet. Apart from these many others are also available like WebGuard, GlassWire Data usage monitor, Net Optimizer and Booster, ARP guard and many others.
All these Apps stand as a wall against your privacy and outside world.
But as the baseline of defense, you must be careful while downloading files, installing apps and accessing any websites because many hidden files may also get downloaded with others.
So read the terms and conditions carefully, if you are OK with their conditions only then you must proceed further.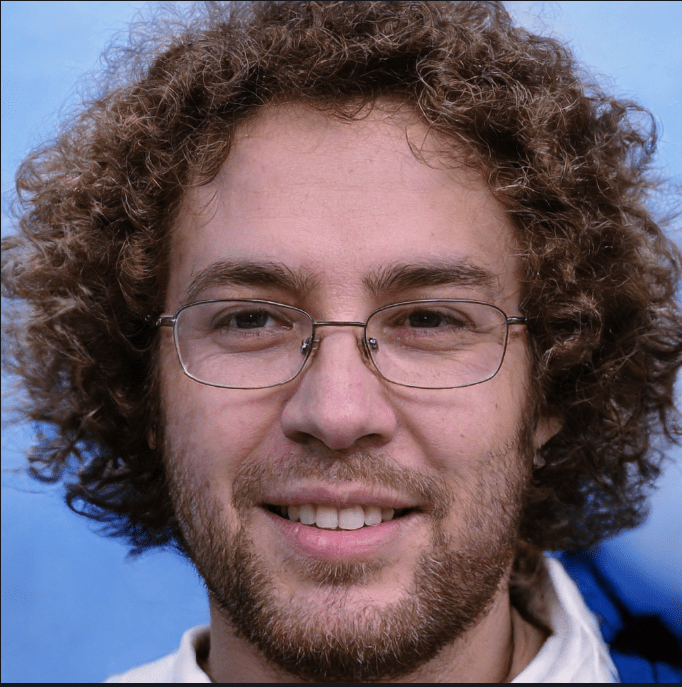 Hello! My name is Lucas, and I am the creator of ursuperb.com. I've been writing about technology for almost 10 years now, and I love talking about tech news, reviews, and tutorials. I'm currently living in San Francisco, CA, and I've been blogging professionally since 2012. I love what I do, and I really enjoy interacting with people online. I believe in creating positive change for humanity, and I try to inspire others to do the same. You can read more about me here.
My favorite thing about Ursuperb is that I'm able to provide useful information to anyone interested in learning more about technology. No matter what kind of tech you use (computer, smartphone, tablet), you will definitely find something interesting to read on Ursuperb. So, let's take a look at some of the topics I cover on Ursuperb:
1) How To Build An Online Business With WordPress
2) How To Make Money On YouTube Using AdSense
3) What Is Google Analytics? And Why Should You Use It?
4) How To Make Your Own Website Design Software For Free