Best LAN Messengers for Windows
Short Notes:
A list of the best lan messengers for windows, each with its own unique advantages that make it the best choice for different situations beebeep marco mastroddi has developed a lan messenger. It is open source. You can share files with the it saves your internet bandwidth and prevents outside hacker attacks. It also has support of microsoft and citrix terminal services environments bopup messenger has more than 200 animated smiles. You can ignore messages that you don't want to read pichat pichat has multiple support of platforms such as linux and windows. It also supports multiple languages and has a c++plug. …
As a technology blogger, I spend a lot of time on the internet, and one of the biggest frustrations is having to switch between different applications to handle my messaging needs.
The standard Windows Messengers just don't cut it, and neither do other standalone messaging applications like Skype.
That's why I've compiled a list of the best LAN messengers for Windows, each with its own unique advantages that make it the best choice for different situations.
Ever wondered what the world would be like without the internet?
What if there were no internet-based messengers, like WhatsApp and Hike?
How would you connect with your friends, family or colleagues?
Seems a little far-fetched to imagine such a situation in 2019, right?
If it ever happens, or if you wish to log off the internet and still wish to connect with people, I have got your back.
How?
Well, I have got some options for you to stay in touch with your buddies or when you wish to get updates from your colleagues regarding the office work.
So, what are these options?
LAN messengers!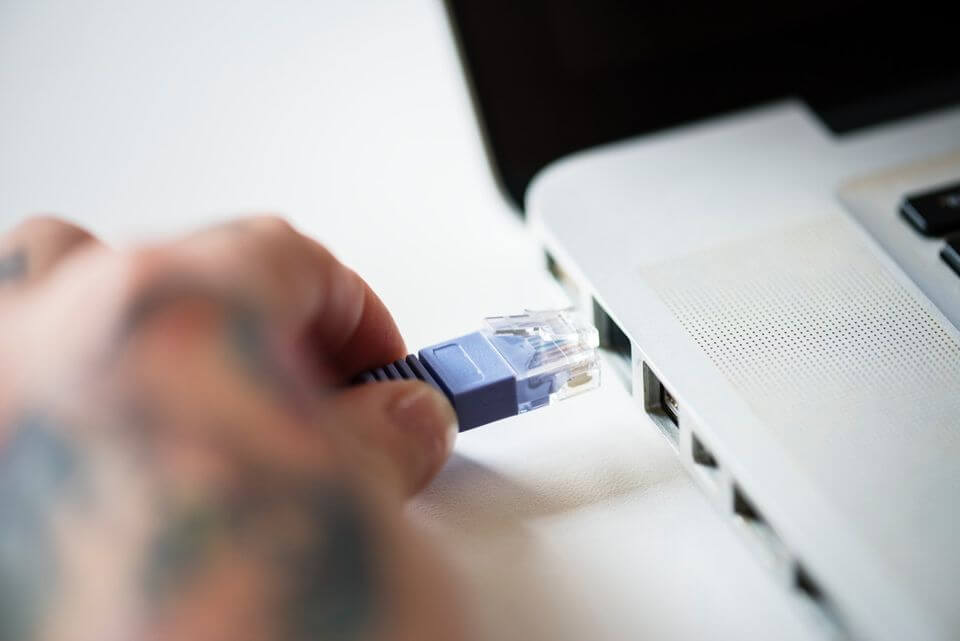 To use a LAN messenger, all the users of the company/family should be inside the firewall. One doesn't need internet!
I have mentioned some useful LAN messengers below.
Outlook LAN Messenger
I found the Outlook LAN messenger secure. One can communicate within the office network. I think it has nice interface and is user-friendly.
It has several features, such as follows:-
Features
Offline Message
File transfer
Personal text messaging
Group text messaging
Remote Desktop Sharing: – This feature will let you control and access a remote computer.
Internal Mail
Remainders
Alert notes
This messenger is capable of being used on several platforms such as:-
Availibility
Windows
Mac
Linux
Web browser
Smartphones
Tablets

It is compatible with the following:-
LAN
Terminal Services
Sub-Network
VPN
WAN
Wi-Fi
Output messenger
Do you want more features than the features provided in the outlook messenger?
Then you should switch to output messenger.
It is capable of running on all kinds of devices. Also, the chats are encrypted. The chat history is synchronized with the server, and it will enable you to view all the chats and look up for a particular word or person. It has a better version of mobile app and has centralized log storage and favourite users list as well. It supports multiple languages. Off-the-Record (OTR) Messaging is also available for confidential messages.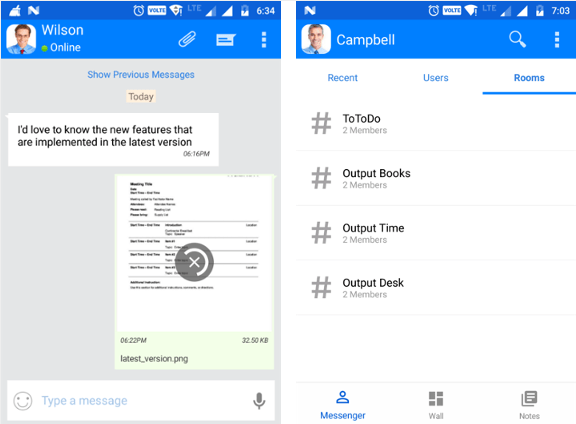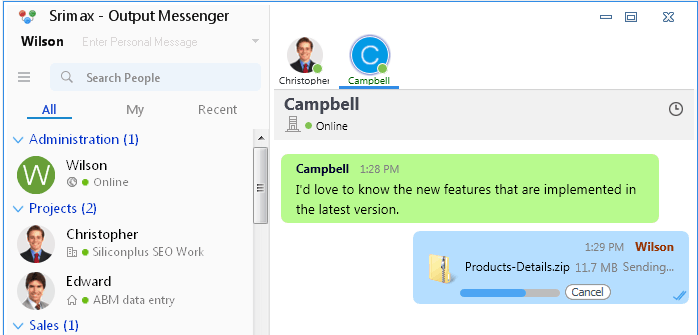 Want to connect with someone via Voice & Video Calls?
Well, download Output messenger now!
The shortcut keys are easily understandable.
It also has a feature to capture/share the screenshots instantly which is called as Screen Clipper.
BeeBEEP
Marco Mastroddi has developed a LAN messenger called BeeBEEP.
It is open source.
Whether you are at home, internet café or office, you can share files with the people who are connected on the network.
Just download it, unzip it and fire it up.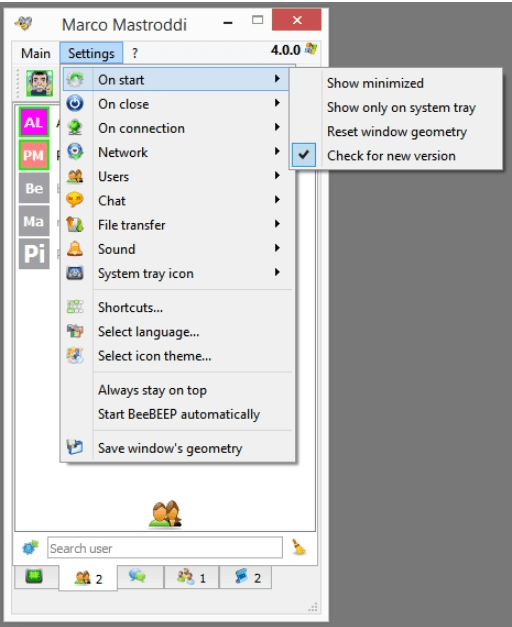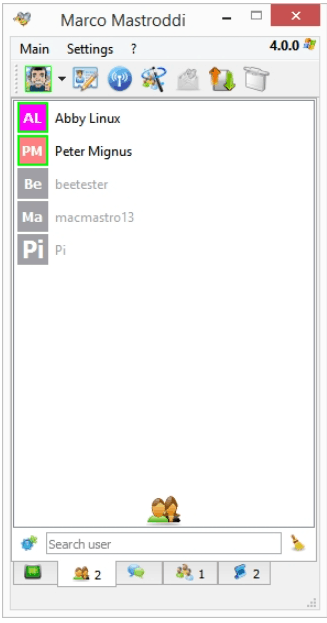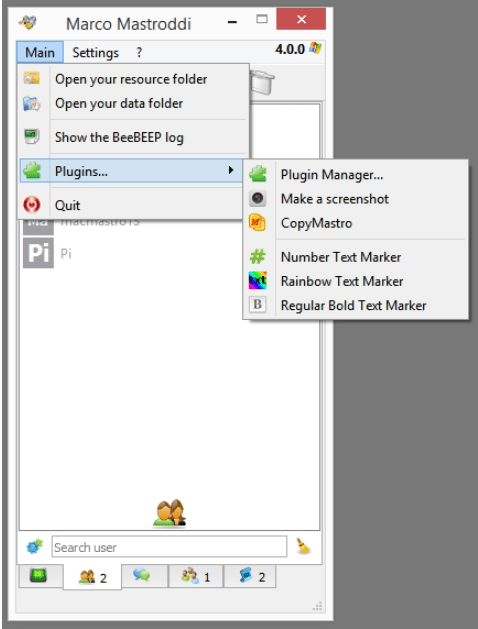 I have found BeeBEEP to be relatively fast.
It is free and easy to use.
It has been released for many OS such as:-
Availibility
Windows
MacOSX
Linux
Raspberry (Raspbian)
OS/2 and eComStation
I think is secure because its encryption is based on Rijndael Algorithm (AES). You can also save all messages. It is a wonderful utility to communicate with each other.
Winpopup
If you want to send messages from one Windows computer to another then you should use Winpopup. Please keep in mind that the computers should be on the same LAN.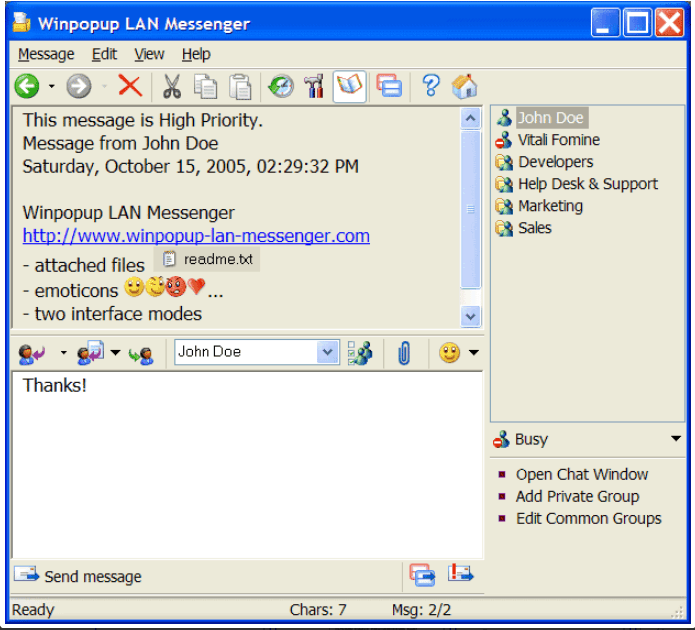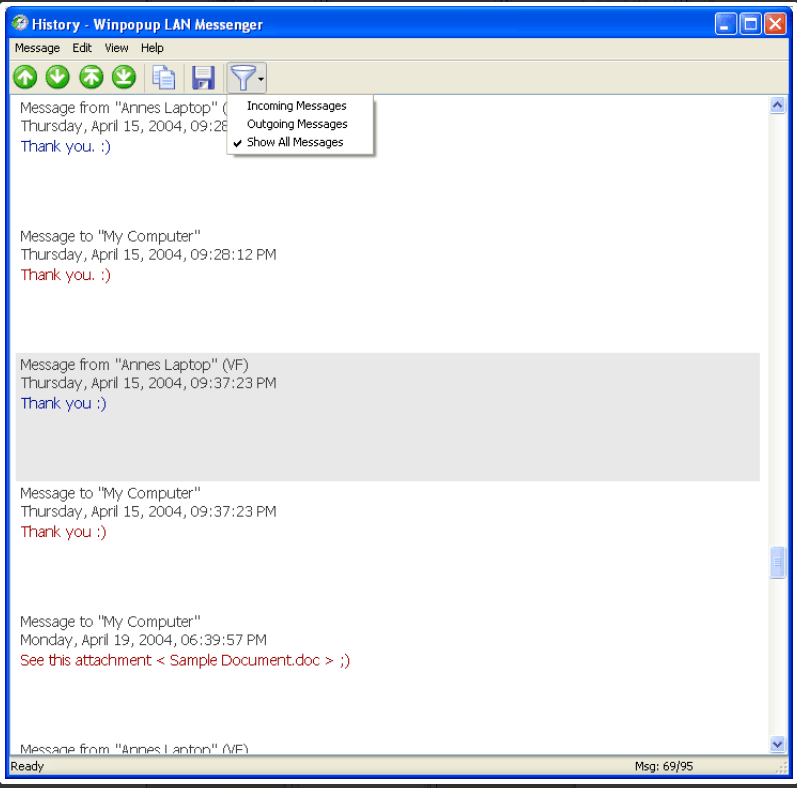 Winpopup can be considered as a corporate instant messaging solution. The messages sent over the LAN cannot be intercepted as all communication is encrypted with RC4. It doesn't even require an IP address.
Two modes of operation are supported by Winpopup, which are:-
With a server
Here, Winpopup is installed on a dedicated messaging server
Without a server
In this mode, no dedicated server and no administration are required.
It also supports group broadcasting and group chats.
An administrator defines these groups and the administrator decides if users can join or leave these common groups. It also supports 'smileys', or emoticons.
Squiggle
Squiggle is a free and an open source software.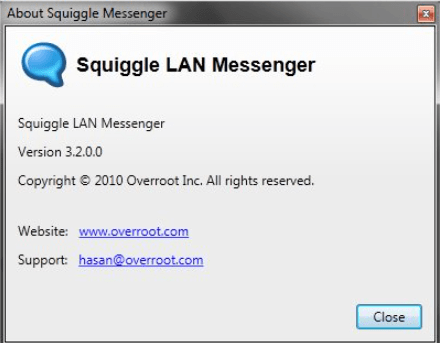 It does not require a server.
All you got to do is, download, unzip and run it.
No installation is required.
That's it, it is ready to use.
You can send emoticons. It checks if the spellings of words are right or wrong. Files are also transferred easily. It has made tray popups for online/offline users available.
I think it has an awesome UI!
Just like many others, it has an option of group chat, private chat and broadcast chat. You can check your chat history as well as status history.
Softros LAN Messenger
I think Softros LAN messenger's way of office communication is very effective. If you want to quickly notify your colleagues about a certain event, you can do so with Softros LAN messenger.
It has an amazing feature, which is the drag-and-drop file feature.
It quickens the process of sending files.
We are all worried if someone, other than the one working in the company, reads our messages and don't want crucial documents to get leaked, that is when we can use Softros as its messages are encrypted with AES-256.
What this does is, it saves your Internet bandwidth.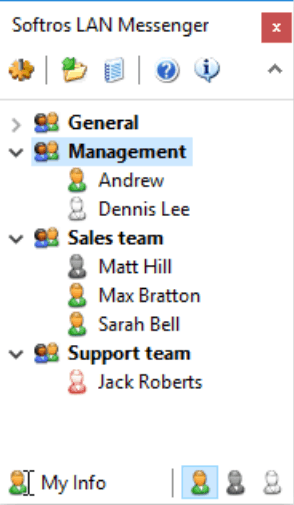 Additionally, it also prevents the possibility of outside hacker attacks, as well as IM worms. One can also send files via broadcast messages to multiple people. It also has support of Microsoft and Citrix Terminal Services environments and also includes application virtualization technologies like RemoteApp and XenApp.
TorChat
TorChat is known for its anonymity feature.
If you are looking for a decentralized anonymous instant messenger, then look no further, TorChat is for you! In its underlying network, TorChat uses Tor onion services. Cryptographically secure text messaging is provided by TorChat. All the traffic between the clients is encrypted. This makes it extremely difficult for people to know your location.
In this messenger, all users all given a unique alphanumeric ID. This ID consists of 16 characters. This is your random .onion address. Also, to work properly, it does not need any port forwarding. TorChat is licensed under the terms of the GNU General Public License (GPL).
Mossawir LAN Messenger
If you are not technically sound and are worried about all the steps you would have to take to finally start chatting with people over a LAN messenger, then fret not. I have got a solution for you, and it is Mossawir LAN Messenger. This messenger is light on your system. The good part about this is that it detects users in the network automatically. It runs in the background and displays a notification when you receive a message. It has an option of displaying a status of your availability. You can set it to, "Available", "Do not disturb", Offline" and "Away". And, it doesn't even ask you to sign up!
BORGChat
BORGChat is a communication software available for Windows only. It is available in different languages. I could send files with bandwidth control and pause. BORGChat takes up less space.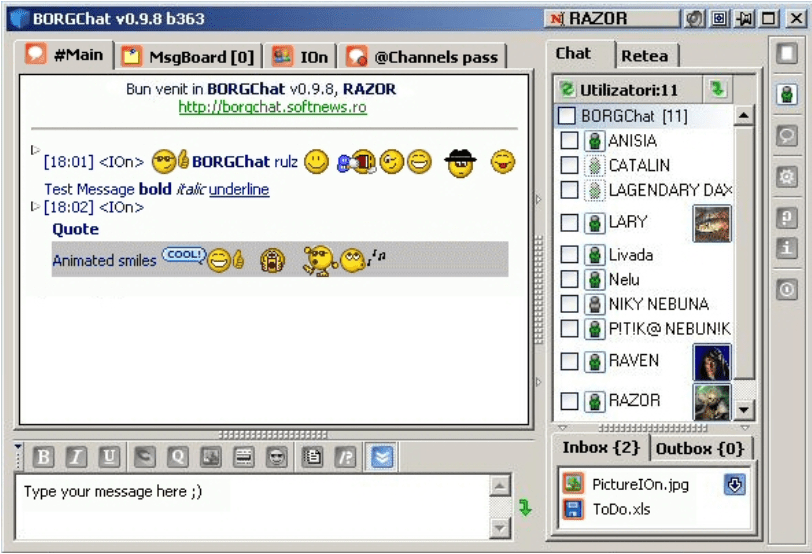 I could also view shares as well as computers from my network. I think, the fun part about this messenger is that it has More than 200 ANIMATED SMILES. You can also add your own! You can ignore messages that you don't want to read and also filter them. It also gives you an option to customize the font.
Bopup Messenger
Are you looking for a messenger that knows how important your privacy is and also fulfils tasks required in business?
Then you are at the right place!

Bopup messenger is especially designed for business purpose. I found it to be secure.
Why?
Because it has strong algorithms to keep your files and texts safe.
Are you a novice in the world of LAN messaging?
Relax, Bopup is easy to use!
You will understand how to use it in just a few clicks.
It downloads and installs updates directly from the IM server.
Many business have different and specific needs and this messenger provides those needs. It has several corporate features. Your colleagues can see if you are available online to communicate. You can view messages and transfer them on the IM server to archive them.
IP Messenger
IP messenger messenger is based on TCP/IP.
Like many other messengers, even this does not require a server. I found the file transfer to be fast. We can also send an image embedded message. It has a message encryption of RSA2048bit + AES256bit. I could quickly view and scroll through numerous messages.
It has an option of text search which is also quick! You can also view inline images, which are captured from your desktop. Plus, it has a powerful logviewer. You can send messages in a few clicks. It doesn't take much time.
My chat
MyChat can be used online as well as offline.
It has a bulk notification system, a bulletin board and a tree style contact list. MyChat has SSL encryption. Because of this encryption, the server runs within the company and is reliable.
And guess what?
You can import your Active Directory users into this messenger.
It lets you use transparent authorization.
Not all employees have to create separate contact lists. MyChat has a control console, in which the administrator can create a phonebook. This phonebook can match the structure of the company perfectly.
What makes is different?
This is my favourite feature; by using MyChat, you can assign tasks to your employees. It also enables you to check their progress. For this use the Kanban board. It helps you manage different projects of the company.
Pichat
Pichat is a P2P chat platform and has a multiple support of platforms such as Linux and Windows. With that, it also supports multiple languages and has a C++plugin interface. It provides us with options such as many chat rooms, conference and moderated rooms.
It can serve different protocols such as text as well as XML. Registered as well as unregistered users can use it. I found the interface user friendly. I could also customize it with templates. It has relatively low CPU and traffic consumption.
LAN messengers are designed to help you keep in touch with your co-workers, family, and friends over a local area network independently from the internet. They are the best suited for small offices, home offices, and for those who want to keep in touch with those who are not online.
Now you what you have to do if you have no internet and want to contact someone on your network quickly.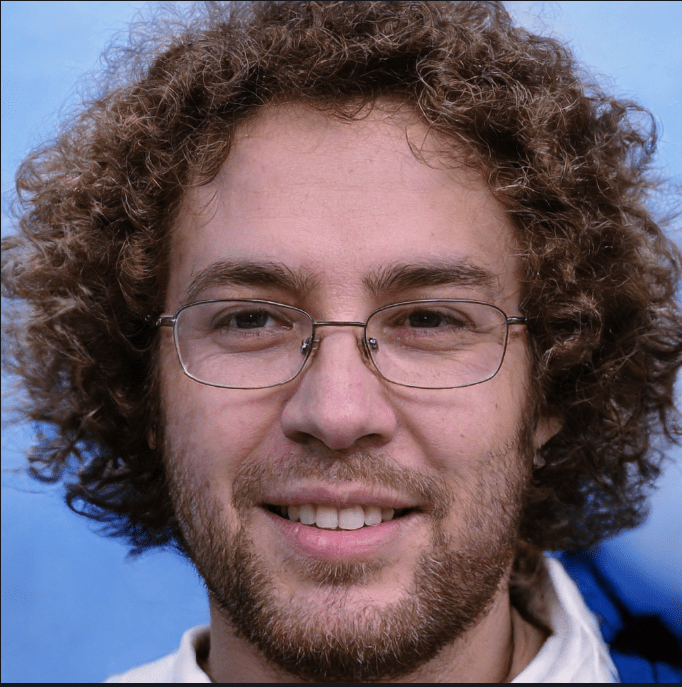 Hello! My name is Lucas, and I am the creator of ursuperb.com. I've been writing about technology for almost 10 years now, and I love talking about tech news, reviews, and tutorials. I'm currently living in San Francisco, CA, and I've been blogging professionally since 2012. I love what I do, and I really enjoy interacting with people online. I believe in creating positive change for humanity, and I try to inspire others to do the same. You can read more about me here.
My favorite thing about Ursuperb is that I'm able to provide useful information to anyone interested in learning more about technology. No matter what kind of tech you use (computer, smartphone, tablet), you will definitely find something interesting to read on Ursuperb. So, let's take a look at some of the topics I cover on Ursuperb:
1) How To Build An Online Business With WordPress
2) How To Make Money On YouTube Using AdSense
3) What Is Google Analytics? And Why Should You Use It?
4) How To Make Your Own Website Design Software For Free