Best Partition Recovery Software for Windows in 2020
Short Notes:
Partition recovery softwares are set of programs which help you recover all the files which you have lost because of partition. For those who are yet to experience then learn it for future use disk drill is partition recovery software which is available for windows as well as mac users. It can be used with all versions of files systems such as ntfs and fat disk drill free file recovery software can be used to reconstruct lost files. It features to recognize more than 350 file types. You can recover up to 500mb of data for free features of this software are given below. It is provided with very easy to use interface. For attractive user interface it consists of new colour schemes and icons. It has 247 support technology in the software mini tool partition wizard pro ultimate. It can deal with difficult cases including data which is lost in partition and data lost in various other data it is free partition software available for free. It is useful because for other softwares you have to play a lot of amount which is not possible for everyone to pay. In wipe this is the last and third mode known as last chance recovery method. It uses signatures on volumes for recovery of data. This is not applicable for data or partition loss that is caused you need to download mini tool partition wizard and follow installation wizard. Then launch it to get the main interface for backing up data. Step 3: after getting all data of important drives then. …
Partition recovery softwares are set of programs which help you in recovering all the files which you have lost because of partition.
I am pretty sure almost everyone who is working on a computer must have experienced that once at least.
If not yet then you will experience it soon. For all those who have already lost their files then this article is for you.
For those who are yet to experience then learn it for future use. As we know prevention is always better than cure.
Did you ever think why exactly this happens?
Well in our computer we have Master Boot record area which is hidden record area available on your hard drive.
It consists of all information about disk partitions.
That's why it is sometimes also called as volumes or logical drives.
If by any chance you erase it or damage it, then you may lose access to all of your data completely.
Then you will have to recover it using softwares I will mention below.
Partition Find and Mount
Partition Find & Mount is software which is popular for implementing a new idea of partition recovery of deleted or lost file.
It is developed by the programmers to work in the most convenient way as possible for the users.
It is done by locating and mounting partitions into the system.
This is done for making those lost partitions available to you like any generic disk volume.
It will also work fine in cases where you will have to deal with boot record. You definitely need not to worry about.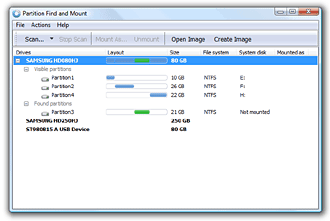 There might be some cases where deleted partitions file can be found using Partition find and mount.
This is possible in cases where at most MBR is the only structure that gets corrupted. If you will use find and mount then it will hardly take seconds to recover and to bring back everything to normal.
Using Find you can search for all the partitions that you have lost.
After you get all lost partitions then you can mount them to the system.
Mount operation will make them again visible to users as they were before as usual read only disk.
It is really easy to use as it is designed for convenient use. It also takes responsibility of protecting your data.
Features of Partition find and mount which will prove its effectiveness is given below.
In this software there are basically three modes of partition search provided to users.
It also compatible to support non-standard disk layouts.
In this software you will be able to work with all versions of files systems such as NTFS and FAT.
It allows you for creating and mounting images.
Disk Drill
Disk drill is partition recovery software which is available for both windows as well as Mac users.
However, we are going to talk about windows version only. It can be used with various versions of windows which include Windows 7,8,10, XP and vista. It is developed to deliver service in different severe situation of data loss.
It supports file system which are NTFS, FAT, EXT4, HFS and ex FAT. Trust I haven't even heard about these many files systems.
As I already mentioned that this is developed for various situations.
Therefore, this hard drive recovery software can be you saviour in various lost data scenario.
There are situations such as accidental data deletion, emptied Recycle Bin, virus attack, lost or inaccessible partition, and so on.
Not all data recovery softwares are available for but in disk drill you get around 500 MB of data recovery.
Disk Drill can help you in recovering data from lost partition as well as damaged partition. It is helpful in both the cases. In pro version you will get to have even better features for you.
One thing which gives this software upper hand among others is that it will recover data even if Disk Drill wasn't installed when the files were deleted. Disk Drill is a really great option which exactly knows where to look and can bring them back to you in a flash. Data which is deleted accidentally from your system is easy to recover using Disk Drill's Quick Scan function.
This is possible because when you delete a file, at the time it was deleted all the file contents are still there on the drive. At the deletion stage only the filename has been marked as removed.
Quick Scan is then used to just take few seconds to find the list of recently deleted items. You can then choose from the list which files you wish to recover and Disk Drill recovers them as if they'd never been lost!
Even If your lost data was a little less recent still you can recover.
In that case Disk Drill free file recovery software can be used to dig much deeper.
Deep Scan is used to go through thorough search of your entire drive to find. It is used to then reconstruct lost files.
It features to recognize more than 350 file types. I know about like few of them. The list is still increasing.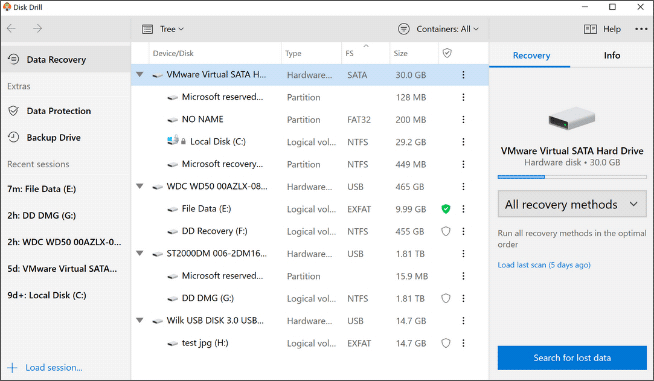 Features which are provided by disk drill are mentioned below:
Platform dependent is the property of any software to be compatible with any platform in which it is executed. Disk drill is also platform independent. This is what makes any software robust for any condition. To achieve it, it is developed with many data recovery algorithm that includes NTFS, FAT32 and so many more files system.
It doesn't provide you facility to recover data just from partition drives but you can recover data from any external devices also These external devices can be anything starting which can include devices such as memory cards and USB drives. If you will be able to connect it to your computer then you can get your lost data back.
I already mentioned about it. You can recover up to 500MB of data for free using this software. Then you can upgrade to pro version.
Avanquest Partition Commander
Avanquest Partition Commander is partition recovery software present in our list.
It is a very well-designed partition management utility we have in our list. It is developed to help you in reconfiguration and repartition of your hard drive. It consists of option such as system backup. It also consists of restore options then there is defragged and testing tools also there.
One important option is disaster recovery which is also there. Thera are other disk management features also which are enough for you to perform simple partition management tasks in different situations.
It is developed to run directly and easily in Windows. It can be utilised at its full potential to deal with computer startup problems and also it can be used for recovering any deleted partition. With this software you are just one click way from recovering most of your precious data. Features of it are given below.
It is provided with very easy to use interface. For attractive user interface it consists of new colour schemes, icons and descriptions. All this makes it easier to perform any operation.
It is partition recovery software but along with that it also helps you in BOOT manager and also OS installation wizard. If you are thinking of running multiple OS then you can use it.
It provides you system backup and restore. For safety purpose this software creates a complete backup of your system before you apply any modification on it. It can be done with a mouse click.
Recover IT Data Recovery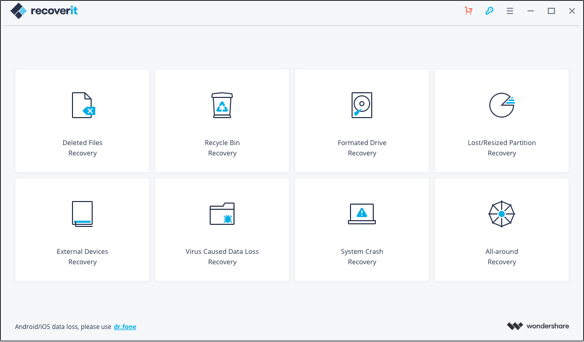 The Recover it data recovery is partition data recovery software which is among one of the top-rated programs. It is developed to restore deleted files on Mac as well as Windows computer. It can be used to recover data of various formats such as documents, audios, images, videos, unsaved word files, and many other types of files.
There are different approaches offered by this software which can be used for data recovery. This tool can be used by you for data recovery from sources such as Recycle Bin Recovery, Lost Partition Recovery, Formatted Disk Recovery, Deleted Files Recovery, External Devices Recovery.
You can also use it for Virus Attack Data Recovery, System Crash Data Recovery, and All-Around Recovery.
Data cannot be only recovered from drives but it can also be recovered from external devices. It can be used to recover data from devices such as corrupted disk, removable storage device like SD card, USB drive. It is so amazing that it can also be used to recover data from pen drives that cannot be detected by PC and unreadable partitions.
There are some flaws in it.
For example it is very much similar to Disk Drill. That's why this program cannot be used to restore your lost partition to your disk directly. You won't be able to restore lost partition data. In this software you will be only able to scan and recover the important data from the lost partition to another drive. Features which are included in it are given below.
You will have to pay certain amount as per your need. However they also have 7-day money back guarantee.
It also ensures that it is 100% virus free which I guess is very important.
It has 24×7 support technology in the software
Mini Tool Partition Wizard Pro Ultimate
MiniTool Partition Wizard Pro Ultimate is used for giving two types of service one is partition manager service and other is partition data recovery software. It is developed to completely deliver two services to user which is partition management and data recovery. It can deal with difficult cases also which includes data which is lost in partition and data lost in various other data loss situations. It includes data recovery even when system fails to boot or crashes. There is basically two data recovery modes provided in it. I have mentioned about it in detail below.
Partition Recovery
This is first data recovery mode which can be used by you.
Partition recovery mode is a feature given in this software which is capable of restoring lost and deleted partitions. It can also recover the files which are saved on the partition in just a few clicks. It initially scan disk for lost data.
After, scanning of the target disk is finished. Then next step is that it will check all existing partitions on the disk automatically with only lost partition unchecked. Then later on at last stage you think upon restoring the needed partitions, which is very user-friendly. This partition recovery module is useful for situation where data gets lost and you want to restore it immediately.
Data Recovery
This is the second recovery mode which is provided in it.
In this mode the data recovery feature is developed to recover the lost data from Recycle Bin/lost partition/formatted partition/damaged partition/raw partition/inaccessible partition. It is extremely useful.
I personally liked the way it is segregated into two modes. This way you don't have to scan all files but only the required one. It is developed so that you have to scan only specified file types and this way you can recover only data which you selected. Then next task what you have to do is recover the data into another drive. This is done to avoid data overwritten by any chance.
This is a feature which is useful only when you have already created a new partition after the partition loss. These are the cases in which you are unable to restore. Other features of it are mentioned below.
It is free partition software available for free. It is useful because for other softwares you have to play a lot of amount which is not possible for everyone to pay. If you are looking for free software then this is the right software for you.
Apart from data recovery option you also get another option which is different from it. This option is wipe partition option. In wipe partition you can erase the data on partition completely. It also ensures that the data removed by it cannot be recovered easily by any data recovery solution. If you want to delete your data permanently then this is the option for you.
In this software you can also move or resize your partition.
It can be used for moving your OS to SSD. It is completely secure and this can increase the performance of your computer. To upgrade it you can shift for HDD to SSD.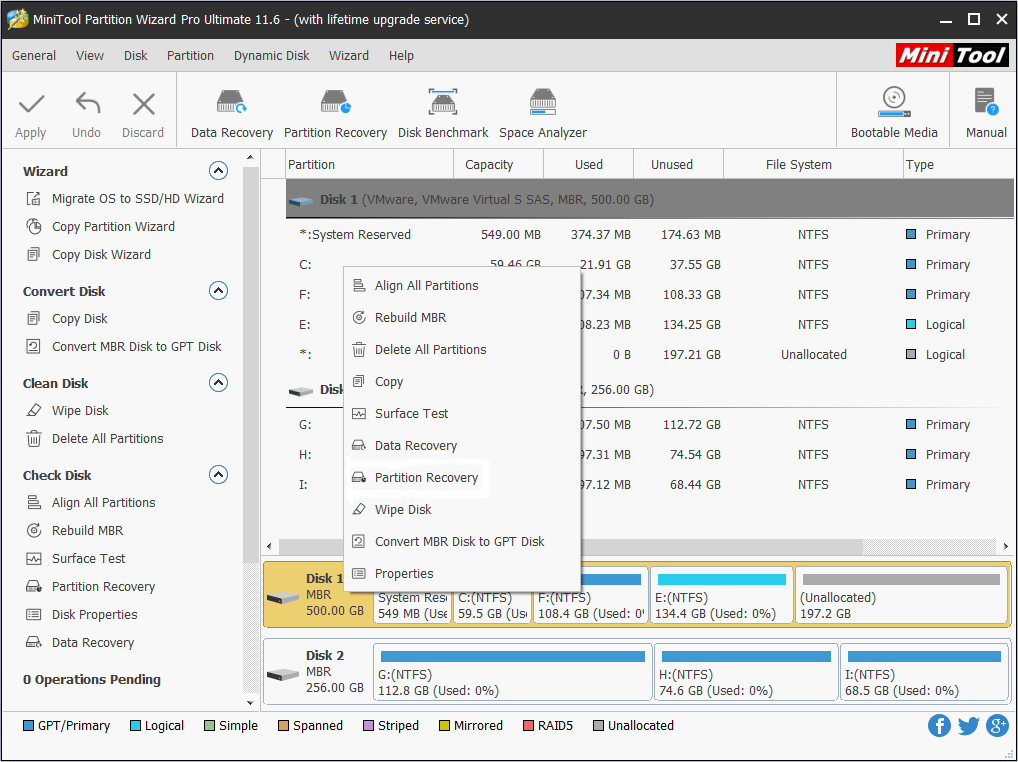 Active at Partition Recovery
Active@ Partition Recovery is the last data recovery option I am going to mention in our list. It is widely used for recovering deleted and damaged logical drives and partitions. It is used for data recovery on platform such as Windows, WinPE, Linux and DOS environments.
There are different recovery modes which are provided in it. Basically there are three modes in it. Three modes are Quick scan, Super Scan and Last chance recovery mode. All modes have their own advantages. I will tell you about each mode one by one.
The first mode which is given is Quick Scan. It is used by user for detecting and recovering partitions which are recently deleted. Data in this recovery mode can be recovered as long as the partition is not formatted or overwritten to after deletion. If data is overwritten then it is not possible to recover data.
Then the second recovery method is called as Super Scan. It is used for data that is not deleted recently. It is used for detecting partitions which were deleted a long time ago. In this mode even if you have created new ones and even formatted them then also it is possible for recovering data.
This is the last mode and the third one which is known as Last Chance recovery method. It uses signatures on volumes for recovery of data. These are used for the file systems which have any errors or those which got damaged. Above all this mode is not applicable for data or partition loss that is caused by physical damage. This is not prone to recovering data lost due to accidental damage.
Many other features which are provided by it are mentioned below. You can refer it for more information.
It is used for fixing damaged partitions table. It is also used for fixing Master boot record and GPT.
In this software for the purpose of data recovery it creates disk image. In this disk image is created sector-by-sector for easy recovering of data.
It can recover data of IDE, RAID, USB flash drives, SATA etc. I guess to be able to support these many data recovery sources is appreciable.
It has ability to rollback changes. It can easily backup and restore disk partitioning.
How to Back up Drives?
I know that there are partition recovery softwares available on the internet. They all are pretty amazing at protecting your data but it depends on severity of damage. If by any chance damage to your drives is unrecoverable then there is no solution for it. But if you would have been cautious before then that would have helped you.
Also there are softwares which will charge you some amount.
I guess it is better to protect your data rather than recovering it by paying.
Problem here is that not all of us know how to back up data in windows. I will definitely help you in that so that you won't have to worry about in future. It is easy and consists of few simple steps. Given below are steps which you need to follow.
Step 1: It is required to back up your important drives on regular basis to avoid any unexpected loss which you might face. Mini tool partition wizard gives backup facility along with partition recovery of data. I guess this is amazing feature. Firstly, you need to download mini tool partition wizard.
Once you have downloaded it then follow installation wizard to proceed. Then launch it to get the main interface for backing up data.
Step 2: Now that you have installed and launched it. Next step here is to select all the drives which you want to back up. Select important drives for back up. Once you have done that now right click and select Copy Partition.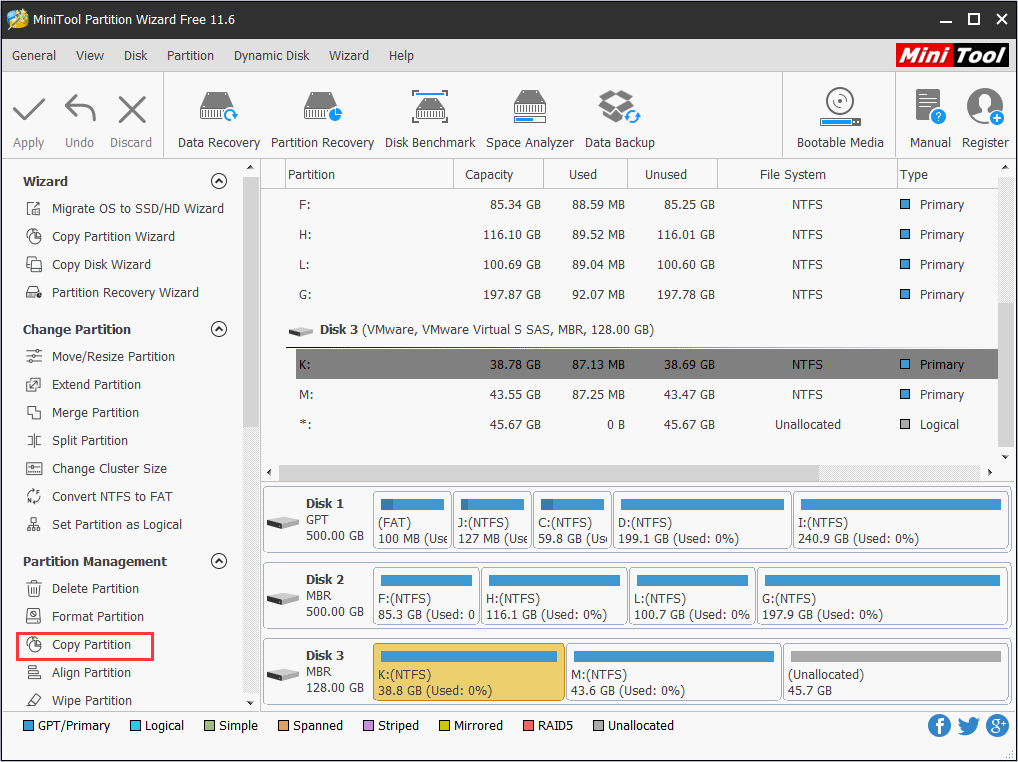 Step 3: After getting all data of important drives then you need to select destination drive. Here now select a destination disk to save all the data you copied. After completion of saving now click next.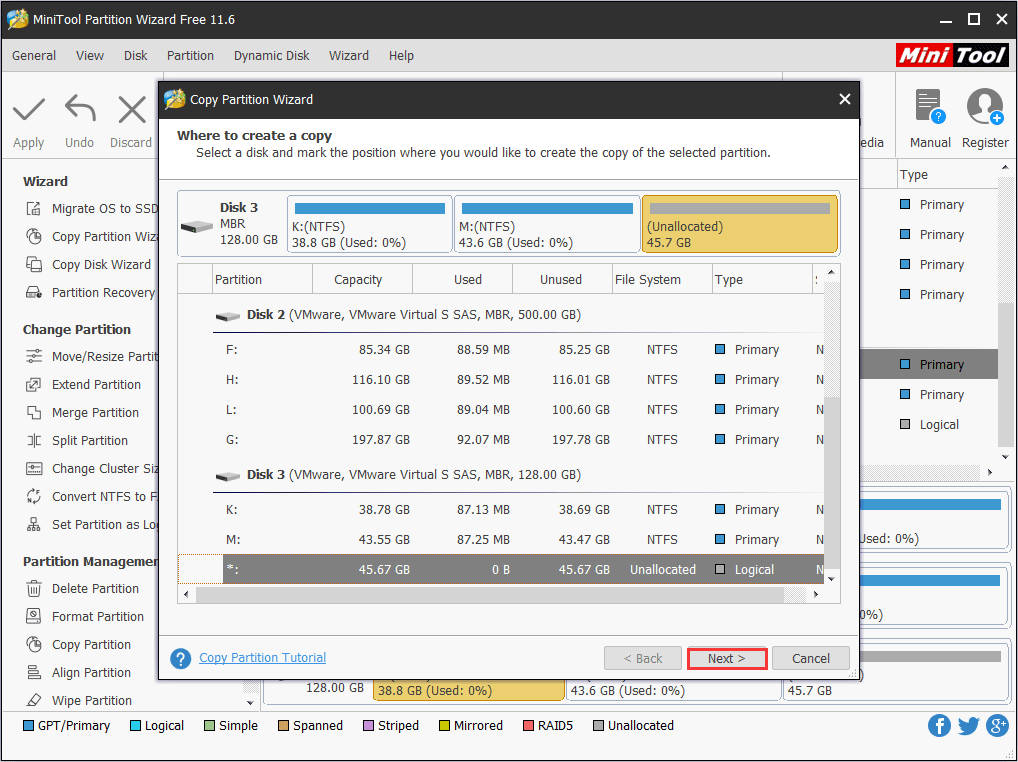 Step 4: In this software you also get option to resize destination partition by dragging the arrow. You can also enter accurate value in the textbox which is provided to you. After all these just click finish for completing the process.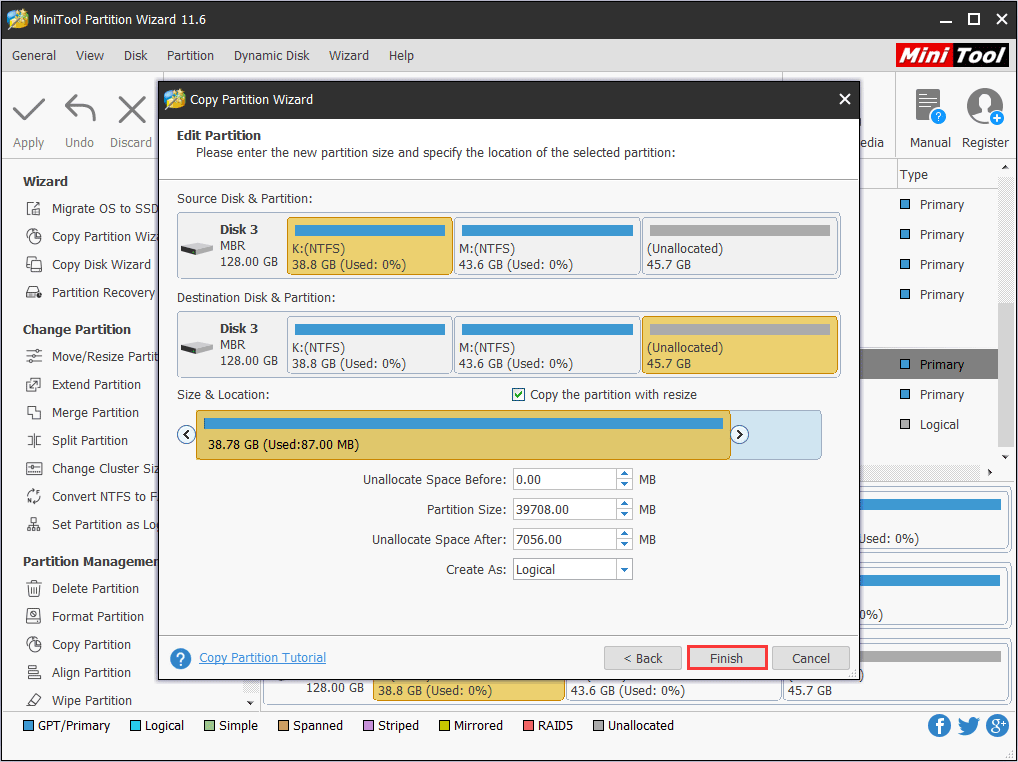 Step 5: Last step is to just preview all the copied partition on the hard disk. Then there is one option of Applying changes on the top left corner to allow changes to take place properly.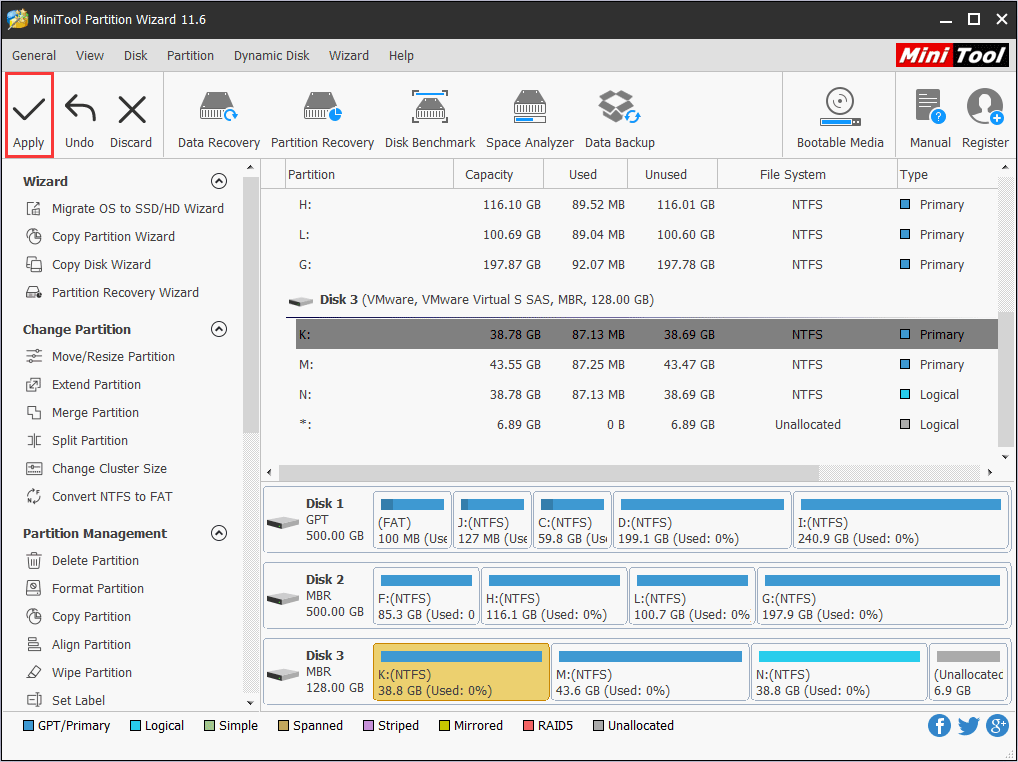 These are some of the partition recovery software which I knew.
There are other softwares available for it.
But I will say that these are easiest to use and work with. I am hoping that these softwares will be able to solve whatever problem you are facing.
If you don't want to get stuck in this problem then best method is to always back up your data. It is best way.
However, there is one more thing which I want to mention here.
In any case no matter what happen just never write anything on the damaged drive.
It doesn't matter which partition recovery software you choose to use. This is one important thing you need to remember that do not any write new data on the damaged drive from which you need to recover lost data. You can't think of even installing data recovery software on it.
I am suggesting all this to you so that you can avoid possible over writing, leading to various complications and troubled recovery.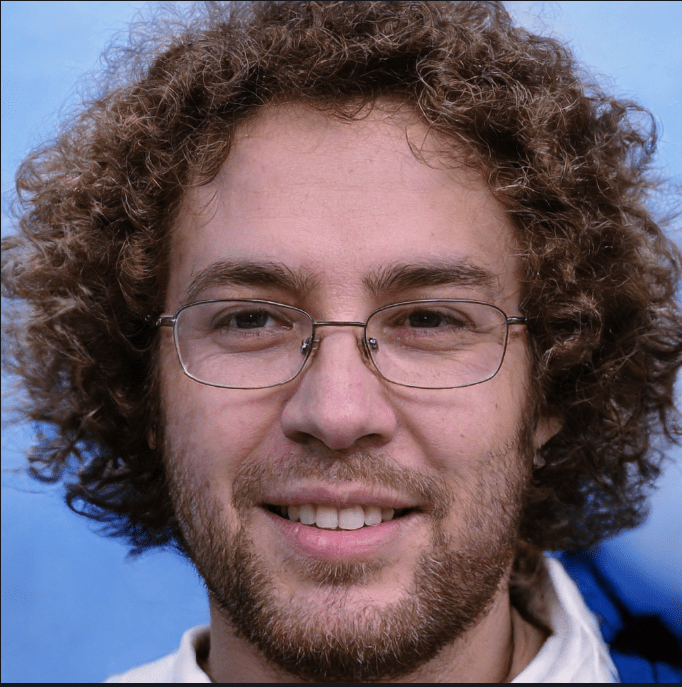 Hello! My name is Lucas, and I am the creator of ursuperb.com. I've been writing about technology for almost 10 years now, and I love talking about tech news, reviews, and tutorials. I'm currently living in San Francisco, CA, and I've been blogging professionally since 2012. I love what I do, and I really enjoy interacting with people online. I believe in creating positive change for humanity, and I try to inspire others to do the same. You can read more about me here.
My favorite thing about Ursuperb is that I'm able to provide useful information to anyone interested in learning more about technology. No matter what kind of tech you use (computer, smartphone, tablet), you will definitely find something interesting to read on Ursuperb. So, let's take a look at some of the topics I cover on Ursuperb:
1) How To Build An Online Business With WordPress
2) How To Make Money On YouTube Using AdSense
3) What Is Google Analytics? And Why Should You Use It?
4) How To Make Your Own Website Design Software For Free