What is Client Server Runtime Process (csrss.exe)?(Lucid Explanation)
Short Notes:
Csrss. Exe is one of the most important official windows system processes. It was introduced in windows nt 4. 0 but its function changed over later versions of if you see multiple instances of csrss. Exe then it should be treated as suspicious. Every windows version has client server runtime process running in their system ursuperb. Com has more tech articles. Share your valuable comments below. . …
You might have seen Client Server Runtime Process(csrss.exe) in your Task Manager, and that's the reason you are here to know about it. Don't worry we promise you, after reading the article you will know most of its essential details.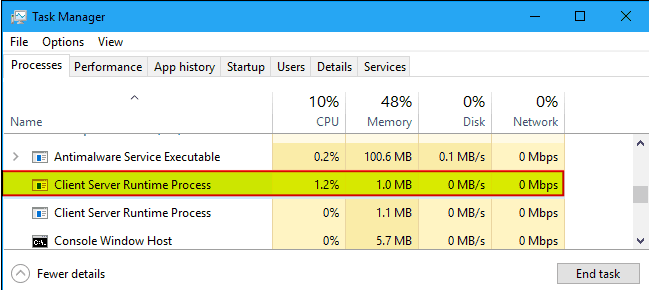 Its an essential part of Windows OS services. It was introduced in Windows NT 4.0 but its function changed over later versions of Windows.
Related Articles:
So, What exactly is Client Server Runtime Process(CSRSS.EXE)?
The csrss.exe is one of the most important official Windows System processes. Before Windows NT 4.0 was released in 1996, csrss.exe was mainly responsible for managing entire Graphical User Interface(GUI), which included creating colors. drawing things on the screen and managing Windows.
When Windows NT 4.0 was released in 1996, many of the functions of Client Server Runtime Process(csrss.exe) were given to Windows Kerner. And csrss.exe became a normal process. Still, the csrss.exe performed many important tasks such as managing console windows(Command Prompt) and the shutdown functions in Windows.
Before Windows 7 was introduced, the CSRSS process was mainly responsible for drawing console(Command Prompt) of Windows. However, in Windows 7 and later version, the Console Host(conhost.exe) process was introduced to take care of drawing console windows. Although, csrss.exe is still responsible for starting the conhost.exe process whenever mandatory.
Can I disable csrss.exe?
As its a System process you cannot disable this process. If you try doing that, then Windows will show a message that ending this process will cause windows to shut down or become unstable. So, it's not advised to ever stop this process.
Also, there is no reason to disable this process as it consumes a very small number of resources and is responsible for small but critical System functions.
Windows launch this process at startup. If this process failed to start when Windows Boots then Windows will show blue screen error code 0xC00021A. So you can understand the importance of this process now.
Can csrss.exe be a Virus or Malware?
No, it can't be a virus or malware as its a System Process in Windows. It's normal for this process to have its multiple instances running on Windows. If you want to be sure about whether the process is genuine or not. Right-click on Client Server Runtime Process in Task Manager. Click on Open File location and it should open C:WindowsSystem32 folder in your system containing the csrss.exe file.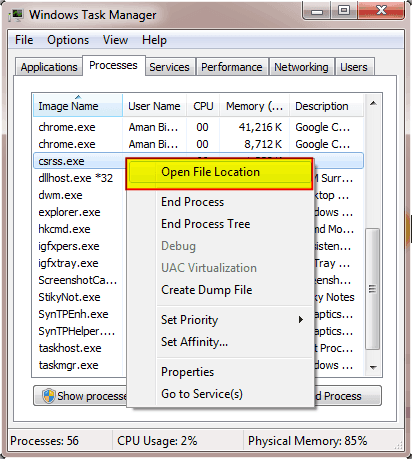 If you see multiple instances of csrss.exe then it should be treated as suspicious.

If anyone tells you that csrss.exe file that is located in C:WindowsSystem32 is a virus then its a scam and beware of it. They may say to delete this file but doing so will cause your system to break and it will not boot next time if you delete the file. Now, every windows version have Client Server Runtime Process running in their System and can have multiple instances of it running. This is completely normal.
However, if the file location of this file is different from C:WindowsSystem32 then your computer is affected by some malware and you need to take action as soon as possible.
Very Important functions of csrss.exe?
It is responsible for launching conhost.exe which is a very important process for managing console(Command Prompt).
The process csrss.exe is closely dependent on power management schemes that are implemented on your Notebook or Laptop. They are defined by Control Panel option.
Conclusion – What is Client Server Runtime Process(csrss.exe)?
Basically its a process responsible for various Graphical User Interface(GUI) tasks. If it doesn't start or is crashed suddenly then your system will show a blue screen with a error message. By this, you can understand the importance of this process. However, if you see multiple instances of this process running in your System then you need to check for whether its a virus or not. To check that you need to open the process file location, if its C:WindowsSystem32 then no need to worry. If not, then you have got a problem to solve. You can do an Antivirus Scan if it doesn't work then as a last resort you can format your System and Start Fresh Again. Also, the process is very lightweight and doesn't consume much of the System Resources. Therefore this process should not make your system slow.
Hope you enjoyed reading the article,
Do share your valuable comments below,
Visit ursuperb.com for more Tech Articles.
Hello friends. I am John from USA and very passionate about technology. I love reading Motivational Books, playing Piano and doing Blogging.