What is "Windows Audio Device Graph Isolation"?(Lucid Explanation)
Short Notes:
Windows audio device graph isolation is a primary audio engine service in windows vista, 7,8 and 10. It handles all digital signal processing tasks such as advanced audio enhancement effects windows audio device graph isolation can start consuming resources if audio enhancements are applied. It consumes zero percent of your cpu, very little ram and no disk usage windows audio device graph isolation is a windows official component so it cannot be a virus. But we haven't seen any virus of this kind till date. …
If you are using Windows then you might have seen Windows Audio Device Graph Isolation in your Task Manager. You also may question "Why sometimes it takes too much System Resources such as CPU and RAM"? In this article, we will clear all your doubts about it.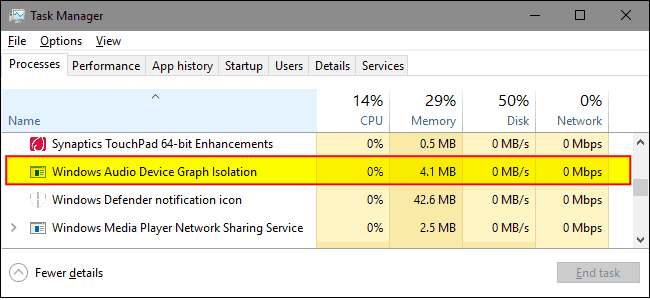 Related Articles:
So, What exactly is "Windows Audio Device Graph Isolation" Process?
The long name of the process might not make much sense to you but still its an official part of Windows. It is a primary audio engine service in Windows Vista, 7,8 and 10. It handles all Digital Signal Processing tasks such as Advanced Audio Enhancement effects provided by Windows. But it should not be mixed with Windows Audio Service as both are completely different. This isolation was done so as to allow developers to introduce their own audio enhancement service so that it doesn't replace Windows Audio service itself. This isolation leads to better stability and was a very good update provided by Windows.
Earlier problem was that if Windows Audio service crashes down then it will take down the whole system instead of just the sound. Now, by isolating Windows Audio Device Graph Isolation and Windows Audio Service, if a crash occurs then Windows Audio Device Graph Isolation Process will likely be killed instead of Windows Audio Service. Thus keeping the System intact and stable.
This isolation also has another advantage, that is Windows can now turn off Audio Enhancements without having to care about the Audio Hardware being used. But generally, this feature is not by default provided by Audio Hardware Manufacturers.
One more scenario can be when some Audio Hardware manufacturer may replace the "Windows Audio Device Graph Isolation" with their own Signal Processing Service that provides Audio Enhancements. If that is the case then you don't have to worry about problems that are caused by "Windows Audio Device Graph Isolation". You don't need to troubleshoot anything.
Why Sometimes it's consuming so much CPU and RAM?
As Windows Audio Device Graph Isolation is not optimized for every Audio Hardware device, that's why sometimes it can cause problems such as Occasional Crash and also the high usage of System Resources such as CPU, RAM, and even Hard Disk. Ideally, it consumes zero percent of your CPU, very little RAM and no disk usage. But it can start consuming resources if Audio Enhancements are applied, still, the spike is temporary and will go down after some time. If "Windows Audio Device Graph Isolation" is consuming any of your System Resources for a long time, then you got a problem to solve.
What the Solution?
Best thing is that you can easily solve this problem by turning this process Off. This disables all audio effects on your System. Later, you may try other Audio Enhancement software provided by your Audio Manufacturer. It runs under the process name of "audiodg.exe".To disable it:
Right-click the audio button on your System Tray and then select "Sounds". Also, you can open it by going to Control Panel and then run Sounds Option in that.
This opens up Sound Window, then select "PlayBack" tab.
Select the device that you think is creating an issue and then click "Properties"
Now on the window that opens, select the "Enhancements" tab. You will see a list of Enhancements that are supported by your Audio Device.
Now you just have to check "Disable all Enhancements" option.
This will stop all audio enhancements on your device and definitely Windows Audio Device Graph Isolation will not cause you any problem. After doing this, if the problem is solved then you can enable some enhancements that will not cause any problems. You have to check this manually, by going through every Audio Enhancement and check whether if it's not causing any trouble then only enable it otherwise just disable it.
Can I disable Windows Audio Device Graph Isolation process?
No, you can't disable it as its related to Windows Audio Service. Disabling it will cause System sound also to get disabled. You can't temporarily disable it as doing it will cause Windows to give you the option to Run Trouble Shooter instead.
If you have tried disabling Audio Enhancements and then also problem remains. Then TroubleShoot won't be of much help. But if you haven't done that then you can try TroubleShooter to solve your problem. You can also start troubleshooter by typing "troubleshooting" on your Start menu and then click Enter key.
Could it be A Virus?
As by default its a Windows Official Component so it cannot be a virus. But it may be possible that some virus has highjacked the process and then doing the mischief in the System. However, we haven't seen any Virus of this kind till date. If you want to be sure that Windows Audio Device Graph Isolation is a genuine process, then:
Goto Task Manager
Select the process named Windows Audio Device Graph Isolation
Right Click it and then select Open File Location from there
It should open "WindowsSystem32" folder, then you can be certain that it's definitely not a virus rather its a System Process.
However, as a last resort, you can your preferred Anti-Virus Scan or Re-Install Windows 10 and start fresh.
Conclusion – What is Windows Audio Device Graph Isolation?
It's an Audio Enhancement service process in Windows, that will provide Audio Enhancements but it's not optimized for a particular Hardware or its hardware independent. If its creating problem by using a high number of System Resources then you can disable it and install any other Software for Audio Enhancements.
Hope you enjoyed reading the article,
Do share your Valuable Comments below,
Do visit URSUPERB.COM for more Tech Articles.
Hello friends. I am John from USA and very passionate about technology. I love reading Motivational Books, playing Piano and doing Blogging.