Best WiFi Hacking Apps for Android in 202
Short Notes:
Wifi is the best wellspring of rapid internet and gives better unwavering quality than a mobile network. There are many best android wifi programmer apps that can hack the secret expression of the top router fabricating organizations likewise increment the security protocol of their switch, so they cannot be hacked effectively with basic techniques that a normal user holds. If you the list of best android apps aircrack-ng to test the network security, you need a genuine wifi hacking app for android. The troublesome part is having a wifi warden gives you a unique feature that is viewing spared passwords without root. Reaver-gui is an easy to-use wifi password programmer app wi-fi inspect wifi inspect is a standout amongst other wifi hacking devices for android. The app underpins numerous languages and can have the option to detect whatever androidumper app will attempt to connect all wps empowered routers that have the wps powerlessness/loopholes by using a few algorithms to connect to the app monitors the network activity and cuts the network connection of any connected device with the wifi kill pro app. It functions admirably on tablets as well. Arpspo wps connect is expected to use for verifying if the wifi router is secured. It likewise incorporates algorithms like zhao chesung (computepin) or stefan the app is trusted and made sure about. It is anything but difficult to use and download and connects close by networks. Dsploit is also developed for finding wifi analyzer urges you to look at the unmistakable kind of wifi arranges that are accessible close to you and makes outlines and information as shown by the aftermath hacking a wifi network without proprietor permission is criminal behavior and you can likewise need to face legitimate issues. A necessity for you is to simply root your device i tried my best to research well, carry on a broad time in testing and to give you the best of the best apps for you to try out wi-fi hacking on your wi. …
Introduction
Wifi hacking has continually been in the pattern because of expanding internet action step by step.
WiFi is the best wellspring of rapid internet and gives better unwavering quality than a mobile network.
Due to the expanding the internet movements like downloading and surfing with the most recent apps like Netflix, Amazon Prime and so forth, everybody needs WiFi to have a smooth encounter.
Technological headway has prompted a noteworthy rate of increment in internet utilization.
Stroll into the new universities, and you will discover WiFi zones all over the place. Indeed, even the administration and other non-benefit organizations are furnishing the public with a free WiFi zone, making the internet effectively accessible and modest to the public.
Generally, at whatever point Android clients discover a WiFi network, they will in general download the large files that they can't download over the cellular information, or to play Android games with the hacking app. It is constantly a chance to refresh apps and download new ones.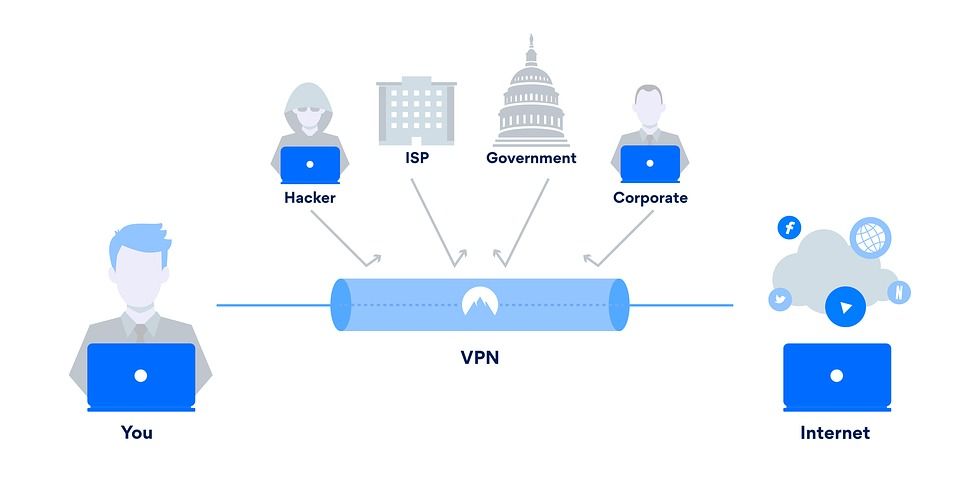 Free is acceptable, eeveryone loves free.
These apps attempt to hack the network. It is because there is no matter of fact, in their correct mind that would give out their WiFi network login subtleties to a non-customer.
In this way, the best activity is to attempt and hack the WiFi password on their Android phone.
Indeed, hacking a WiFi network may not be unlawful thusly on the off chance that it is accomplished for security reasons.
As a system administrator, you should hack into your network every so often to have the option to pinpoint the escape clauses and attempt to fix them. That is moral.
What is unlawful is the point at which you hack into a WiFi network that doesn't have a place with you for your gain.
Here is the thing, WiFi on Android phones is adequately disposed to hacking, and there exist many best Android WiFi programmer apps.
These apps can even hack the secret expression of a setup smartphone.
This suggests no gadget or framework is secure. Android WiFi hacking isn't as simple as it is by all accounts, yet these best WiFi hacking apps for Android can make it very simple.
Because of the nearness of loads of WiFi close to, everybody is looking about the best WiFi Hacking Apps for Android.
Why Everyone Wants to Hack WiFi?
The appropriate response is basic here.
Everybody needs a rapid internet connection with unwavering quality and without paying a solitary penny for it.
So who wouldn't like to hack WiFi and set aside a ton of cash?
In any case, because of expanding in the hacking, the top Router fabricating organizations likewise increment the security protocol of their switch, so they cannot be hacked effectively with basic techniques that a normal user holds.
At the point when you enter the universe of hacking, you would realize that pretty much every essential tutorial that you would look on the net won't be conceivable without a Good Internet Connection.
Today we can wind up encompassed by a ton of Wi-Fi networks all over the place.
In this way, any method for accessing them will be without a doubt helpful and on the off chance that you are here, for this explanation, buddy just chill, you are in the perfect place!
Thus, why waste money on something which we can access by our everyday utilized android phones. Indeed, you heard it right; there are sure apps that can assist you with gaining admittance to a Wi-Fi network without spending any bucks.
If you possess a smartphone, you more likely than not contemplated how to hack Wifi Password before, this is one of the most posed inquiries on Google Search, and there are numerous purposes behind that, regardless of whether it's to fulfill yourself by figuring out how to hack into your neighbor's Wifi password, or because you simply need to crack Wifi Password when you are deprived for internet connection in the time you can't arrive at it with your SIM.
The reasons probably won't end, yet we as a whole concur that you are attempting to have the best free Wifi password programmer app to accomplish your own acceptable goal.
Overview of the article
I am going to share the best Wifi hacking apps that truly work for Android clients.
With this, you will likewise get considerably more information about WiFi and you will also find out about WiFi security with Android apps.
I will likewise give you bit by bit guide for some Wi-Fi programmer apps. With the assistance of this guide, you will have the option to hack a portion of the WiFi networks around you.
Before we start I need you to realize that these apps exist for different platforms as well, however, I feel that the android phone is all the more remotely accessible for us and thus the requirement for this article.
Likewise, note that you should attempt these apps just on your network or on a network that you approach.
The List of Best Android Apps
Aircrack-ng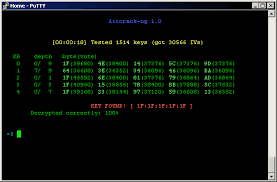 To test the network security and to make sure that you have devices or gadgets to protect yourself–you need a genuine WiFi hacking app for Android.
Aside from letting you gain proficiency with the subtleties of WiFi hacking, such an app will ensure that you have yourself covered.
Famous security device aircrack-ng is one such instrument, which has been ported to Android by numerous Android engineers and security aficionados.
Running aircrack-ng on Android isn't a lot of an issue, yet the troublesome part is having a WiFi chipset that supports monitor mode.
This Wifi programmer apk was structured and ported by Android Developers at XDA-Developers to run on Android, Ubuntu 14/15/16 or some other Linux circulation.
WPA WPS Tester
WPA WPS Tester Android app is one of the most well-known WiFi password programmer devices, which was created to scan the WiFi networks for vulnerabilities.
This famous hacking app is known for its capacity for breaking the security.
This app tests the connection to aaccess Points with WPS PIN, which are determined using different algorithms like Zhao, Blink, Asus, Arris, and so on. This app needs at least Android 4.0 and runs with other higher versions.
Kali Linux Nethunter
Practically every one of you should be knowing about Kali Linux, the best operating system for ethical hacking purposes.
From their creators, Offensive Security, the Kali Linux Nethunter is the primary open-source Android infiltration testing platform. Using this hacking Android app, you have to dispatch Kali's Wifite device to proceed with the procedure. Nethunter's configuration interface lets you deal with the unpredictable configuration files.
Its custom piece, which underpins 802.11 remote injections, makes Kali Nethunter an absolute necessity to have an Android hacking device. This is the principal open-source Android infiltration testing platform.
The only thing user does is he should simply to dispatch Kali's Wifite instrument to check the security of your Wifi network and to hack Wifi password as well. Kali Linux Nethunter interface permits you to make propelled configuration files.
WiFi Warden
It is a simple application that permits you to get Wifi password by finding the less packed channel to get Wifi access or by breaking down Wifi networks or by connecting to any Wifi network. Wifi Warden gives you a unique feature that is viewing spared Wifi passwords without root!
At the point when Wifi Warden analyzes Wifi networks, it gives all of you fundamental information including BSSID, SSID, Channel Bandwidth, encryption, security, router producer and the distance among you and it.
Likewise, this Wifi password discoverer app is supportive of free, and it gives you numerous features without the need to root your phone.
Reaver
Reaver for Android, additionally called short RfA, is a WiFi password programmer app that is an easy to-utilize Reaver-GUI for Android smartphones.
Shipping with the monitor-mode bolster that can be initiated and deactivated whenever Reaver detects WPS-empowered remote routers all alone.
With its GUI, all the Reaver settings are accessible. This WiFi hacking app dispatches a brute force attack against WPS enlistment center PINs and recoups the WPA/WPA2 passphrases.
Tested on a wide assortment of gadgets, Reaver can get the objective AP's plain text WPA/WPA2 passphrase in 2-5 hours.
Last however not the least, Reaver for Android additionally bolsters external contents.
Nmap
Nmap is a network security scanner that is accessible to different operating systems. It is additionally accessible for Android. It is utilized by ethical Hackers for network abuse and finding the vulnerability.
One of its points of interest is that it takes a shot at both rooted and non-rooted phones.
Like WiFi WPA WPS Tester, you get more features on rooted phones when contrasted with non-rooted ones.
This is an extraordinary app for your Android gadget. This app helps in scanning networks for finding ports and system subtleties simply like dSploit. You can download it from GitHub too.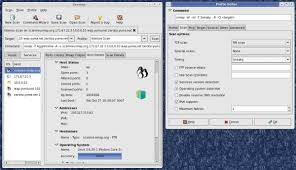 WiFi Password
This is a free Wifi password cracker app that permits you to connect to the internet all the time without paying a penny.
At whatever point you have a Wifi network around, you are connected, as it causes you to recognize and connect to a huge number of Wifi hotspots as long as you have Android 5 Lollipop or the above versions.
Wi-Fi Inspect
WiFi inspect was produced for the mobile security experts who wish to monitor the networks around.
It is a standout amongst other WiFi hacking devices for Android. Its structure is so straightforward, and that is the factor behind the smooth functioning of the app. The app underpins numerous languages and can have the option to detect whatever gadget is connected to your network whether it is a TV, PC, Mobile, PS, XBOX, and so forth.
You are not required to root Android to utilize this app to hack Android WiFi, any way you can root your phone to open more functions of the app. Also, with root access to the Android smartphone, Wi-Fi Inspect can rapidly assist you with cracking into any network.
Much the same as WiFi WPA WPS Tester, dSploit was likewise grown explicitly for finding out Vulnerabilities in the Wi-Fi Networks; in straightforward words, it is a WiFi penetration testing device.
It additionally helps in analyzing and controlling your network and every single other sort of information that might be on your network.
Aside from being ready to hack others' WIFI networks, the app also helps in controlling and taking care of the gadgets that are connected to a similar Wi-Fi network.
A multi-reason apparatus for ethical programmers, advanced users, and coffeehouses owners.
Knowing the one connected to your network by using Wi-Fi Inspect isn't elite on smartphones; you can see the individuals who are connected to your network using gaming comforts, smartphones, TVs and laptops.
The thing Wi-Fi inspect requires is having a rooted smartphone, and after rooting you can proceed.
Fing Network Tools
Fing Network Tools, much the same as zANTI helps in finding out and analyzing increasingly about your network.
This app requires root access to your android. It encourages you to discover what all gadgets are connected to your Wi-Fi network simply an issue of a couple of moments. This app is exceptionally easy to utilize, quick but then precise.
Fing is an expert App for network investigation and is utilized by Security Analysts and a wide range of Hackers at all levels.
A straightforward, fluid and instinctive interface assists you with evaluating security levels for your WIFI and afterward detect intruders or attackers and at last block them or resolve your network issues.
Nowadays numerous Penetration testers use it to fix a few issues in their networks and the greater part of using it for hacking.
AndroiDumper Crack
It is my preferred application since it's new and useful as well. It additionally shows a message pop-up, at whatever point any WPS WiFi network finds a workable pace your phone's range.
Furthermore, it can assist you in accessing the password. AndroiDumper app will attempt to connect all WPS empowered routers that have the WPS powerlessness/loopholes by using a few algorithms to connect to the router.
Here I additionally give a short client guide beneath, to make it simple for you. You simply need to follow the underneath given steps.
If the signals are full, then possibly this app will work for you without root access.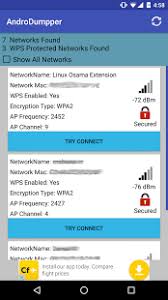 The most effective method to Use AndroiDumper
First of all download AndroiDumper from the google play store or the Google web browser legitimately.
Now introduce it.
At that point open the app, and it will request the root permission, tap on permit/award button.
It will show accessible WiFi networks in your range.
Also, attempt to connect, click on the No Custom Pin.
It will take a few moments.
If the network it on your range! At that point, it shows you the password of the WiFi network.
Just note the password, at that point connect and appreciate.
WiFi Kill
To all my dear ethical programmers out there, WiFi Kill is one of the WiFi hacking apps that truly work. As its name, WiFi Kill is an application that lets the user to disable the internet connection of a device.
With a basic interface, you can utilize WiFi Kill to dispose of the superfluous users on the network. Its different features incorporate showing the traffic utilized by a device, the network names, and grabbing the traffic of websites visited by different devices.
If you don't mind note that the WiFi Kill programmer app needs root access for functioning.
At the point when you fire the app, after scanning the network it shows various users connected. Utilize the kill button to end the internet connectivity basically with the WIFI kill app.
WiFi Kill Pro
It is a WiFi network controller application that disables the Internet connection of other people who are connected to the same or a similar network.
It is a helpful device for internet users who need to improve their data speed by disabling other's internet connection and allocate all the bandwidth to your device as it were.
As of now, this app is just for Android users and necessities root access to perform well. You can see all connected devices on a similar network you are connected to. It displays the data transfer rate of everything being equal. The app monitors the network activity and cuts the network connection of any connected device with the Wifi kill pro app. It functions admirably on tablets as well.
Arpspoof
Arpspoof was created as a piece of the dsniff package. The creator of this app guaranteed further advancement of his app by making it open source. Working on a straightforward instrument, this app is principally utilized for network auditing.
Arpspoof packs that the unfortunate losses are sending to the gadget, anyway it doesn't extra them. Arpspoof endeavors to divert the traffic found on a close-by system with the help of a segment called "Faking ARP answers" and subsequently sending them back to a specific unfortunate loss or all of the hosts found.
ArpSpoof diverts the packets on a nearby network by broadcasting satirize ARP messages. It doesn't spare the ARP packets which are sending to the casualty's device yet display them to keep a track on them.
It attempts to divert the traffic found on the nearby network with the assistance of Fake ARP answers and consequently send them back to a particular casualty of all the hosts found on the network.
Network Mapper
Predominantly utilized by the network professionals, the Network Mapper, otherwise called Nmap for Android, was grown deliberately for network investigation.
It chips away at both rooted and non-rooted Android devices. Even though takes a shot at a non-rooted device, still the client will be unable to utilize advanced features of this Android hacking app.
Nmap performs a network scan to identify the subtleties of the considerable number of systems connected to networks and the ports. The app can let the client examine services, hosts, firewalls, packets and that's just the beginning.
WPS Connect
WPS Connect is a well-known WiFi hacking app for Android smartphones that you can install and begin playing with the WiFi networks of the surroundings.
Working on a rooted Android device, this application causes you to disable other client's internet connection.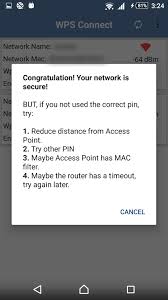 The developer of the app says that WPS Connect is expected to use for verifying if the WiFi router is secured. Aside from default PINs, WPS Connect likewise incorporates algorithms like Zhao Chesung (ComputePIN) or Stefan Viehböck (easy box PIN) which helps in identifying and hacking Wifi passwords. It would be ideal if you note that this WiFi hacking app for Android works with Android 4.0 or higher.
WPS Connect permits you to check the security of your Wifi network and to hack Wifi Passwords with help to an immense number of routers.
This Wifi password cracker application permits you to disable other client's internet connection, even though it was made to check for your internet security. underpins a most extreme number of routers, and that expands your probability of effectively breaking into a WiFi network.
This app focuses on those networks which are easily defenseless using a portion of the default PIN combos. Generally critical of the routers are helpless, and if the client is a noob, a probability of you in getting achievement turns out to be high.
Another thing you have to know about this app is that it needs root access and if your device isn't rooted, you can easily root it.
Network Discovery
It's a WiFi over-clocking instrument; however, you need a rooted Android device for this.
Here I will provide you downloading join underneath. Network Discovery is just for pro programmers, for beginners, it is difficult to utilize.
The downloading connection of the app is available in your play store.
WIBR +
WIBR+ was additionally made for testing the uprightness and security of Wi-Fi networks. This App utilizes Brute force and Dictionary Based methods for helping you and answering inquiries like "How to Hack WIFI networks".
You can likewise utilize custom dictionary methods to attack and discover WIFI passwords.
Depending upon your priority and the sort of network, you can pick various options, for example, numbers, lowercase, capitalized, and uncommon characters – for performing an alternate dictionary-based attack. Depending upon your password strength, WIBR+ sets aside some effort to crack the password, so this is a Face Down for this app.
WiFi Master Key Apk
This Wifi Hacking App is the fastest and makes sure about the hacking app. One of the most confided in applications for Android users with no root access/devices.
We can hack any Wi-Fi pin safely and lawfully. If you need to connect to any network, select that network and simply tap on it, it will connect to it easily.
You can download the App from Google Play. The benefits of using this app are it is Trusted and made sure about. It is anything but difficult to utilize and download and connects close by networks consequently.
DSploit
Like WiFi WPA WPS Tester, dSploit is also developed for finding out Vulnerabilities in the Wi-Fi Networks; as it were, it is a WIFI penetration testing suite. This app likewise helps in analyzing and controlling your network and every single other sort of information.
What gives this app a preferred position over others is that you cannot just hack others' WIFI yet, in addition, helps in controlling the devices that are connected to a similar Wi-Fi network.
Arcai.com 's NetCut
On the off chance that you are hacking others' WiFi, at that point, others will likewise hack yours. Netcut is additionally a wifi hacking app like the wifi kill however with further developed features. This is one of the most well-known wifi hacking apps for windows yet as of late arcai has additionally released an android variant for smartphone users.
Along with hacking other wifi, it likewise helps in protecting your wifi from other net cut users at the very least cost. Along with hacking and protection, it likewise provides some incredible features as referenced beneath.
Keep a track of users connected to your WiFi network.
Block users in the event of suspicious exercises.
You can block access to the wifi of any client connected to the wifi network.
In comparison with WiFi kill the UI of Arcai's Netcut is generally excellent yet it has somewhat annoying notice.
Zanti
Zanti is a WiFi penetration testing test that causes you to discover vulnerabilities in your WiFi network.
Truly it's anything but a wifi hacking app yet it is a penetration testing toolkit that encourages you to find out about the latest vulnerabilities in the network.
Numerous IT Security Administrator and Ethical programmers use Zanti to discover the vulnerabilities in the system. Because of a basic UI, this app turns out to be generally mainstream between the penetration tester.
On the off chance that you need to make sure about your WiFi network and don't need programmers to hacks your device connected to wifi network then you can utilize Zanti to discover vulnerabilities and report them. With the goal that the router manufacturing organizations provide a fix in their latest firmware updates.
WiFi Analyzer
Directly there might be a huge amount of Android hacking applications that can empower you to hack into a WiFi network yet that procedure can be extremely broad and time taking. It ends up being baffling to break a system and finally discovering that it is swarmed and an incredibly moderate one.
There are numerous wifi networks accessible close to your home or office.
Hacking these wifi networks is a frustrating errand and after hacking if you don't get a decent speed, at that point there is no benefit of hacking.
Along these lines, Wifi Analyzer urges you to look at the unmistakable sort of WIFI arranges that are accessible close to you and makes outlines and information as shown by the system and information speeds and dependability.
Right now, you can have the option to locate a somewhat less crowded network with more data speed so it can invest your energy cracking the most protected network for you.
So before hacking any network, you need to do proper research about wifi connection which you are going to hack. It ought to be a fast connection and ought not to be overcrowded.
This is an exceptionally troublesome assignment however with the assistance of the WiFi Analyzer, you can discover any wifi network data like the speed of network, reliability and sign strength.
Fundamentally WiFi Analyzer causes you to pick a decent wifi network that you can hack and show signs of improvement output as far as speed and reliability.
How to Secure Wireless Networks?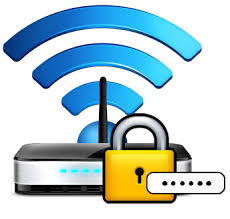 No issue, how protected your data is, there's as yet an opportunity of getting your information spilled. Because of this security issue, different Wireless Network Authentication systems have been created every once in a while to protect the internet from the users.
Here's a rundown of not many tips which will make your wireless network secure and better than anyone might have expected:
• Change the default passwords that join the hardware.
• The access should be given to only registered and selected devices.
• The number of devices which can connect at a given time should be restricted by the admin.
• Use a blend of numbers, letters in order, uncommon characters in your password to protect it against any kind of attack.
• Using a Firewall can protect your network from any kind of unapproved attack.
The Aftermath
Hacking a WiFi network without proprietor permission is criminal behavior and you can likewise need to face legitimate issues. All the WiFi Hacking Apps for android smartphone examined above are just for the instructive reason.
On the off chance that you are not happy with the above-recorded wifi hacking apps, at that point you can try installing Kali Linux in android.
Kali Linux is a penetrating toolkit that is uniquely intended for the Linux yet as an android bolster Linux order line you can install it on the android phone as well.
Practically all the apps in the above-foresaid list require root access.
Along these lines, a necessity for you is to simply root your device on the off chance that you haven't rooted your Android device yet and try out all the apps that I have referenced right now I can wager that you will cherish it if you also are a Techy nerd or a Tech-Enthusiast like me.
At long last, I should warn you again that everything I trained you right now simply proposed for instructive purposes just so try these apps just on your or your Friends network with permission if you would prefer not to stumble into any difficulty or face any kind of hazard.
The above rundown incorporates all the apps that can assist you with mastering, at any rate, the field of WIFI Hacking with regards to Android.
The rundown not just incorporates the apps that can assist you with gaining access over a network yet this rundown will likewise help you in finding out the different ways that you can use to protect and build the security of your WIFI network up to the best potential cutoff points.
Along these lines, now I figure I may now wrap it up here and I trust you would have loved this article.
I attempted my best to Research well, carry on a broad time in testing and to give you the best of the best apps for you to try out Wi-Fi hacking on your Wi-Fi network by using your Android device.
Much obliged 🙂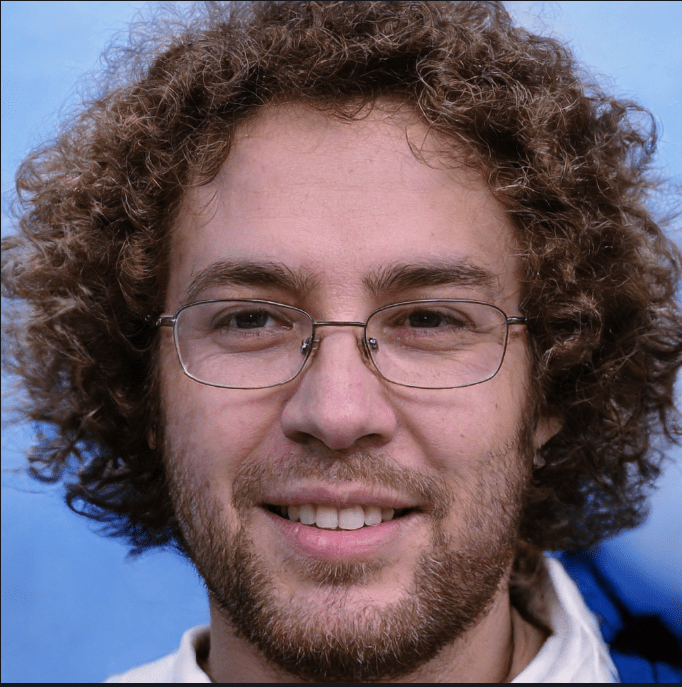 Hello! My name is Lucas, and I am the creator of ursuperb.com. I've been writing about technology for almost 10 years now, and I love talking about tech news, reviews, and tutorials. I'm currently living in San Francisco, CA, and I've been blogging professionally since 2012. I love what I do, and I really enjoy interacting with people online. I believe in creating positive change for humanity, and I try to inspire others to do the same. You can read more about me here.
My favorite thing about Ursuperb is that I'm able to provide useful information to anyone interested in learning more about technology. No matter what kind of tech you use (computer, smartphone, tablet), you will definitely find something interesting to read on Ursuperb. So, let's take a look at some of the topics I cover on Ursuperb:
1) How To Build An Online Business With WordPress
2) How To Make Money On YouTube Using AdSense
3) What Is Google Analytics? And Why Should You Use It?
4) How To Make Your Own Website Design Software For Free