PlayStations has always been memorable part of people who are dedicated into playing games.
I can guarantee that these people must have spent innumerable hours playing their favourite games on it.
It can't be denied that PlayStation emerge as really powerful gaming console.
It was developed with urge to create power-hungry and ambitious games which includes better graphics and game play.
PS2 is Sony's second venture into console which gave users a futuristic vision of gaming. It revolutionised the console industry with futuristic technologies and top notch experience.
There are various ways to load games in PlayStation.
It can be loaded from a disc or you could purchase the games online and then load it to PS2.
ISO image of file is the digital version of any kind of disc whether it is any kind of disc. This made it possible to load games online also.
ISO image of PS2 games are usually of size 1.5 GB and compressed versions of ISO image are also available.
Compressed versions are completely same as other normal ISO image but the only difference is size of image.
Before actually talking about how to play Sony PlayStation2 on PC let's talk about the minimum requirements of your PC.
Otherwise it may happen that your PC will be the reason behind lagging games which can degrade the performance. Later on I will discuss about emulators. I've listed down below the requirements which we need compulsorily.
Windows vista / Windows 7 (32 bit/64bit) / Windows 10
RAM: minimum RAM required is 1GB on Linux / Windows XP, more than 2GB on Windows 7 / Window 10.
GPU: 880gt or better. Better is required for Direct3D10 support.
CPU required here is Intel core 2 duo. If better then i3/i5/i7. You can also go for AMD Phenom II @ 3.2 GHz or better.
Emulator
As I mentioned above that I will be discussing about emulators for those who doesn't know about it.
In simple words emulator allow you to play games without need of any console.
In technical words Emulator emulates software or hardware. A gaming emulator is used to reproduce a gaming console which allows users to play everything from a super Nintendo and everything in between without need of any console.
An emulator can read disc image of games using special software that uses your computer, display and storage system to accomplish it.
There are always some reasons behind development of anything new in technology. There was a good reason for the need of emulators. It has benefits over traditional gaming consoles which can over power emulators.
Let's say that emulator allow enhanced resolutions, modern shade and filters. It also has third party modules and a lot more.
For using emulators to play games, you are going to need ROM.
What's ROM Then?
It is Read only memory if you don't know.
Why do we need it then?
Well ROM will act analogous to game cartridge. It compacts all of the game data into a readable and usable file. PS2 ROM will take the form of ISO which is a disc image. ISO image of file is the digital version of any kind of disc whether it is any kind of disc. I mentioned more about it in above section.
ROM with the emulator allows playing games on PC. It mounts the ISO in a virtual disc drive and this process is known as mounting.
Reading game data is enabled once emulator is done mounting ISO file. PS2 emulators also require BIOS file.
If you are thinking now what is this BIOS?
Then BIOS is low level software which is the first software to start when you boot your computer.
However it is slightly different than the BIOS you use for your computers.
It consists of information regarding the versions of PS2. Let me explain you this with one example. If you enable Japanese BIOS version then this will allow you to load PS2 games published in Japan only. If BIOS version won't match correctly with correct region then there are chances that some of the games might not load properly.
PCSX2 Emulator
There isn't just one emulator available. You will find many emulators available for PS2.
The quality of an Emulator is totally dependent upon the stability.
You won't get same performance from all emulators. Some will run all the games smoothly and some won't even run the game you want to play.
There are several emulators available for Windows, Linux, Mac OS and Linux.
But among all the emulators, one which is popular and efficient is PCSX2.
I must tell you one more thing about these emulators.
Most of the emulators are started as personal project which later on attracted developer to work on it. The project is made successful with involvement of input, development and programming skills of developers.
Let's get back to PCSX2 which is an open source PlayStation 2 emulator.
It is compatible with multiple platforms. It is available for many users.
Team of PCSX2 always keep upgrading it by continually working on it. This continuous flow helps in issuing updates that fix bugs, make performance better and ensure smooth gameplay.
Installation Of PCSX2
In this tutorial I am doing installation on Windows 10, but the PCSX2 installation and configuration are similar for Mac OS and Linux.
First thing which you need to do is to head to the PCSX2 website from there then download the latest stable version of the emulator.
You can download from here: https://pcsx2.net/download/releases/windows.html
Once you are done with downloading PCSX2 then next step is to install it in your PC.
For installation Open the executable files which you downloaded then click on install. Keep following instructions and move forward with installation process.
You will be asked to configure it when you will download it for the first time.
Firstly you will need to configure language. By default language will be selected as system default language. You should change this only if required otherwise keep it as it is.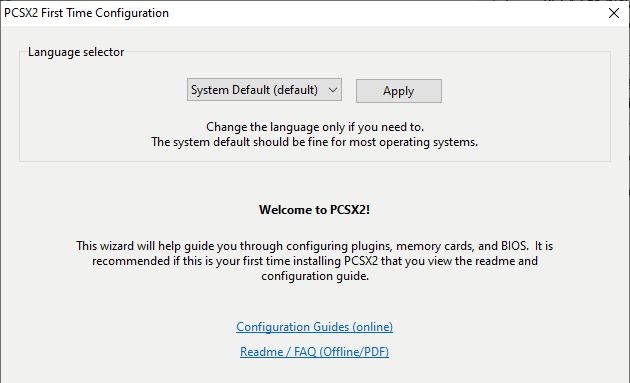 After you will be done with configuring languages then you will be directed to a window.
This window will consist of multiple dropdown menus. You can see it below how it is going to look like.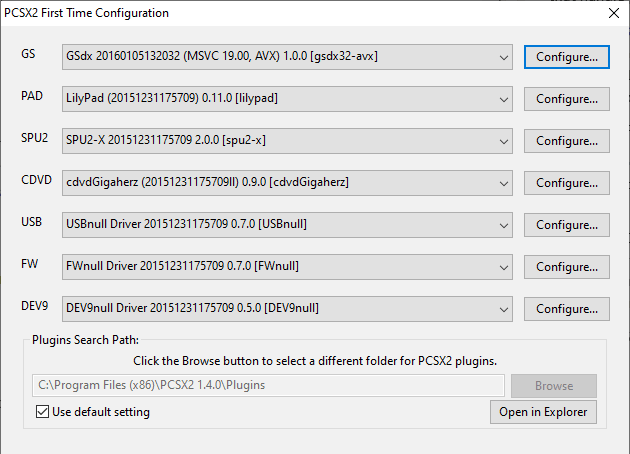 These are configuration plugin of PCSX2 which you can ignore for now.
Because it can lead to stability and performance issues unless you know what the purpose of each plugins is.
If you don't know about it then just leave it as it is. PCSX2 have wide range of customisation which is available. For now select next and then continue to BIOS configuration page.
Configure PCSX2 BIOS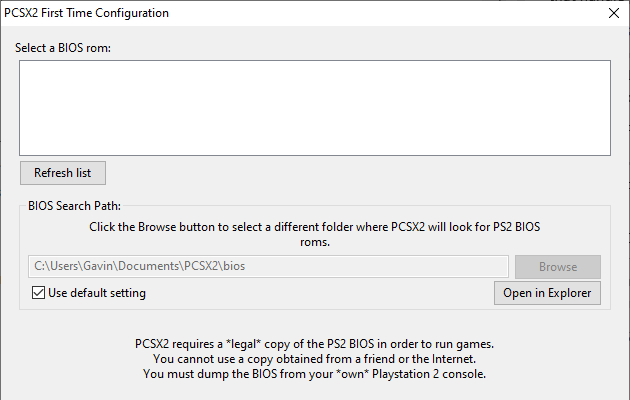 Here now you need to configure your PlayStation 2 BIOS in PCSX2. Then BIOS is low level software which is the first software to start when you boot your computer.
It consists of information regarding the versions of PS2.
If BIOS version won't match correctly with correct region then there are chances that some of the games might not load properly.
In simple words PS2 BIOS file will dictate which PS2 games you can play and which game you cannot. You cannot play games which are available to other regions.
You can play games which are available in your region.
There are several geographical regions which are considered by PlayStation and these regions include regions such as North America, Latin America, Japan, Europe, Africa, and so on.
One thing which you need to keep in mind about BIOS files is that it changes for the PS2 range from nation to nation. It changes every year and vary according to console manufacturing date, console updates, and more.
There is only one need of PS2 BIOS that for your PS2 to get started.
Firstly you need to rip PS2 BIOS files. After you will be able rip PS2 BIOS files.
Next step is to copy and paste the archive to the given directory: C:\Users\[User Name]\Documents\PCSX2\bios.
This will act as the default directory for your BIOS files always. If you want to change this directory to one of your choosing then you will have to uncheck the Use default setting option and select your directory.
At the end of archive finishing copying and extracting the archive contents into the BIOS folder.
Now you need to Right-click on the archive after that then select your ZIP program and extract.
Keep this thing clear into your mind that the PCSX2 emulator will only recognize BIOS files directly in the BIOS folder.
It won't recognise it within any other folder.
You should make sure that you will copy the contents of each archive into the root bios folder directly.
After you finish copying your BIOS files then next step is to select Refresh list in the BIOS configuration window.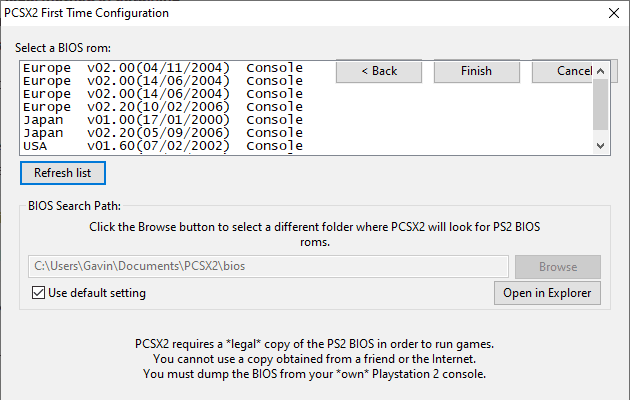 Configure Controllers IN PCSX2
Now that you are done with configuration just hold on before we make final setup changes. After we are done with configuring controllers then you can start playing PS2 game.
For setting up controllers just follow steps which are given below to you.
Firstly navigate to Config ->Controllers (PAD) ->Plugin settings.
Now you will see three controller setting tab. Here first tab is general overview of universal controller settings for PCSX2. Then other tab which is available here is to change the controller inputs manually.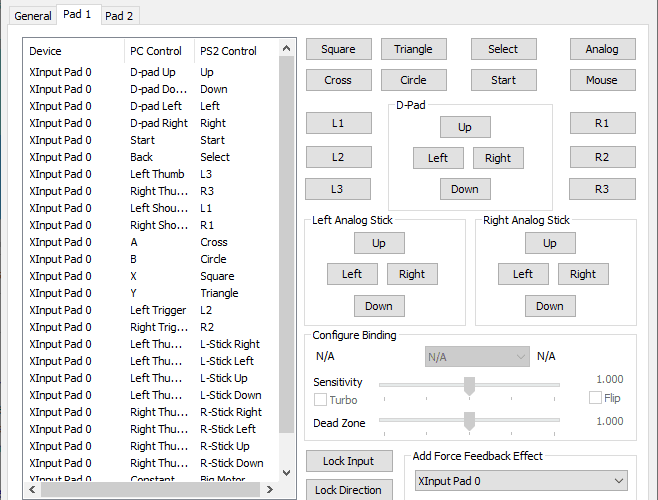 PCSX2 is capable of handling decent range of controller automatically. For example if you will wire Xbox 360 controller then it will be able to map most of the controllers input automatically.
You can also clear controller settings. For clearing controller input setting just select pad 1 and then select clear all. Now you are free to map setting of controller the way you want it to be.
Play Time
At this stage you have properly installed PCSX2 and now it is ready to use.
From now onwards you can play your PS2 games.
You can play any game which is available in your region.
If you will search for it then PlayStation 2 ISOs are freely available online.
But keep in mind that Downloading ROMs or ISOs for video games that you do not own is piracy.
There is one more solution you can make ISOs from your old PS2 games the same way you might rip a DVD to your computer. In this case the output file must be an ISO, otherwise it won't load in PCSX2.
Now when you will be ready with PS2 game ISO file, you can load it in PCSX2 and proceed further.
Now head to CDVD > ISO Selector > Browse, then locate your PS2 game.
One thing which I want to suggest you here is that if you have a library of PS2 games, it is best to copy them all into a single directory for easy access.
Then at this stage you should head to System > Boot CDVD (Full). Now your PS2 game will be able to boot, barring a corrupt ISO file.
Configure Graphics Settings
There are various advantages of booting PS2 on PC.
Out of many one of the advantages about booting up PS2 games on your PC is the extensive range of graphic options to choose from.
If you will search about it then there are several third-party PCSX2 graphics plugins to choose from. But I must say that the default GS plugin already works well to enhance the overall quality of your game.
To configure the changes you need to follow these steps.
Now for accessing the PCSX2 plugins options you have to head to Config > Plugin/BIOS Selector and select Plugins from the options. At this stage the component selection page will allow you to configure each plugin the emulator uses.
At initial stage you will find the plugin options overwhelming to begin with.
But trust me they are really easy to configure. It is also simple to switch back if in any case you don't like the changes. With further more changes, you will be even able to play certain PS2 games on PCSX2 in 4K.
REFERENCES
https://en.wikipedia.org/wiki/PlayStation_2
https://en.wikipedia.org/wiki/Emulator
http://www.emulator-zone.com/doc.php/psx/